Where To Get a Passport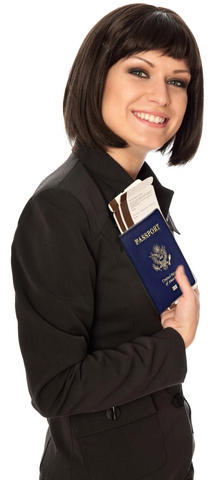 Your choice of where to get a passport will be determined by which passport service your require and how quickly you need to obtain your travel document. Not all services require the applicant apply in person. Those that do include all passport services for minors age 15 or younger, first-time passports, replacement of lost or stolen passports, renewal of passports issued to minors, renewal of passports expired for more than 5 years and requests for a name change that cannot legally be documented with a court order, divorce decree, or marriage certificate. All these services require the submittion of passport application form DS-11 at any authorized Passport Application Acceptance Facility or Regional Passport Agency.
Over 8,000 passport offices
exist in the United States and U.S. territories where applicants can present new passport applications and supporting documents to an
Acceptance Agent
. The total number of facilities has decreased significanly over the past several years while the
number of passports issued
as increased significantly. Coupled with the fact that the majority of facilities are small operations with limited hours and few agents, obtaining an appointment can be a difficult task. Telephones often go unanswered and, when they are answered, appointments can be scheduled for weeks or months later. A very small percentage of acceptance facilities accept walk-ins. Most of these are located in county clerks of court or public libraries. If there is a passport office in one of these facilities in your area, we recommend you try there first. If may not be the nearest location but it may be the quickest way to apply for a passport. Be aware that you must not sign the application form
DS-11
until instructed to do so by the Acceptance Agent. Once the agent reviews your application and supporting documents, they will be placed in an envelope with your payment and sealed. The package should be mailed to one of the address on the application form. There is one address for regular service and another for expedited processing. The
time is takes to get a passport
can vary depending on the acceptability of your supporting documents. Regular service takes aproximately 6 weeks while expedited service can take up to 3 weeks door-to-door if you use express mail both ways.
Where To Get a Passport Expedited
Those who want or need to get a passport more quickly will have to apply at a
regional passport agency
. There are more than twenty agencies located in major cities of the United States. Applications submitted at these locations are processed within 8 business days. Depending on the applicant's departure date, a passport can be issued as fast as the same day. An appointment and
Proof of travel
are required at all processing centers. While a couple of new agencies have opened within the past several years, there is still a very limited number of them. American citizens who need to get a passport in a hurry but find themselves very distant from the nearest agency can turn to a
registered courier service
for assitance. Couriers, also referred to as
expeditors
, hand deliver applications and pick up new passports on behalf of their clients. Couriers charge an addtional fee for their services. Depending on how urgent your situation is, the additional expense may be well
worth it
.
Where To Get a Passport Abroad
American citizens can apply for passports at any
U.S. embassy or consulate general
. The time is takes to get a passport abroad is usually faster than in the United States. Most locations deliver passports to applicants within 2-3 weeks without the need to pay for expedited service. Those who need a passport in less time can be issued an
emergency, limited-validity passport
. This passport can be replaced with a full-validity passport at any time before it expires at no additional cost.
Click for expedited passport courier service quickly!.