Passports in a Hurry - What You Need to Know About Applying for a Passport at a Regional Agency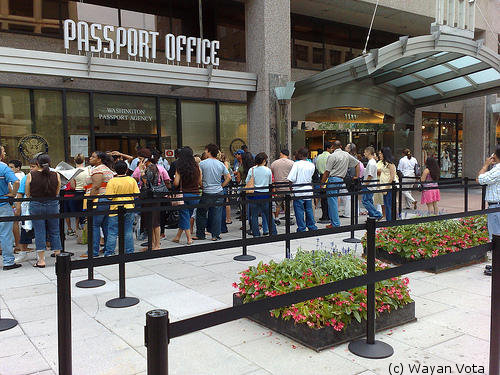 Applying for a passport in person at a regional agency allows applicants to expedite passports more quickly than they normally would if applying at an application acceptance facility for new passports or by mail for renewals.
Following are some facts you need to know about
submitting an application a regional passport agency
.
1. It is only necessary to visit an agency to apply in person if you need your passport within 14 days to either travel or apply for a foreign entry visa. You can apply at the nearest acceptance facility or by mail (renewals) if you do not need your passport so quickly.
2. There are 26 regional passport agencies and 1 special issuance agency located in the United States. You can visit the agency closest to you.
3. You need to call the Automated Appointment System at 1-877-487-2778 in order to make your appointment. This system is available 24 hours a day, 7 days a week. Appointments can also be made through the new online appointment system. There is no fee to schedule an appointment. Be aware that passport agency hours vary from place to place.
4. Proof of travel is required at most agencies. A copy of your e-ticket, travel itinerary or hotel reservation is acceptable. A travel itinerary on a mobile device is not.
5. You must submit the completed application form and all supporting documents at the time of your appointment. Applications should not be mailed to the agency beforehand. Verify that you have all required documents before arrival.
6. The expedited service fee is $60. It is paid in addition to the application fee and, in the case of a new passport, the execution fee. All fees can be paid together by check, credit card, money order, bank draft, debit/check card, or cash (exact change).
7. Processing times vary but most passports are issued within 8 business days. Faster processing is available for those with documented travel plans.
8. All regional agencies issue passport books on-site. Not all agencies issue passports cards on-site.
9. Agencies are closed on weekends and all federal holidays. Plan accordingly.
10. Applicants who need to obtain passports in less than 2 weeks but are unable to personally visit an agency can employ the services of an expeditor. Professional expediters are registered with regional agencies and provide this service for an additional fee.
Click here to expedite a passport in 24 to 48 hours.
Choose the location of the agency or processing center below that is near you.

View Regional Passport Agency Locations in a larger map
Click for reliable expedited passport courier service!.
Top 5 Questions About Expedited Passport Couriers