Houston Passport Agency Expedited Service
The Houston Passport Agency expedites passports for U.S. citizens within 8 days to as quickly as the same day for applicants with urgent travel needs. Individuals who are not in a rush can apply for a new passport at
application acceptance facilities in the Houston area
. Regional agencies only serve those who need to travel, or submit their passports for foreign entry visas, within 14-28 days. The first step is to schedule an appointment through the automated service which is available 24 hours a day, 7 days a week. Appointments can also be made through the new
online appointment system
. If you are unable to travel to Houston to present your application, you can
authorize a third party to submit the application
. This can be a friend, family member, travel agent or
registered courier service
. If your departure date is more than 14 days away, or you do not need to submit your passport for foreign visas within 28 days, you can submit the application form and supporting documents at the nearest
application acceptance facility
.
Click here for urgent passport expediting by a registered courier service
.
Houston Passport Agency
George Thomas "Mickey" Leland Federal Building
1919 Smith Street,4th Floor
Houston
,
TX
77002
Appointments Available From
7:30 a.m. to 3:00 p.m.
Monday, Tuesday, Wednesday, and Friday
10:00 a.m. to 3:00 p.m.
Thursday
All Federal Holidays are excluded
Automated Appointment Phone Number
(Available 24 hours/7 days)
1-877-487-2778
Processing Times
Passports are issued according to travel plans. Same-day passports are issued in emergency situations. *This agency can issue both the U.S. passport book and U.S. passport card on-site.
COVID-19 UPDATE:
This agency is currently processing passport applications. To prevent the spread of COVID-19 and protect both workforce and customers, agencies are currently limiting in-person appointments to customers who are traveling internationally in the next 72 hours (3 business days) due to a life-or-death emergency. Life-or-death emergencies are serious illnesses, injuries, or deaths in your immediate family (parent, legal guardian, child, spouse, sibling, and grandparent) that require you to travel outside the United States within 72 hours (3 business days). You can apply for routine service and expect to receive a passport in 10-12 weeks. You also have the option of paying an additional fee for expedited service to receive your passport in 4-6 weeks.
Map
How to Get to the Houston Passport Agency
Car:
From George Bush IAH, take JFK Blvd. to Beltway 8 (Sam Houston Tollway) west. Take the Downtown Houston exit onto I-45 South. Stay on I-45 South, take the McKinny Street exit, go 1 block to Smith Street. Turn right onto Smith Street and follow Smith Street to Pierce Street. The building is on the left.
From Hobby Airport, turn right onto Airport Blvd., travel on Airport Blvd. to I-45. Go under the freeway and enter the freeway going north. Take the St. Joseph Parkway exit off the freeway, follow St. Joseph Parkway to Louisiana Street. The building will be directly across the street.
Taxi: From George Bush IAH and William P. Hobby Airports - taxis available. Travel time from George Bush Airport is approximately one hour, and, from Hobby Airport is approximately 30 minutes.
Apply Online for Your Passport
.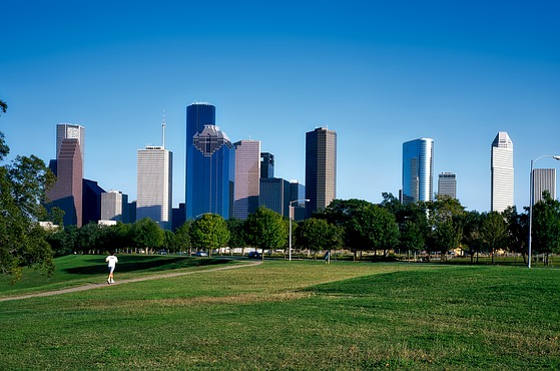 What to Do When You Arrive for Your Appointment at the Houston Passport Agency
You will need your Social Security Number or your confirmation number.
Please arrive no more than 15 minutes prior to your appointment. Earlier arrivals will not be admitted.
Late arrivals, 15 minutes after the scheduled appointment, will have to reschedule their appointments.
Upon entry to the building, you will go through security, including metal detectors.
They are located on the 4th floor.
Go to check-in/information. Your appointment will be verified.
You will be given a numbered ticket with the approximate, current waiting time at the bottom. (We do our best to keep the waiting time as short as possible.)
When your number is called and/or appears on the television monitor, go to the number of the window indicated.
In a hurry? Get your passport fast
.
Expedite Your Passport Now!