Lost Passport Replacement Guide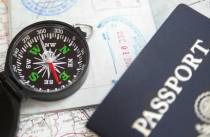 You can
replace a lost passport
much in the same way you acquire a new one. The only difference is that you will need to report the loss and fill out an extra form. The same is true if your passport was stolen. Being the case, it will take the same amount of time as it does to obtain a new one unless you
expedite your lost passport replacement
. You can replace a lost passport while traveling abroad by visiting the nearest U.S. embassy or consulate general. An emergency, limited-validity passport will be issued to you if you need to travel quickly. In order to facilitate the replacement of your travel document, it is recommended that you maintain a copy of your passport in a safe but accessible location.
Steps to Replace a Lost Passport
Step 1: Report Lost Passport
Step 2: Complete Application Form
Step 3: Gather Supporting Documents
Step 4: Visit Acceptance Facility

1
Report Lost Passport
Currently, there are two ways to report a lost passport to the U.S. Department of State. One, you can complete the
Statement Regarding Stolen or Lost Passport, Form DS-64
(Opens in new window). You should fill out this form only if your lost passport is still valid. Answer as many questions that you can with as much detail as you can. Once you have completed the form you should mail it to the address below. U.S. Department of State
Passport Services
Consular Lost/Stolen Passport Section
1111 19th Street, NW, Suite 500
Washington, DC 20036 The second way to report the loss of your passport is to call the
National Passport Information Center
. The toll-free number is 1-877-487-2778. While calling may seem to be the more expedient of the two methods, it is often very difficult to get through. You may find it easier to complete
Form DS-64
and send it in with the application for a new passport.
Important Notes Concerning a Lost or Stolen Passport
Passports reported lost or stolen by telephone or by submitting Form DS-64 are invalidated and can no longer be used for travel.
The information you provide on Form DS-64: Statement Regarding a Lost or Stolen Passport will be entered in our Consular Lost/Stolen Passport System.
If you recover the passport after you have reported it lost or stolen, please submit it to the address listed above. When you submit it, if requested - we will cancel it and return it to you. If not requested, it will be destroyed.
Once a passport is reported lost or stolen, it cannot be re-validated.
2
Complete Form DS-11: Application for a New U.S. Passport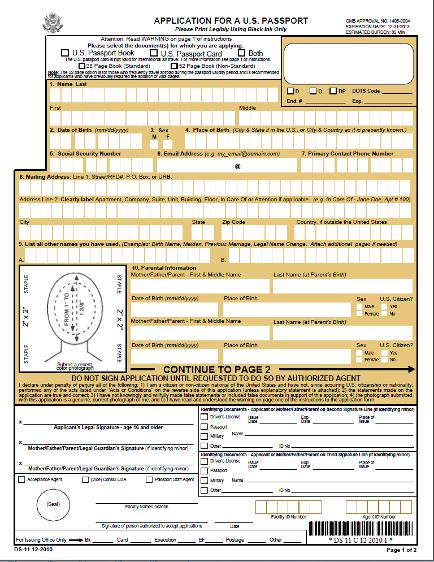 One of the criteria that you must meet in order to
apply for a passport renewal by mail
is that you have to be able to submit your previously-issued, undamaged passport. Applicants who have lost their travel document are unable to submit them and, therefore, must apply for a new passport using Form DS-11. Just like reporting the lost passport, you have two options for completing the application form. One, you can
complete Form DS-11 online
or you can complete the
application for a new U.S. passport
offline and then print it. If you print the application first and complete it offline, be sure to use black ink and write as legibly as possible. Note, you should not sign the application until asked to do so by an acceptance agent.
3
Gather Supporting Documents
All documents required for a first-time passport will have to be submitted together with the completed application in order to replace your passport. Following is a list of the documents you will need.
Evidence of U.S. citizenship
Proof of identity
Photocopy of the identification document
One (1) recent passport photo
The document submitted as evidence of citizenship must be an original or a certified copy. It will be returned to you after the application is processed. It is recommended that you use protective packaging and a traceable delivery method. Parents or guardians who are applying to replace the lost passport of a minor also need to submit evidence of their relationship to the child. Valid photo IDs of both parents or guardians are also required. One parent or guardian can apply if evidence of sole legal custody can be submitted.
4
Visit Application Acceptance Facility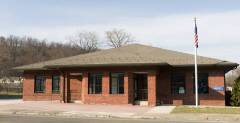 The completed application form and supporting documents must be submitted to an authorized acceptance agent at an
application acceptance facility
. Passport offices are often located in post offices, county and municipal government offices and public libraries. Some facilities offer on-site photo services. Many require an appointment. An
Acceptance Agent
will examine your application and supporting documents. An oath will be administered and you will be asked to sign the application. Payment for the execution fee is paid to the Acceptance Agent. Payment for the application fee is made to the U.S. Department of State and should be sent with the application and documents. Standard processing is estimated to take up to 6 weeks. You can request expedited service for an additional fee of $60. If you expedite the process, your lost passport will be replaced in 2 to 3 weeks. Replacing your passport faster requires that you schedule an appointment at a
regional agency
or apply through a registered expediting service in order to
replace your lost passport quickly
..
Click for expedited passport courier service in 24 to 48 hours!
.
Expedite Your Passport Now!