Lost Passport Replacement Guide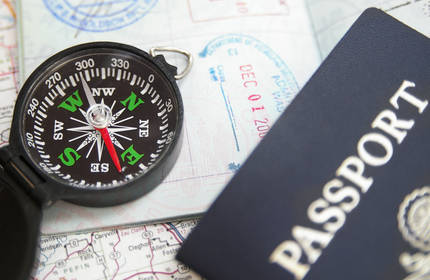 You can replace a lost passport book or card the same way you acquire a new one. The only difference is that you will need to report the loss and fill out an extra form. Be aware, reporting a passport lost or stolen does not automatically replace your passport. You will need to apply for a new passport to replace the one that has been lost.
The same is true if your passport was stolen. You should immediately file a police report with local authorities and then proceed with the steps below to start getting your replacement passport. It will take the same amount of time as it does to obtain a new one unless you expedite your lost passport replacement. In some cases, you will be able to get a limited validity passport as soon as the same business day.
If you are out of the country, you can replace a lost passport while abroad by visiting the nearest
U.S. embassy or consulate general
. Once you arrive, ask for the Consular Section. You will be explain your circumstances, follow the steps below, and be issued
an emergency, limited-validity passport
.
To speed up the replacement of your passport, we recommend you maintain a copy of your travel and identification documents in a safe but accessible location.
Rush My Passport can help you replace a lost passport-in as soon as 24 hours in some cases.
Apply online for expedited passport service.
Steps to Replace a Lost Passport
Step 1: Report Lost Passport
Step 2: Complete Application Form
Step 3: Gather Supporting Documents
Step 4: Visit Acceptance Facility
1
Report Lost Passport
The moment you know your passport is lost or stolen, immediately report the issue.
There are 2 ways to report a lost passport to the U.S. Department of State:
Complete the Statement Regarding Stolen or Lost Passport, Form DS-64 (Opens in new window). You should fill out this form only if your missing passport is still valid. Answer as many questions that you can with as much detail as you can.

Once you have completed the form you should mail it to the address below:

ATTN: CLASP (Consular Lost and Stolen Passport Unit)
U.S. Department of State
CA/PPT/S/RM/CLASP
44132 Mercure Circle
PO Box 1227
Sterling, VA 20166-1227

Use the U.S. State Department Online Form Filler website. There you will be able to fill out a digital copy of Form DS-64 to report your passport lost or stolen, as well as a Form DS-11 to apply for a new passport (processing is subject to the current routine and expedited processing times).

If you need a passport sooner than the current wait, a registered passport expediter can help speed up the process.
Important Notes Concerning a Lost or Stolen Passport
The information you provide on Form DS-64: Statement Regarding a Lost or Stolen Passport will be entered in the Consular Lost/Stolen Passport System.
Passports reported lost or stolen by telephone or by submitting Form DS-64 are no longer valid. They can no longer be used for travel. They cannot be re-validated.

This means, if you suddenly find your lost passport, it will be useless if you have already reported it missing.

If you find a passport after you have reported it lost or stolen, please submit it to the address listed above. When you submit it, if requested - it will be canceled and returned to you. Otherwise, it will be destroyed.
2
Complete Form DS-11: Application for a New U.S. Passport
One of the criteria that you must meet in order to apply for a passport renewal by mail is to submit your previously-issued, undamaged passport.
Applicants who have lost their travel documents are unable to submit them. They must apply in person to get a new passport using Form DS-11.
Just like reporting a passport lost or stolen, you have two options for completing the application form:
Complete the application for a new U.S. passport offline and then print it.

If you print the application and complete it offline, be sure to use black ink and write as legibly as possible. Do not sign the application until you are asked to do so in the presence of an acceptance agent.
3
Gather Supporting Documents
All documents required for a first-time passport have to be submitted together, in person, with the completed application in order to replace your passport.
The following is a list of the documents you will need:
Photocopy of your personal identification document
One (1) recent passport photo
The document submitted as evidence of citizenship (like a birth certificate) must be an original or a certified copy. It will be returned to you after the application is processed. It is recommended that you use protective packaging and a traceable delivery method, even if it means paying an additional fee.
Parents or guardians who are applying to replace the lost passport of a minor also need to submit evidence of their relationship to the child. Valid photo IDs (like a driver's license) of both parents or guardians are also required. One parent or guardian can apply if evidence of sole legal custody can be submitted.
4
Visit an Application Acceptance Facility
The completed application form and supporting documents must be submitted to an authorized acceptance agent at an application acceptance facility. Passport offices are often located in post offices, county and municipal government offices, and public libraries. Some facilities offer on-site photo services. You should schedule an appointment online to be sure you can be seen. If asked to provide a reason, use "replace lost passport."
An Acceptance Agent will examine your application and supporting documents. An oath will be administered and you will be asked to sign the application. Payment for the execution fee is paid to the Acceptance Agent. Payment for the application fee is made to the U.S. Department of State and should be sent with the application and documents.
Lost Passport Replacement FAQs
How long does it take to replace a lost or stolen passport?
Standard processing is estimated can take as long as 10-13 weeks. Expedited service can take up to 7-9 weeks.
Applications submitted at a regional agency are usually processed the same day, but can take up to 14 days. It depends on circumstances, time of year, staffing, and how busy a particular agency may be.
Applicants who need a replacement fast but who cannot visit the nearest agency, can authorize a registered expediting service to submit the application for them.
Note: The applicant must visit a nearby application acceptance office first to have the application adjudicated before mailing it to the expediter. It must also include two authorization letters: one inside the sealed envelope and another outside it.
How much does it cost to replace a lost passport?
The application fee for new passports is $160. The execution fee is $35. The expedited service fee is $60. You can also request 1-2 day delivery of your new passport for an additional fee of $19.53.
There are also additional costs you should plan for. Check out our guide to how much a passport really costs for more information.
Third-party passport expediters are often the fastest way to get a passport replaced. Just like with applying on your own, the cost depends on how quickly you need to get your passport replaced.
Can I still travel if I lost my passport?
A valid passport is required for all international travel by air. Therefore, you will not be allowed to board a flight abroad unless you replace your passport.
I lost my passport card. Is the process to replace it the same as it is for a passport book?
Yes, the procedure is the same as listed above. The only difference is that a new passport card costs less than a new passport book.
Can you replace a lost or stolen passport online?
No. While you can report a lost passport, complete the application for a new passport and schedule an appointment at an acceptance facility or regional agency online, you still must apply in person. There is no other way to get a new passport.
Do I need to report my lost passport if it is expired?
No, you do not. Just follow all the steps above except for completing Form DS-64.
I found my passport. Can I still use it?
Once you report a lost passport, it is invalidated and can no longer be used for international travel. The passport number is recorded and flagged as well.
This is for good reason. Government issued identification, like a passport, can leave individuals especially vulnerable to identity theft.
Reporting a passport lost or stolen means it cannot be used to travel internationally; it is no longer useful to exit or enter the country or for traveling abroad.
Based on our over 20 years helping readers with their travel document needs,Rush My Passport is our pick for the fastest and most reliable way to replace a lost passport.
Apply online for expedited passport service.
Top 5 Questions About Expedited Passport Couriers
Click for expedited passport courier service.