What Exactly Does a Passport Expediter Do?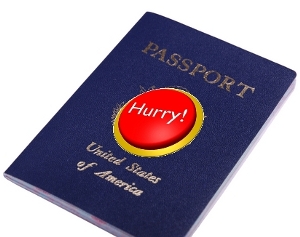 The job of a passport expediter is to submit application forms at regional agencies on behalf of clients. Also known as passport couriers, these service providers are experienced in getting passports in a hurry. They know and understand how the expediting process works and what can cause both delays and denials in passport issuance. Couriers generally assist with the following issues:
Getting a passport for the first time
Renewing an expired passport
Replacing a lost, stolen or damaged passport
Obtaining a passport for a minor
Correcting printing errors in a passport
Changing a name on a passport
Getting a second valid passport
Services vary from one company to the next, as do rates. Some assist customers in obtaining entry visas and other travel documents. Want to make sure the service of an expediter is something you actually need? Want to avoid frustration with the passport expediting process? Then you need to understand what passport couriers can and cannot do.
What Passport Expediters Do:
Guide you in preparing the correct forms and gathering the proper documents. Knowing which forms and documents to submit can be confusing. Couriers can help. This will reduce the risk of delays or denial.
Hand-deliver your passport application and supporting documents to a processing center for expedited service. Can't get an appointment before your departure date? Live far away from the agency? A courier can help. They visit agencies daily to submit passport applications and pick up new passports.
Monitor the process closely. The courier will inform you immediately if any problem arises. Then, they will assist in getting it resolved. This ensures that passport services processes your application in the fastest time possible.
Pick up your new passport and deliver it to you. The courier will mail your passport by express overnight delivery. They also have locations where you can pick it up. In emergency situations, some expediters will meet you at a designated location. It might even be an airport.
It's the ideal solution when a regional processing center is too far out of your way.
The largest companies have offices near passport processing centers in more than one city. This eliminates the need for you to travel long distances. While a courier will hand-deliver your application to an agency, you may still have to do some legwork. You are required to apply in person if you are submitting Form DS-11. Visit a nearby application acceptance facility. Then, mail the sealed packet provided by the Acceptance Agent to the expediter who will hand deliver it to the processing center. Of course, you can still benefit from a courier service even if you are close to a regional agency. By using a registered expediter, you can avoid standing in long lines to get in and waiting in more lines to submit your application. No need for you to lose an entire day of work.
What Passport Expediters Cannot Do:
Passport couriers cannot process your application form nor issue your passport. This is the responsibility of the U.S. Department of State Bureau of Consular Affairs.
Passport couriers cannot guarantee you will receive your passport quickly. They can get your application submitted quickly but processing it is out of their hands.
It is important to understand that expediting companies are not the passport issuing agency. They do not have final say about your eligibility for a passport. They do not decide if the documentation you provide is acceptable. They do not determine how fast to process your application. Yet, expediters have a special relationship with regional agencies. So,
they can submit your passport application when you cannot
. They can also provide guidance to you and help avoid costly mistakes. These mistakes can delay or even result in the cancelation of your travel plans. Now you understand what a passport expediter can and cannot do. Are you ready to take advantage of this service? Maybe you've heard that passport expediters are a scam. Is it true? Visit "
Are Passport Expediting Services Legitimate?
" to get the answer.
Expedite Your Passport Now!
Click to Call for Expedited Service!