How to Obtain a U.S. Passport

Need to
obtain a US passport
?
Before initiating the application steps, we recommend you check the criteria listed below to verify if a new passport service is what you need. If so, you will find a complete list of requirements and step-by-step instructions to assist you in the process of obtaining a new U.S. passport.
Completing and sending in the wrong form can lead to delays. Take a few seconds to see who should use Form DS-11 in order to apply for a new passport.
Use Form DS-11 if any of the following apply:
You are applying for your first U.S. passport or
You are under age 16 or
Your previous U.S. passport was issued when you were under age 16 or
Your previous U.S. passport was lost, stolen, or significantly damaged or
Your previous U.S. passport was issued more than 15 years ago or
Your name has changed since your U.S. passport was issued and you are unable to legally document your name change.
In a hurry? Click here to expedite a new passport in 24 to 48 hours.
1
Complete Application Form DS-11
There are two ways to complete application Form DS-11. One, you can fill out the passport application online and then print it. Two, you can download application Form DS-11 in PDF format, print a copy and complete it offline. Those who choose the latter option should print each page on a separate sheet of paper and use black ink to complete the form and write as legibly as possible. Illegible answers can lead to delays in the process or printing errors in your passport.
At the head of the application form is a space for you to check whether you want to obtain a passport book, a passport card or both. U.S. citizens can possess both a book and a card at the same time. Be aware that the card can only be used for land and sea travel to Canada, Mexico, Bermuda and the Caribbean. If you are applying for a passport book, you can choose between a standard, 28-page passport book or a non-standard 52-page one. Choose the latter if you travel abroad frequently.
You must provide a Social Security number in accordance with 22 U.S.C. 2714a and 22 C.F.R 51.60(f). If you do not have a Social Security number, you must submit a signed statement including the phrase, "I declare under penalty of perjury under the laws of the United States of America that the foregoing is true and correct: I have never been issued a Social Security Number by the Social Security Administration."
The remaining questions on the application form request personal information such as full name, address, telephone number, email address, and the like. The form has a section for information about your travel plans. Keep in mind though that you are not required to have immediate travel plans in order to obtain a passport. Note, you should not sign the application until asked to do so by an acceptance agent.
Download Application Form DS-11
Complete Application Form Online
2
Gather Supporting Documents
Several supporting documents are required when submitting Form DS-11 to obtain a passport. It is very important to understand the specific requirements for each supporting document in order to avoid delays in the process and get your travel document in the fastest time possible. The list of supporting documents include:
The document that you submit as evidence of United States citizenship has to be an original or a certified copy. The document will be returned to you although it may arrive on a different day from your new passport. Using a protective package and a traceable delivery method will help ensure that your documents arrive safely.
3
Visit Application Acceptance Facility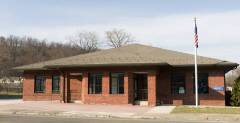 Once you have completed the form and gathered up all the supporting documents, you need to visit an application acceptance facility. Many post offices serve as acceptance facilities. A lot of them require an appointment so you should call before you visit.
An Acceptance Agent will look over the completed Form DS-11 and supporting documents as well as administer an oath and witness as you sign the application. Payment for the new passport application fee is payable to the U.S. Department of State and sent with the completed form and supporting documents. The execution fee is paid to the Acceptance Agent.
See Also: Tips on applying for a passport at a post office
How Long Does It Take to Get a New US Passport?
You can choose between routine and expedited passport processing when applying at an acceptance facility. Routine processing is currently estimated to take from 4 to 6 weeks. It can take longer, especially during peak travel periods. Expedited processing is estimated to take 2-3 weeks. Although faster, it does require the payment of the expedited service fee.
Can't wait two weeks or more to get your passport? Obtaining a United States passport faster can be accomplished in one of the following ways. One, you can apply at a regional passport agency. There are 25 agencies located in major cities of the United States. While applicants are usually required to make an appointment, walk-ins who have urgent travel needs are welcome. The same documents listed above are required. Applications are processed in 5 days to as fast as the same day.
A second method to obtain a U.S. passport quickly is to employ the assistance of a qualified passport expediting courier service. Through an expediter, you can have your new passport delivered to you in 24-48 hours. Travel document expediting services can do this because they have a special relationship with the regional agencies that give them priority status. They can also obtain travel visas if you require them for your trip abroad.
Top 5 Questions About Expedited Passport Couriers