US Passport Cards Explained: A Comprehensive Guide on How to Apply and FAQs
For U.S. citizens looking to travel internationally by land or by sea, a U.S. passport card is a great option to consider.
The US passport card is smaller, cheaper, and more convenient than a passport book. That said, it is not for everyone. It only works for entry into certain countries via sea or land crossings.
These countries include:
Please note that the Passport Card cannot be used for international air travel.
So, if you are planning to visit one of these destinations and do not have a valid U.S. passport already, a passport card can be a better option than a standard passport book.
Both a passport card and passport book can serve as identification that border agents can accept as proof of your American citizenship status.
So, who is it for? How do you get one? What does the card look like?
We answer these and other frequently asked questions below so you can make the best decision for your travel needs.
What is a passport card?
A passport card works the same way as the book version. It is issued by the Department of State and proves both your United States citizenship and your identity. It has a unique passport card number just like a standard book-style passport does. It features the same style photo as a traditional passport book. The cards also have expiration dates 10 years after issuance (or 5 years for minors) just like the books do.
The card is a valid passport, but it is similar in size to a credit card or driver's license. It has a radio frequency identification (RFID) chip that stores your identifying details. When a customs official scans your card, the RFID chip transmits this information.
What does the passport card look like?
Below are images of the front and back of the card before the applicant's photo and data are printed on them.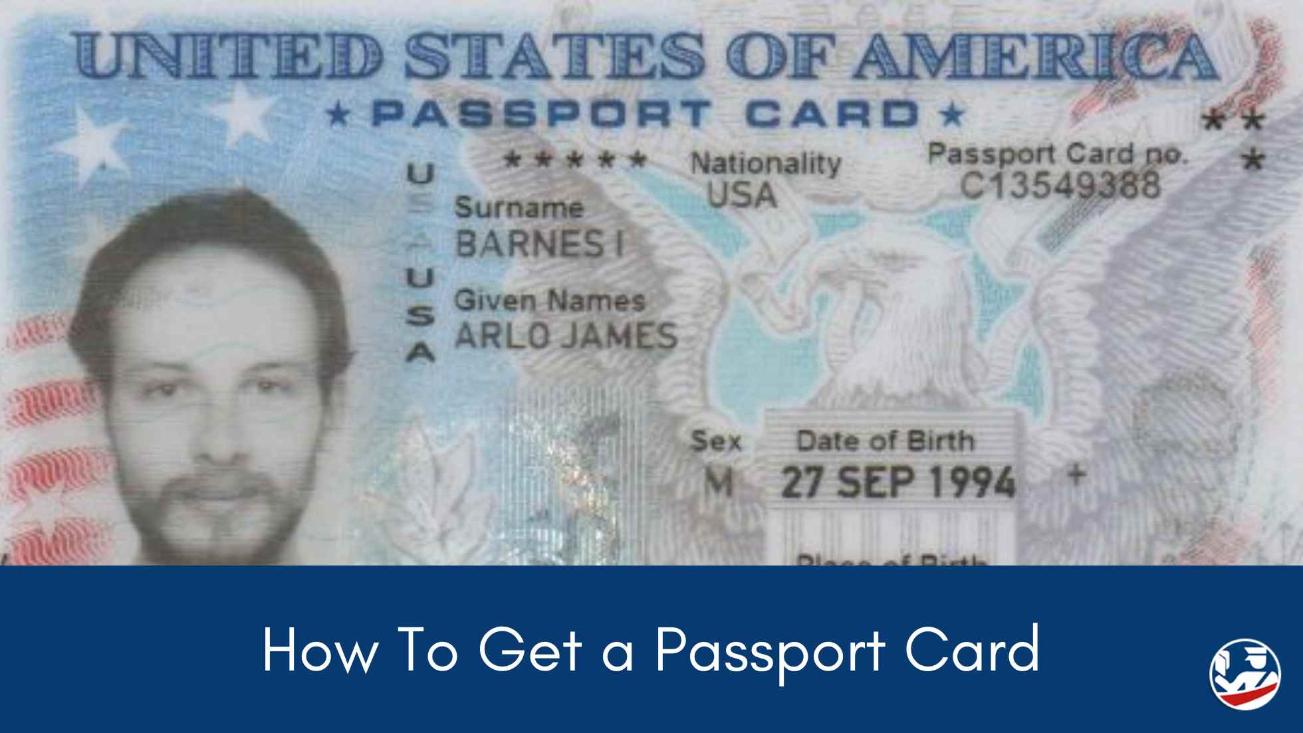 What's the difference between a passport book and a passport card?
Both passport cards and passport books serve the same purpose: proving your U.S. citizenship and identity.
All American citizens are required to present a valid passport to exit and re-enter the United States. A passport is used for international travel when entering, exiting, and traveling between foreign countries.
While there are similarities between the two, the table below shows the differences between a passport card and a passport book.
The main differences are:
Size - The passport card is about the same size as a credit or debit card. Its smaller size makes it more convenient to carry than the larger book.
Cost - It is cheaper to get passport cards than passport books. Choosing a card can be a good way to save money.
No stamps - Unlike a traditional passport book, there is no place on the card for the colorful immigration stamps many countries issue when you go through customs.
Usefulness - A passport card is only useful in a limited number of situations. Is can only be used for land and sea travel between the U.S. and Mexico, Canada, the Caribbean, and Bermuda. A passport card can't be used to board a plane for international air travel. That said both a passport book and card can be used as identification for domestic air travel.

However, a passport book is valid for all types of travel to any destination. It can be used for international air travel, land border crossings, and at international sea ports of entry.
You can apply for both the card and book with the same application form. But, you are not required to get both. You simply check the appropriate box on the DS-11 application form (for those applying as first-time applicants) or the DS-82 form if you are renewing an existing card or book by mail.
There is no significant difference in processing time for a passport card versus a passport book.
Both can be expedited. However, some passport agencies do not expedite passport cards.
If you need a passport card quickly, a reputable registered passport expediter can submit your application on your behalf. This can ensure the fastest possible processing times for your passport card and/or book application. In some cases, you can get your new card or book in as few as 24 hours.
For more on passport expediters, who they are, what they do, and how they can help you with your travel document needs, check out our Ultimate Guide to Passport Expeditors.
Who is the passport card for?
Any American citizen can apply for a passport card. But, it may not be the ideal choice for everyone with international travel plans.
The purpose of the card is to make it easier for Americans who have to cross land or sea borders often. For example, many people living in border communities must cross a border frequently for work, shopping, or leisure. They must show a proper credential each time they cross. A plastic card is sturdier and easier to carry than a paper passport book.
Know that citizens still need a passport book to travel outside of North America or fly abroad. There is a good reason for this. Passport books are the international gold standard for travel ID. As such, the card was never meant to replace the book. The card is simply a convenient tool more suitable for specific use cases.
Should you choose a passport card or a passport book?
Simply put, applying for a passport card only makes sense if you meet the following criteria:
You do not plan to leave or enter the United States by air.
You only plan to travel to Bermuda, Canada, Mexico, and/or the Caribbean (and no other countries).
Both of the above apply to your anticipated plans for the next 10 years.
The card is a convenient option for those who live near U.S. borders and frequently use land border crossings for work or pleasure. In these cases, being able to keep a durable international travel credential in your wallet or purse - just as you would your license or state-issued ID - makes sense. If you plan on using a card often enough that it must always be on your person, it is worth considering.
For everyone else, the alternative is the traditional U.S. passport book. The book version comes in both a standard, 24-page version and a bigger, 52-page version for those who travel a lot.
The Pros and Cons of Passport Cards
Pros:
Convenience - It's the same size as a credit card, so it fits conveniently in your wallet.
Cost - Both the initial cost and renewal costs are lower than a passport book.
Travel - It can be used for land or sea travel to some of the most popular destinations for Americans traveling abroad: Canada, Mexico, Bermuda, and the Caribbean.
Identification - It can serve as an identity proof for children and non-drivers.
Cons:
Air Travel - You cannot use it for international air travel.
Limited Use - It cannot be used to acquire travel visas or visit countries beyond those listed above.
Limited Recognition - Not all countries recognize the passport card as an identifying document, as it is a relatively new form of identification.
Where can a U.S. citizen apply for a passport card?
If you are applying for a passport for the first time, you can do so at one of the 8,400 Passport Application Acceptance Facilities across the country. Most facilities require an appointment and many have limited spots available.
If you already have a passport book and are eligible to use
Form DS-82
, you may apply for the passport card by mail. Card
renewals
can be handled the same way.
What documents will I need in order to apply for a passport card?
The passport card is a valid passport that is proof of the identity of the bearer. As such, the passport book and passport card follow the same application rules.
Applicants must provide documents that attest to their U.S. citizenship. The most common examples of acceptable documentation include:
an original birth certificate
an original naturalization certificate
a previously issued passport
A completed application and updated passport photo are also required.
For specific instructions on how to apply for a new U.S. passport card, see
how to apply for a passport
.
If you already have a traditional passport book and you are eligible to submit Form DS-82, you may apply for a passport card as a Renewal by Mail - even if it is your first passport card!
How much does a passport card cost?
The first card for an adult costs $65, and $50 for any minor under the age of 16. This includes the $35 execution fee. These fees can be paid by money order or check. Cash and credit card payments are not accepted.
Adults who received their most recently issued passport when they were age 16 or older can apply for the card at a cost of $30, as long as their passport is still valid or has expired no more than 5 years ago.
How long does it take to receive your passport card?
It takes the same amount of time for the
U.S. Department of State Passport Services
to process and issue a passport card as it does for traditional passport books. The time is also the same whether you request one or both documents. If you order both, your passport book and card will be issued together.
This process can take from 4 weeks to 3 months, depending on the demand at the time that you apply.
Using first class mail or similarly fast, reliable shipping options can help reduce your turnaround time by several days.
Can a passport card be renewed?
Yes. You can renew a passport card by following the same steps you would follow to renew a passport book.
Similarly, you also have the ability to rush your passport card renewal in the same ways that you would expedite a passport book renewal.
How can a passport card application be expedited?
You can request expedited passport service when you submit the application. There is an extra fee of $60 for this service. Expedited processing can take up to 7-9 weeks by mail. This can save you weeks compared to the standard wait time, but it is still a long wait for those who need to travel soon.
If you need to get a passport card in less than 2 weeks, several, but not all,
passport agencies expedite passport cards
.
Applicants who need to get one quickly, but are unable to visit a regional passport agency in person, can authorize a registered expediter to submit the passport application for them. Be sure to check out our directory of the top passport expeditors for our most up-to-date recommendations.
Can a valid passport card be used as a Real ID?
Yes. One of the extra benefits of a valid passport card is that it is considered an acceptable RealID. This means, according to the US Department of Homeland Security, a passport card can be used to:
Board a federally regulated commercial aircraft
Access certain federal facilities
Enter a nuclear power plant
How many passport cards have been issued?
This makes it a much stronger form of personal identification than some driver's licenses or other forms of state issued id.
The passport card has only been around since July 14, 2008. Only 189,560 cards were issued that year.
Just a few years later, the number of passport cards issued rose to over one million. Due to this growth, more and more questions are sent to us about this travel document.
Below are some of the most frequently asked questions we have received over the last 15+ years from our readers.
Additional FAQ About Passport Cards
Click the links below to see the answers to questions that other visitors have submitted.
Where can I look to see the status update for the processing of a Passport Card?
Question: I submitted the forms and documents needed for a Passport Card, including my Passport to the department of state. My check was cashed, but I can't located the status...
Will a passport card be sufficient for a child or adult traveling to Bahamas from the U.S.
Question: If we are traveling to Bahamas from the US, will a passport card work fine for that, and will it last for 5 years like other passports do?
Should I get a passport card for my children instead of a book when traveling on a cruise to Bahamas?
Question: We are traveling with a 4 and 2 year old on a Disney cruise. We fly from Maryland to Florida where we board our ship and sail to the Bahamas...
Passport Card in addition to Passport Book
Question: If my US passport book does not expire for 6 more years, can I complete the DS-82 for a card without renewing my passport book?
My son lost his passport card--NOT his passport. What do we need to do?
Question: My 12 year old son lost his wallet and it contained his passport card, with the passport number on it. He DID NOT lose his passport...
Can I get a passport card for my honeymoon so I don't have to pay the extra cost of a passport book?
Question: My fiance and I are planning a honeymoon, but its based on whether we will have a passport. I'd rather pay the $55 pp for the passport card ...
I have a passport card but need a passport book to travel to Barbados.
Question: I currently have a passport card that was issued in June 2009. I will be needing to get a passport book within the next couple of years so ...
Can you use the passport card instead of the passport book when traveling to Bahamas?
Question: Travel from metro Detroit to Bahamas do I need a book passport or card passport?
What's the difference between a passport card vs passport book?
Question: What's the difference between a passport book vs a passport card? Do I need both?
Can I renew a passport book that is not expired for a passport card and change the name?
Question: I will be traveling this Feb. 2011 to Mexico (cruise) and would prefer to renew my passport just in case of an emergency. I have two children...
Click for expedited passport courier service in 24 to 48 hours!.
Top 5 Questions About Expedited Passport Couriers