Passport Card Facts
The passport card is smaller, cheaper and more convenient than the traditional passport book but it is not for everyone. Who is it for? How do you obtain one? What does it look like? These and other
frequently asked questions
are answered below.
What is a passport card?
A passport card serves the same purpose as a passport book. It attests to your United States citizenship and your identity. The passport card is a fully valid passport. However, it is similar in size to a credit card. The passport card contains a vicinity-read
radio frequency identification (RFID) chip
.
Who is the passport card for?
The passport card was created to facilitate the frequent travel of Americans living in border communities. It can only be used for land and sea travel between the U.S. and Mexico, Canada, the Caribbean and Bermuda.
How many passport cards have been issued?
Production of the passport card began on July 14, 2008. Millions of cards have already been issued since that date.
What does the passport card look like?
Below are images of the front and back of the card before the applicant's photo and data are printed on them.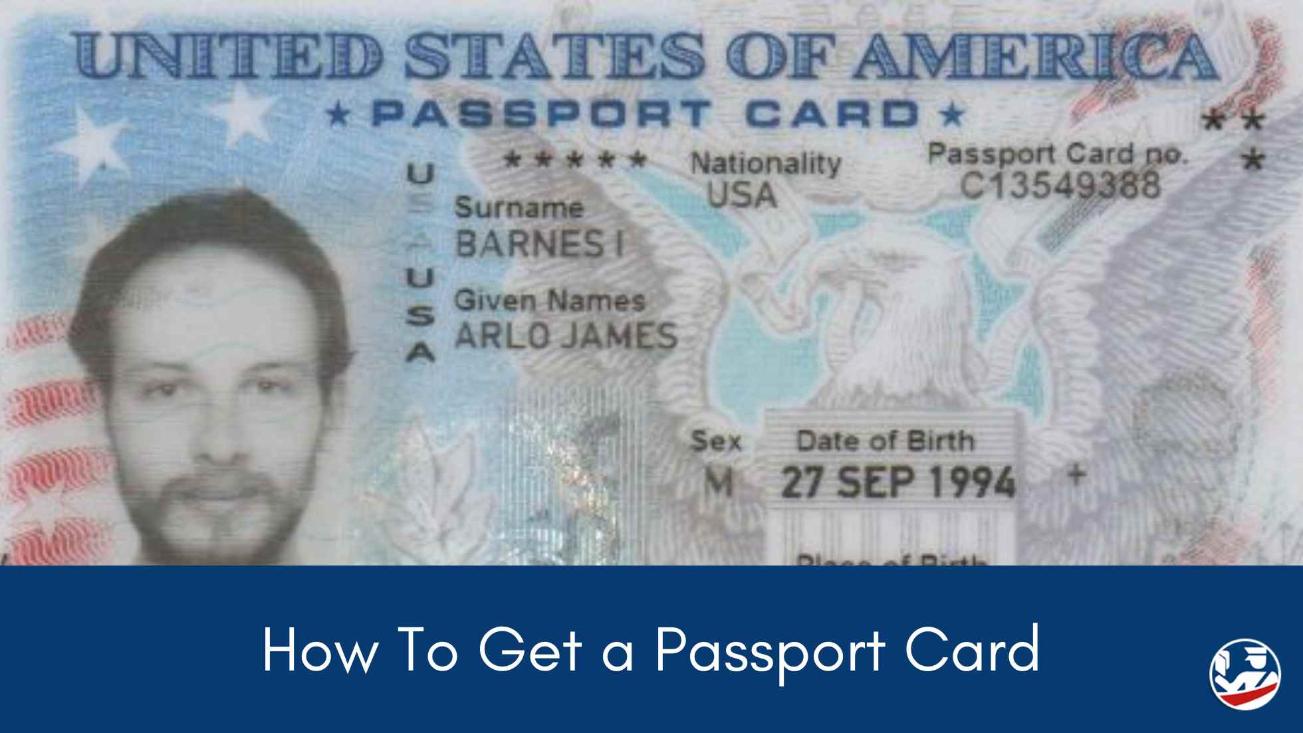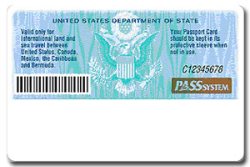 Where can a U.S. citizen apply for a passport card?
If you are applying for a passport for the first time, you can do so at
one of the 8,400 Passport Application Acceptance Facilities
across the country. Most facilities require an appointment and many have limited spots available. If you already have a passport book and are eligible to use
Form DS-82
, you may apply for the card by mail.
What documents will I need in order to apply for a passport card?
The passport card is a fully valid passport that attests to the U.S. citizenship and identity of the bearer. As such, the passport card is adjudicated to the exact standards as the passport book. Applicants must provide documents which attest to their U.S. citizenship such as birth and naturalization certificates or a previously issued passport. An identification document, copy of the ID and a passport photo are also required. For specific instruction on how to apply for a new U.S. Passport card, see
how to apply for a passport
. If you are a previous passport book holder and you are eligible to submit Form DS-82, you may apply for a passport card as a
Renewal by Mail
- even if it is your first passport card!
How much does the passport card cost?
Your first passport card will cost $65 if you are an adult and $50 for any minor under the age of 16. This includes the $35 execution fee. Adults who received their most recently-issued passport when they were age 16 or older can apply for the card at a cost of $30 as long as their passport is still valid or expired no more than 5 years ago.
How long does it take to receive your passport card?
It takes the same amount of time for the
U.S. Department of State Passport Services
to process and issue a passport card as it does for a passport book. This can take from 4 weeks to 3 months depending on the demand at the time you apply.
Can a passport card application be expedited?
Yes, you can request expedited passport service when you submit the application. There is an additional fee of $60 for this service. Expedited processing takes up to 3 weeks by mail. Several, but not all,
passport agencies also expedite passport cards
if you need to get one in less than 2 weeks. Applicants who need to obtain the travel document this quickly but are unable to visit a regional agency can authorize a registered expediter such as
Fastport Passport
to submit the application for them.
Click for expedited passport courier service in 24 to 48 hours!
.
Top 5 Questions About Expedited Passport Couriers
Expedite Your Passport Now!