Form DS-82: Application For Passport Renewal By Mail
Form DS-82 is the application form required to apply for a passport renewal by mail. The form and detailed instructions can be downloaded below.
The estimated time required to complete the application is 40 minutes but most applicants finish much faster.
Renewing a passport by mail is not allowed if it is significantly damaged or was issued to a minor age 15 or younger. Also, it is not possible to renew a passport that was issued more than 15 years ago. In such cases, the applicant needs to apply for a new passport by submitting Form DS-11 at an application acceptance facility rather than completing Form DS-82.
Click here for fast, reliable expedited passport renewal courier service.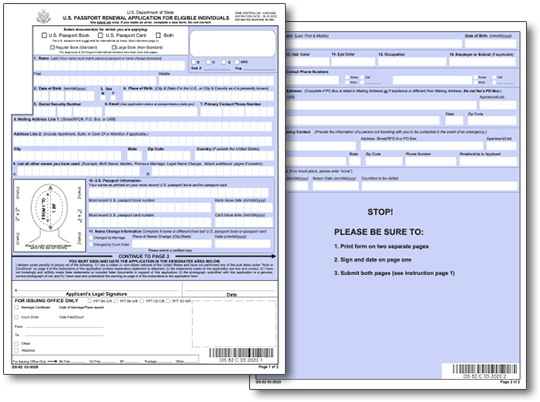 Follow the instructions below to download the passport application form DS-82:
Right click on the link.
Select "Save Target As..."
Choose the folder where you want to save the form.
Click on "Save"
Passport Renewal Application Form DS-82.
Alternatively, you can complete the application for a us passort renewal online.
Some applicants have reported connection problems or errors when trying to enter data online. If you have difficulty completing the online passport renewal form, download Form DS-82 and complete it offline.
How do I fill out the US passport renewal application?
The first page requests personal information, including the applicant's:
full name
date of birth
place of birth
gender
social security number
email address
primary contact phone number
primary mailing address
There is a place on the form to attach your passport photo and input information about your most recent passport book or passport card.
The last item on the first page is a space to input passport name change information if it applies to you.
The second page of Form DS-82 has spaces for you to include additional information about the applicant, including:
height
hair color
eye colo
occupation
employer or school
additional contact phone number(s)
additional permanent address(es)
an emergency contact
There is also a space provided for you to describe your current travel plans. If you do not have any immediate travel plans, you can leave the spaces blank.
It is very important that you follow the instructions carefully. Any errors or illegible writing can lead to delays in processing time and complicate your travel plans. It is always a good idea to check everything two or three times before mailing in the completed passport renewal form.
How long does it take to process the renewal application?
Current passport renewals are taking 10 to 13 weeks to process. These times are subject to change depending upon demand and the U.S. Department of State.
Expedited passport renewals by mail are currently taking 7 to 9 weeks to process from door to door using overnight delivery both ways.
Applicants who need to get passports renewed more quickly, should arrange to visit a regional US passport agency or, in the event the agency has no opening prior to your depature date, employ the services of an express passport expediter.
Top 5 Questions About Expedited Passport Couriers