Passport Name Change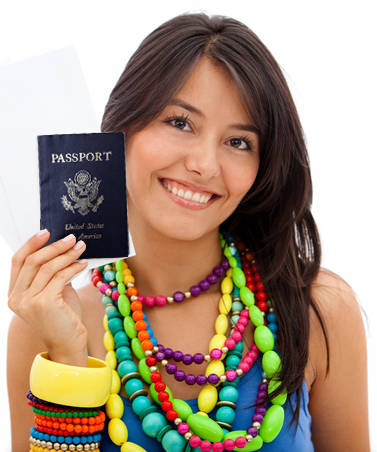 Applying to change the name in your passport is a good idea if your name has been legally changed since your travel document was issued. The application and supporting documents that you will submit depend on a couple of factors so read carefully to make sure you are submitting the correct ones.
The application takes approximately four to six weeks to process. Requesting expedited service will get it processed in just two to three weeks. Getting your name changed faster requires you visit a regional processing center to submit the form. Those who are unable to go can get a third party to submit the application for them. One option in emergency situations is to use a professional courier service to expedite a name change.
1
Complete Application Form
There are three possible applications forms that can be used to change the name in a passport. Choose the form that best applies to your situation from the list below. The link will open a page where you can download the form and obtain instructions and tips for completing the application.
Passport Issued LESS THAN One Year Ago
Passport Issued MORE THAN One Year Ago
No Document to Prove Legal Name Change
If you prefer, you can complete the application form online. When the page opens, agree to the disclaimer and click the "Submit" button. You will then choose the correct form. If you have problems opening or completing the online form, you can still print the application. Note, some applicants have encountered connection difficulties or problems with the online form accepting certain data. If this happens to you, just download the correct application form and complete if offline.
2
Gather Supporting Documents
Below is a list of the supporting documents that you need to submit with the request for changing the name in your passport.
Passport Issued LESS THAN One Year Ago
passport
passport photo
evidence of name change
Passport Issued MORE THAN One Year Ago
passport
passport photo
evidence of name change
No Document to Prove Legal Name Change
>passport
passport photo
3 public records with date and place of birth proving exclusive use of new name for at least 5 years
The document submitted as evidence of the legal name change must be an original or a certified copy. Acceptable documents include a marriage certificate, divorce decree, adoption certificate or a court order. Driver's license and Social Security cards are not acceptable as proof of a legal name change.
Photocopies and notarized copies of documents are not acceptable for passport purposes. If you need to acquire a certified copy of your marriage certificate, you can do so through the vital records office of the state in which you were married. For more information, visit Where to Write for Vital Records
3
Package and Send
Both Forms DS-5504 and DS-82 can be mailed to the address on the applications. Place the completed applications, supporting documents and payment for fees in a protective packaging such as a Tyvek envelope. It is recommended that you use a traceable delivery method.
If you need to use Form DS-11, you are required to appear in person at an application acceptance facility. These are usually located in post offices, county and city clerk offices and public libraries. Call before visiting to guarantee that the location is open and accepting applications.
Passport Name Change Help
Top 5 Questions About Expedited Passport Couriers