Form DS-5504: Application for a U.S. Passport: Name Change, Data Correction, and Limited Passport Book Replacement
Application Form DS-5504 should be submitted when applying to change your name in a valid passport, extend the validity of a limited passport or correct a printing error. This form should only be used for the first two if your passport was issued less than a year ago. Corrections of printing errors can be requested throughout the validity of the passport.
How to Submit Form DS-5504:
The instructions are straight-forward and easy to understand. There are three steps to the process.
STEP 1: Complete and Print Form
Follow the instructions below to download the passport application form DS-5504:
Right click on the link.
Select "Save Target As..."
Choose the folder where you want to save the form.
Click on "Save"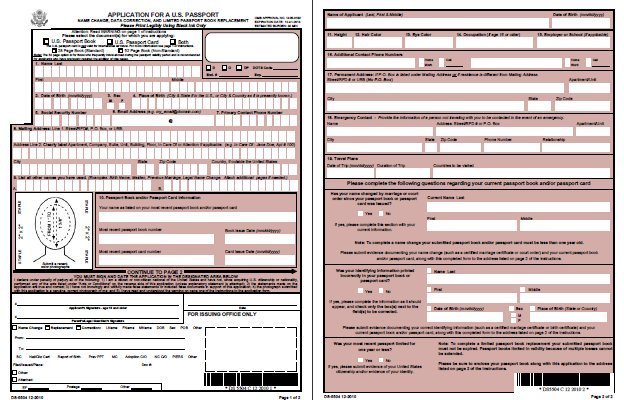 Click the link to open the form in PDF format: Form DS-5504: Application for a U.S. Passport: Name Change, Data Correction, and Limited Passport Book Replacement (PDF).
After selecting which passport you are applying for (book, card or both), there is a section for personal information such as full name, date of birth, place of birth, sex, social security number, email address, primary contact phone number and mailing address. There is a place to attach your passport photo and input date about your most recent passport book or passport card. The second page of Form DS-5504 has spaces for you to include your height, hair color, eye color, occupation, employer or school, additional contact phone number, permanent address, emergency contact and travel plans. If you do not have any immediate travel plans, you can leave the spaces blank.
The last three sections pertain to the type of service you require. You only need to complete the one that is relevant to you: whether you need to change the name in your passport, get a correction for a printing error or replace a limited-validity passport.
STEP 2: Sign and Date the Form
The place to sign the application form is actually on page 1 directly under the place to attach a photo.
STEP 3: Submit Completed Form plus Additional Documents Required
Specific documents are required for each type of service. It is important that you submit only documents that are acceptable for the type of request you are making. Incorrect documents can lead to delays. Applicants are encouraged to mail documents using a protective packaging such as a Tyvek envelope and a traceable delivery method.
How long does it take to process Form DS-5504?
Regular processing time takes 4 to 6 weeks. Expedited processing takes up to 3 weeks to complete. If you need have the application processed faster, you should schedule an appointment at a regional processing center or, in case this is not an option, request the assistance of an urgent passport expediter,
Click for expedited passport courier service in 24 to 48 hours!.
Top 5 Questions About Expedited Passport Couriers