Name Change Documents: Evidence of a Legal Name Change for Passports
A request by an American citizen to change the name in a passport must be accompanied by a document which serves as evidence of the legal name change. A list of acceptable documents is provided below with a description of each and information about where certified copies can be obtained if required.
Marriage Certificate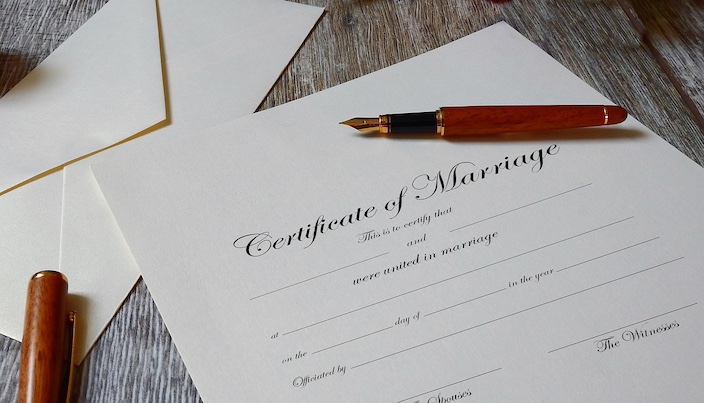 A passport name change due to marriage is one of the most common reasons this request is made. In this case, the document required as evidence is a marriage certificate. After the wedding takes place and
the marriage is solemnized, the marriage license which has been signed by the officient, the couple and witnesses, is taken by the officient to the appropriate location to be recorded. This could be the office of vital records, county clerk, city clerk or town clerk depending on the state. The original document is usually archived and an official marriage certificate mailed to the couple. It can take 6-8 weeks or longer for the marriage certificate to arrive depending on the state in which you were married. This is one of the principal documents that can be submitted with the application for a name change in a passport.
There is usually a place on the marriage license to specify any name change. Not all states include this. Some marriage certificates will only have names prior to marriage. Provided your marriage certificate records both your maiden name and your husband's surname, the marriage certificate is sufficient evidence of your change of name.
Some states issue both a "long" and "short" form of the marriage record. The "short" form is usually for informational purposes only and cannot be used for an official purpose. The "long" form is required for a passport name change.
Divorce Decree
A person who has divorced and assumed a new legal name can submit the original or a certified copy of the divorce decree as evidence of this fact. Depending on the state, the document may have a different name such as Dissolution of Marriage Record. In some states, certified copies are obtained through the vital records bureau while in other states they can be obtained at the county, city or town clerk's office. The originally issued document usually takes 6-8 weeks to be issued. Some states offer expedited service for those who require the document more quickly.
Adoption Decree
A Decree of Adoption is a legal document that is signed by a judge. It is a declaration of finalization of the adoption process. By this document, the relationship betweent the parent and child is established. The full legal responsibility and physical well-being of the child is placed upon the new passport. The child's new name is determined and stated in this document.
Court Order
Individuals who want to legally change their names other than by marriage, divorce or adoption can do so by applying for a court order. The process usually includes completing an application at a county clerk's office and paying a fee. Some states require the applicant post legal notices in the local newspapers. This process can take up to 3 months to complete.
Public Records
It is possible to request a passport name change based solely on the use of a name. This is getting to be a more difficult and demanding process. The California Courts web site states, "There is a strong trend to require official proof of name changes. Government regulations, created to combat modern types of fraud such as identity theft, are making it almost impossible to have a new name accepted without official documentation. Therefore, petitioning the superior court to grant an official change of name is now the most widely accepted way to change your name."
At least 3 public records showing your date and place of birth that show exclusive use of your assumed name for at least 5 years are required if you do not have one of the documents listed above. Oftentimes, applicants who use this method are asked to send additional records which only delays the process. If you have no legal evidence of a name which you have been using for some time, you may want to apply for a court order name change.
Click here to get the name changed in your passport in 24-48 hours.
Click for expedited passport courier service in 24 to 48 hours!.
Top 5 Questions About Expedited Passport Couriers