How Much Does a Passport Cost?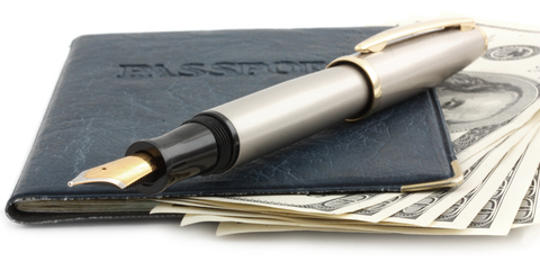 The cost of a passport can vary depending on the type of service you require, how quickly you need to get the application processed and any additional services you might need. When someone thinks of the price he or she will pay to get a passport, they usually consider only the required fees. However, there are many others expenses that an applicant might have to pay that are often overlooked. This article seeks to elaborate all possible expenses involved in obtaining a U.S. passport. There is an
application fee
for most services ranging from only $15 for a passport card for a minor to $110 for a new passport or renewal. An
execution fee
of $35 is mandatory when submitting Form DS-11. This is paid to the agent that adjudicates the application. The fees for some of the
optional services
are $60 for expedited service, $15.89 for overnight delivery of your new passport and $150 for a
file search
. A file search can be requested in writing if you want passport services to locate in their files the document you submitted as evidence of U.S. citizenship for a previous application.
Click here for complete passport fee schedule
.
Other expenses
that can be incurred during the application process but are often overlooked and not factored in to the total cost of a passport include passport photos, postage and handling, transportation, parking, food and, even, lodging. If you need to travel a long distance to apply at a regional agency and are required to stay overnight, the total cost you spend on a passport can be quite high.
Another aspect of the application process
that should be factored into
the cost of a passport
is the time you spend preparing and submitting the application. Completing the application form and gathering the supporting documents that are required should not take more than 30 minutes if the documents are readily available. It should not take more than another 30 minutes to an hour to submit the application if you live relatively close to an application acceptance facility. However, the application process can turn into a marathon if you have to take passport photos, get a certified copy of your birth certificate, obtain a valid identification document or travel to a
regional agency
. What should take an hour to an hour and a half could end up taking an entire day or more to get done. If you have to miss a day of work to get this done, the cost increases significantly. Even if you don't have to miss work, how much is your time worth? Determine an amount, figure out how long it will take you to apply and calculate the cost. An alternative to personally submitting the application form at a regional agency is to employ the services of a registered expediting service.
Current passport fee for expediting
at
Fastport Passport
ranges from $129 for processing in 8 to 14 business days to $429 for
same day passports
. By applying early, you can avoid these extra expenses. When you need your passport in 2 weeks or less, you need to compare the cost of visiting the regional agency yourself compared to the fees for
applying through a registered expediter
. How much does a passport cost? Again, it depends on the many variables we have listed above. The lowest possible price would be about $50 for the renewal of a passport card for an adult. This would include the application fee, passport photo and postage. The highest amount an applicant might spend to get a passport can reach $750 or more. That's a pretty high price to pay for a passport and probably only worth the cost in emergency situations. Hopefully, this article will help you better understand all the expenses involved in getting a passport.
Click for expedited passport courier service in 24 to 48 hours!
.
Expedite Your Passport Now!