Fast Passport Service: The Fastest Way to Get a Passport Application Processed
In order to get a US passport fast, you need to have the application expedited. Estimated time to expedite applications is usually 2-3 weeks but is currently taking 5-7 weeks. This is half the time required for standard passport processing but it's still not the fastest way to get a passport.
Click here for steps to renew passport fast.
1
Complete Form DS-11
The process is exactly the same as applying for routine service with one important difference. Before we mention that, let's look at the steps to get a new passport. The
first step
is to complete Form DS-11. You can
download the application form
and complete it offline or you can
complete the form online
and then print it. Either way, you should not sign the application until an Acceptance Agent asks you to do so.
Expedite Passport in 24 hours.
2
Gather Supporting Documents
Once the application form is filled out, the second step is to gather the required supporting documents. These include evidence of U.S. citizenship which should be an original or certified copy. Acceptable documents include a birth certificate (must be in long form and include parents' full names), previously-issued U.S. passport, Consular Report of Birth Abroad, Naturalization Certificate or Certificate of Citizenship. If you no longer have evidence of your U.S. citizenship but were issued a passport in the past, you can request a file search. Note, there is a $150 fee for this service.
Other documents that you will need to apply for a new passport include proof of identity, a copy of your identification document and a recent passport photo that meets the size and dimension requirements. You may also need to submit evidence of name change if your name has been legally changed.
3
Visit Acceptance Facility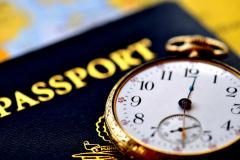 The third step is to take the completed form and supporting documents to the nearest application acceptance facility. These can be found in many post offices as well as county and municipal government offices. Many facilities require an appointment so call before visiting.
At the acceptance facility, an agent will review your application and documents, administer an oath and witness the signing of the form. Since you want fast passport service, you will add the expedited service fee of $60 to the application fee of $110. For an additional $15.45 your new passport will be mailed by overnight delivery. You can write one check for the total.
The form, documents and payment will be placed in an envelope and sealed. The address for express service is different than the one for routine processing. Both can be found on the application form. Be sure to write the correct address on the envelope in order to avoid delays. We also recommend that you write the word "expedite" on the outside of the envelope if the agent doesn't.
The last thing to do is pay the acceptance agent $25 for the execution fee and you are done. Then, all you have to do is wait for the application to be processed and the new passport delivered to you in 2-3 weeks.
The Fastest Way to Get a Passport Expedited
While fast, applying for expedited service at an acceptance facility is not the fastest way to get a passport. For faster service, the application form needs to be submitted at a regional agency where same day passport processing is available, if required. Applicants who are unable to visit one of the agencies can authorize someone to do it for them. There are expedited passport courier services that can hand deliver forms and documents for a fee. These professional service providers are experienced in the passport expediting process and must be registered with the Department of State.
There are pros and cons to each option but, in the end, either one can get your passport expedited in under two weeks to as fast as the same day.
Click here to expedite your passport in 24 to 48 hours
Top 5 Questions About Expedited Passport Couriers