Passport Photos: What You Need to Know to Avoid Delays with Your Passport Application
Beware, glasses will no longer allowed in passport photos.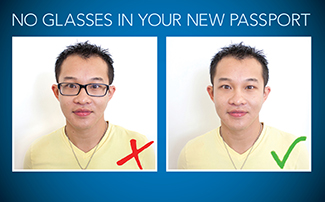 Only one passport photo is required when applying for most passport services, especially a new issue or renewal. Your application can be delayed significantly if your photo does not meet all the requirements.
In fact, problems with pictures is one of the main reasons delays occur. It could be that the photos are not the right dimensions or the quality is not high enough. In other cases, the applicant does not follow the guidelines concerning the background or what is worn.
It is important that you familiarize yourself with the guidelines below and read through the frequently asked questions to guarantee that your passport photos meet the requirements.
Passport Photo Requirements
U.S. passport photo size is 2x2 inches
Between 1 inch and 1 3/8 inches from the bottom of the chin to the top of the head
Taken within the past 6 months, showing current appearance
Color (NOTE: Black and white photos are no longer accepted.)
Plain white or off-white background
Printed in either matte or glossy quality photo paper
Apply online to get your passport fast.
Passport Photo Do's
Face the camera directly, showing a full face
Have a neutral facial expression
Keep both eyes open
Wear normal attire
Reproduce skin tones accurately
Verify that all requirements are met before sending your photo
Passport Photo Don'ts
Don't take a selfie
Don't wear glasses
Don't wear a uniform
Don't use a colored background
Don't allow shadows
Don't apply image filters
Don't digitally edit your photo
Don't allow another person in the photo
Don't send a damaged (holes, creases, or smudges) photo
Don't send a blurry, grainy, or pixelated photo
Passport Photo FAQ
What type of paper are the photographs to be printed on?
The photos should be printed on thin photo-quality paper.
Can hats or religious headgear be worn for the passport photo?
Unless worn daily for religious reasons, all hats or headgear should be removed for the photo. In all cases, no item or attire should cover or otherwise obscure any part of the face.
Can work uniforms be worn for the passport photo?
Uniforms should not be worn in photographs except in the case of religious attire that is worn daily. Otherwise, normal street attire should be worn.
Can eyeglasses be worn for the passport photo?
Eyeglasses are no longer allowed in passport photos.
Can sunglasses or tinted glasses be worn for the passport photo?
Dark glasses or nonprescription glasses with tinted lenses are not acceptable unless you need them for medical reasons. A medical certificate may be required.
Can a parent or guardian appear in the passport photo of a minor child?
No, the minor child must be the only subject in the photo. Nothing used to support the minor child, whether by mechanical or human means, should be in the camera's frame.
Are photos that are copied from recent driver licenses or other official documents acceptable?
No, only original photographs are acceptable. Copied or digitally scanned photos of photos will not be accepted. In addition, photos must not be retouched to alter the applicant's appearance in any way.
May photos be taken with a digital camera or cell phone?
Yes, a digital camera or cell phone can be used to take your passport photo. You can also print the image at home. However, the image-quality criteria described on this website must be met. For more information, visit Passport Photos with a Digital Camera.
Click for expedited passport courier service in 24 to 48 hours!.
Top 5 Questions About Expedited Passport Couriers