9 Things That Can Get Your Passport Photo Rejected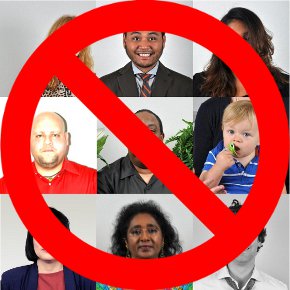 A passport is your ticket to visit the world so the last thing you need is to get all the documentation and money in order and sent out, only to be delayed because your passport photo does not fit within the government's parameters of acceptable criteria. To ensure you don't make the nine possible blunders rendering your pictures useless, make sure you follow the guidelines listed below.
First, you need to make sure that your passport photo is clear, well-composed, and your face is looking directly at the camera. Those photos that are not front-facing, have shadows falling across the face and background, or show an expression that lacks neutrality will not be accepted. The same goes if your position is not centered; subjects off to one side or the other are not permissible passport photos. Size and depth of field are also key elements to an acceptable passport photo. Your photo needs to clearly show you from the tip of your head to just under the clavicle. Subjects that are photographed too close up will not be able to use the photo as it distorts your appearance. The same goes if you are photographed too far away; any distortion of your head size and features will immediately render your photos useless. Your pose and expression need to be looking directly forward with a neutral expression, such as keeping your lips gently pressed together, eyes open naturally, looking directly into the lens. Tilting your head forward or backward, looking down, or an emotive expression such as an overly excited face will ensure that you cannot use the photo for your passport. If you wear glasses in your passport photo, it will be rejected unless you submit a letter form your doctor declaring you have a medical reason to wear them. The reason for this recent change in passport photo regulations is due to the fact that unacceptable photos was the number one reason applications were denied. Glasses often cause shadows on the face, have a glare, or are tinted and hinder seeing the eyes of the applicant clearly. To avoid this, you should remove your glasses for the photo even if you need to wear them daily. Certain attires are prohibited from passport photos, and there are limitations to how your hair can be worn. Once again this is about obscurity, so no hats, hair in the face, scarves, or things such as pacifiers if you have a toddler needing a photo. You cannot have anything that cast shadows on your face or obscures it in any way; this pertains to scarves as well because your neck needs to be visible. Head scarves can be worn if used for religious purposes, but as with the other items mentioned, it cannot affect the appearance of your face. Your photo needs to have accurate shadows and lighting; this means that it needs to be clear and show your skin tone precisely with the proper exposure and no shadows. Black and white, too dark, too bright, and color tinted photos are not allowed. If the contrast is too high or there is exaggerated shine on areas of the photo, it will not be accepted. Again no shadows on your face or in the background. The only accepted background your picture can have is one that is uniform, typically white or off-white with zero shadows. No items can be placed behind you, no colored backgrounds, and no patterned backgrounds; children they need to be photographed on their own and cannot be held by a parent in the photo. If these rules are not adhered to, your photo will not be accepted. The size, resolution, and quality limitations are precise; the photo must be two inches by two inches with the head length no smaller than 1 inch and no bigger than 1.4 inches. It cannot be pixelated, blurred, unfocused, have a printer pattern or dots, or be in motion. If it is not perfectly clear and within the size parameters, it will not be accepted. Children's photos need to adhere to the same regulations as adults. This means clear, facing the camera, and looking forward with a neutral expression. There can be no shadows, obstructions of the face or background. The photos must have the same size, quality, and resolution as adult photos with nothing and no one behind them other than the white background. Obstruction, shadows, and clarity are common themes among all of these nine mistakes. If you adhere to the regulations and follow the sizing guidelines, you should not have to worry about your photos. You can
make passport photos at home
but there is a much greater risk of having them rejected. There are many
locations to get a passport photo
. Getting them done by a passport acceptance agent in a post office or at a government passport agency can ensure that they are done correctly. Otherwise, make sure you go to a business that specializes in passport photos and is trained to make sure your photos meet the specific criteria of the government, giving you one less thing to worry about.
Click for expedited passport courier service in 24 to 48 hours!
.
Expedite Your Passport Now!
Click to Call for Expedited Service!