How do I affix my photos to the application for a passport renewal?
by Gail
(Montclair, NJ)
Question: I am sending in my application on Monday January 25 via Federal Express at the end of the day and would like the answers to the questions above:


Do I clip or staple the photos to the application for a passport book renewal?
How do I answer question no. 10 about most recent passport book --do I put in the passport number?
Answer: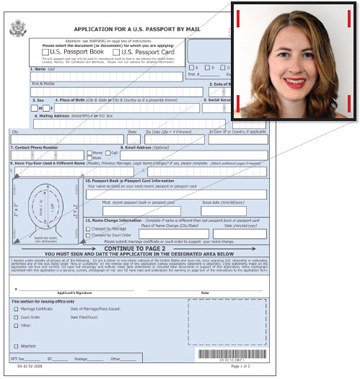 Gail,
First of all,
only one photo is required.
Previously, two passport photos were required. This is no longer the rule.
When affixing
passport photo
to
Form DS-82
, you should to the following.
Staple the passport photo to the application. Use the word "Staple" on the application as a guide. Do not bend the photo.
As for question 10 on the form, you write your most recent passport number.
Click for fast expedited courier service
Top 5 Questions About Expedited Passport Couriers
UPDATE:
High demand and mailing delays are impacting how long it takes to get a passport.
Standard service is currently taking between 10 and 13 weeks.
Expedited service is currently taking between 7 to 9 weeks.
NOTE: Processing times begin when applications are received at a passport agency or center. Requesting 1-2-day mailing service is recommended.
Need to get a passport faster?
More Passport & Travel Information
Getting a Passport Expedited at a Post Office
Requesting express service at post offices and other facilities that accept application forms from U.S. citizens.
Applying at a Regional Passport Agency
Where processing centers are located. How to schedule an appointment. What documents to take with you.
Using a Registered Courier Service
How to pick a legitimate courier service company to assist in getting your passport quickly.
Routine vs. Expedited Passport Service: How to Choose
Guide to help you decide if standard or fast track processing is the best option for your situation.
How to Renew a U.S. Passport Fast
Learn to expedite passport renewals as quickly as the same day. Where and how to renew passport in a hurry.
Expedite Your Passport Now!