How do I affix my photos to the application for a passport renewal?
by Gail
(Montclair, NJ)
Question: I am sending in my application on Monday January 25 via Federal Express at the end of the day and would like the answers to the questions above:


Do I clip or staple the photos to the application for a passport book renewal?
How do I answer question no. 10 about most recent passport book --do I put in the passport number?
Answer: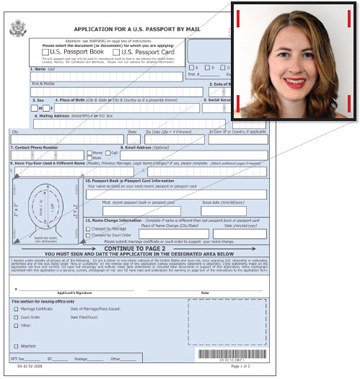 Gail,
First of all,
only one photo is required.
Previously, two passport photos were required. This is no longer the rule.
When affixing
passport photo
to
Form DS-82
, you should to the following.
Staple the passport photo to the application. Use the word "Staple" on the application as a guide. Do not bend the photo.
As for question 10 on the form, you write your most recent passport number.
Click for fast expedited courier service
Top 5 Questions About Expedited Passport Couriers
Latest Passport & Travel Updates
Getting a Passport Expedited at a Post Office
Requesting express service at post offices and other facilities that accept application forms from U.S. citizens.
Applying at a Regional Passport Agency
Where processing centers are located. How to schedule an appointment. What documents to take with you.
Using a Registered Courier Service
How to pick a legitimate courier service company to assist in getting your passport quickly.
Routine vs. Expedited Passport Service: How to Choose
Guide to help you decide if standard or fast track processing is the best option for your situation.
10 Benefits of Expediters
What are the advantages of employing the services a qualified expediter?
How to Renew a U.S. Passport Fast
Learn to expedite passport renewals as quickly as the same day. Where and how to renew passport in a hurry.
Passport Renewal Videos
Watch step-by-step instructional passport videos of how to renew a passport in 3 steps.
Make Your Own Passport Photos
Use the online Passport Photo Wizard tool to make your own passport photos in minutes. Save money and time.
Travel Warnings
The latest alerts to help you prepare for a safe and secure trip abroad.
Travel Documents
List of the most important travel documents and information about how and where to get them.
Travel Safety
Discover practical advice on how to keep safe during international trips.
23 International Travel Tips to Save Money on Transportation, Lodging & More
Cool ways to make your money stretch farther on travel expenses so that you can go more often and stay longer.
Expedite Your Passport Now!