How do I affix my photos to the application for a passport renewal?
by Gail
(Montclair, NJ)
Question: I am sending in my application on Monday January 25 via Federal Express at the end of the day and would like the answers to the questions above:


Do I clip or staple the photos to the application for a passport book renewal?
How do I answer question no. 10 about most recent passport book --do I put in the passport number?
Answer: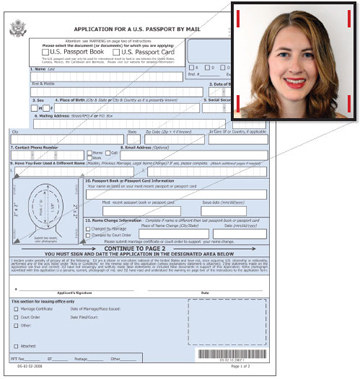 Gail,
First of all,
only one photo is required.
Previously, two passport photos were required. This is no longer the rule.
When affixing
passport photo
to
Form DS-82
, you should to the following.
Staple the passport photo to the application. Use the word "Staple" on the application as a guide. Do not bend the photo.
As for question 10 on the form, you write your most recent passport number.
How to get an emergency passport renewal in the U.S. or abroad. Discover the steps to renew your passport the same day.
Learn to expedite passport renewals as quickly as the same day. Where and how to renew passport in a hurry.
Use the online Passport Photo Wizard tool to make your own passport photos in minutes. Save money and time.
Watch step-by-step instructional passport videos of how to renew a passport in 3 steps.
Jet lag is almost certain if you travel across several time zones. Discover how to minimize the effects of jet lag for every age group and ensure a more rewarding family trip.