Passport Photos with a Digital Camera
Using a digital camera to produce high-quality passport photos depends on the condition and proper use of the digital camera, computer, display monitor, and digital printer. Each of these components can influence either positively or negatively the final printed photo that will be submitted for the passport or visa. The following recommendations for each of these digital components will ensure high-quality photos. For picture-taking tips, visit our page on digitalized passport photos. If you have any questions, visit our passport photo FAQ.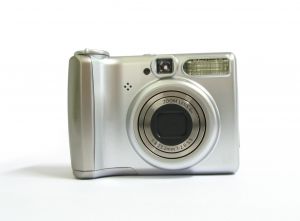 Digital Camera
The camera's resolution is the most important feature in producing high-quality photographs. Since 1 megapixel is sufficient for taking photos for passports and visas, pratically all the cameras that have been sold over the last few years are more than capable of taking high-resolution pictures.
Digital cameras usually have automatic features. You should take care not to rely totally on these controls since each subject's facial characteristics, clothing, facial movement, etc. can vary and may not be accommodated by the automatic settings.
Computer
The computer is the central component in digital photography. It stores and displays the digital images from the digital camera and enables those images to be printed on a variety of digital printers. Because of the huge amount of data contained in high-resolution digital images, the computer should have adequate memory and storage capacities.
In addition to these two key elements, the computer should have high-speed interfaces to the camera and printer, as well as a fast CPU to control the image processing functions. As with the digital camera, practically any computer that has been sold over the last few years, whether a desktop or laptop, has had adequate configuration for processing digital images needed to make passport photos.
Display Monitor
Most display monitors today are capable of displaying images in various screen resolutions, all of which are suitable for viewing passport and visa photos. These monitors also display images in a wide variety of colors. However, an image can look quite different when viewed on various display monitors, in terms of both screen resolution and image quality.
For this reason, it is important to set the monitor's settings to the manufacturer's default values to view the image in the most appropriate manner. For more accurate color-matching, check that the calibration of your monitor is correct. If necessary, use the monitor's control panel to fine-tune its color adjustments; for instance, to set the monitor's color temperature to 6500ºK to approximate daylight.
For even greater color accuracy, the stored image can be converted to and displayed in a device-independent color space by using standard image display software. This removes the color bias of the specific display monitor and will more accurately represent the way the image should actually appear.
Printer
Maintaining the digital printer in good working order however, can be the single most important aspect of producing quality photos. Regardless of how much attention is paid to capturing, storing, and displaying an image, image quality will be poor if printers, including inks and ribbons, are not properly maintained. To ensure that a quality print is obtained, the image can be transferred to a disk and taken to a photo lab to be printed. The equipment found in a photo lab will normally be capable of producing higher-quality photos and undergoes the frequent calibration and maintenance necessary for consistent results.
If digital printers are used to produce passport and visa photographs in lieu of conventional photographic processes, the photographs produced must be high quality and photo-like in appearance.
Certain types of digital printers such as inkjet and dye sublimation can be used to produce high-quality passport and visa photos. Inkjet printers deposit multi-colored ink onto photographic print paper. Dye sublimation printers use heat, applied to a multi-colored ribbon or film, to release a dye that is transferred onto photographic print paper. These two types of printers, when used with compatible print paper that produces high resolution, photo-like images, are suitable for printing passport and visa photos. They have multiple printer settings to control the format, print resolution, and print quality of the printed photo. In addition, they come with printer-specific device driver software that converts the stored image pixel data in the computer into the actual printer output to be printed onto the photographic paper.
Just as with display monitors, printers have their own unique color profile that should be taken into account before the image is printed. The combination of proper printer settings and photo-quality paper determines whether high-quality photos can be obtained.
Make Your Own Passport Photo with Free Online Tool
Click for reliable expedited passport courier service.