Passport Appointment Online - How to Find the Location Nearest You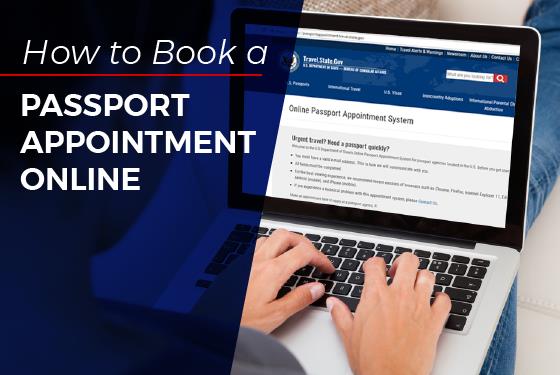 A system to schedule a US passport appointment online has been a request by many who faced the difficult task of calling a regional passport agency or local passport application acceptance facility to get an appointment to apply for a passport. Recently, a couple of online appointment systems were made available. The United States Postal Service launched an online appointment scheduler for applicants who need to apply for a new passport in person at an application acceptance facility. Shortly after that, the U.S. Department of State launched an online scheduling system for those who need to
get a passport expedited at a regional agency
in less than two weeks or within four weeks when the applicant also needs to obtain a travel visa. Each provides a handy way to set up an appointment to get a passport. However, neither is perfect. The step-by-step walk through below will show how each works, problems you may encounter as you complete the forms and possible solutions. Pick the online passport appointment system that best fits your circumstances. The USPS system is explained immediately below or you can
click here for information about making an appointment at a regional agency
.
USPS Online Passport Appointment System: Application Acceptance Facilities
The
online passport appointment system
maintained by the United States Postal Service is a giant step toward relieving some of the frustration felt by applicants who were required to call numbers that were rarely attended. While the appointment system is helpful for the majority, it still has some limitations. To begin with, the system does not include all the passport application acceptance facilities that exist. Not included in the system are facilities located in public libraries, municipal and county government offices or post offices that do not require an appointment.
Step 1: Choose a Day
Use the calendar to select the best day for you to apply. You also need to select the number of adults and/or minors that will accompany you and whether you need passport photos.
Step 2: Choose Location
Enter either city and state or ZIP code to find passport appointment locations nearest to you. You can also set the distance from the appointment location from a radius of 1 to 100 miles. Here is where you might encounter problems. Because this system only includes post offices that require an appointment, its usefulness depends on whether the facilities closest to you are in post offices that require an appointment or not. If they are, the system will more than likely show you the closest facilities. If not, there may be facilities near you that do not require an appointment but do not appear in the list. This happens more frequently for those who live in small towns or rural areas. Here is an example.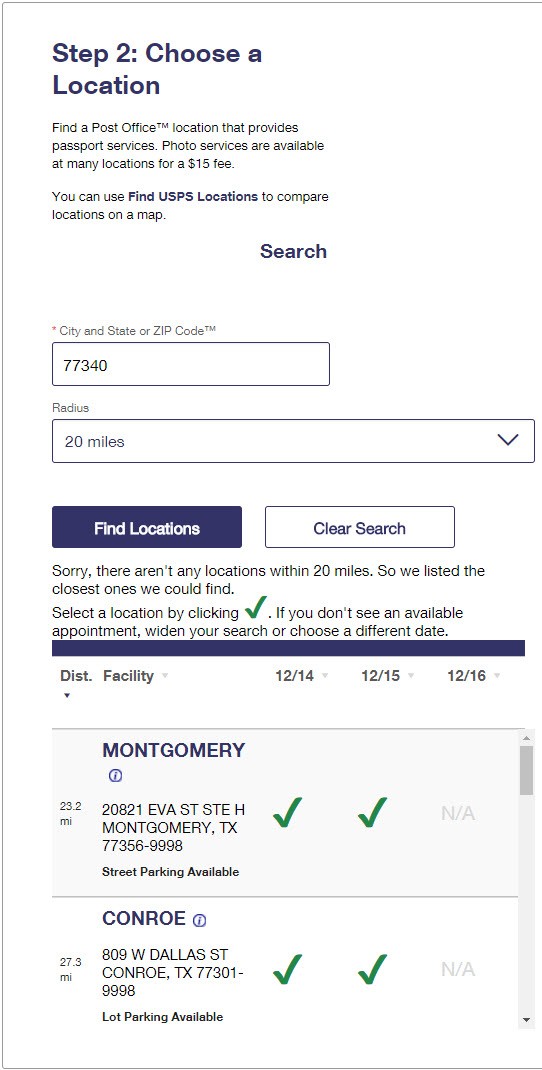 According to the USPS appointment system, an applicant from Huntsville, Tx would need to schedule an appointment at the passport office in Montgomery, over 23 miles away. Checking with the U.S. Department of State database of facilities, we discover that there are four locations that are closer to Huntsville than the one in Montgomery. In fact, there are two facilities in Huntsville. Again, this occurs because the passport appointment system of the postal service only includes facilities that require an appointment. The four that are closer to Huntsville accept walk-ins.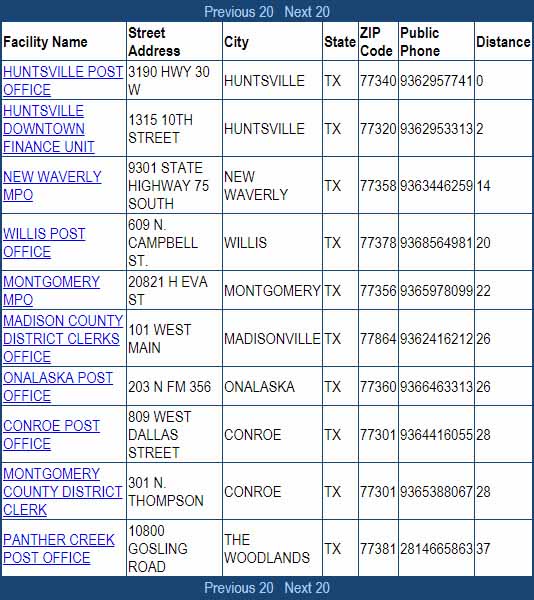 There are worse cases. Rome, New York is a city with a population over 30,000 located in the central part of the state. According to the online passport appointment system, the closest facility is 72 miles away in Wolcott.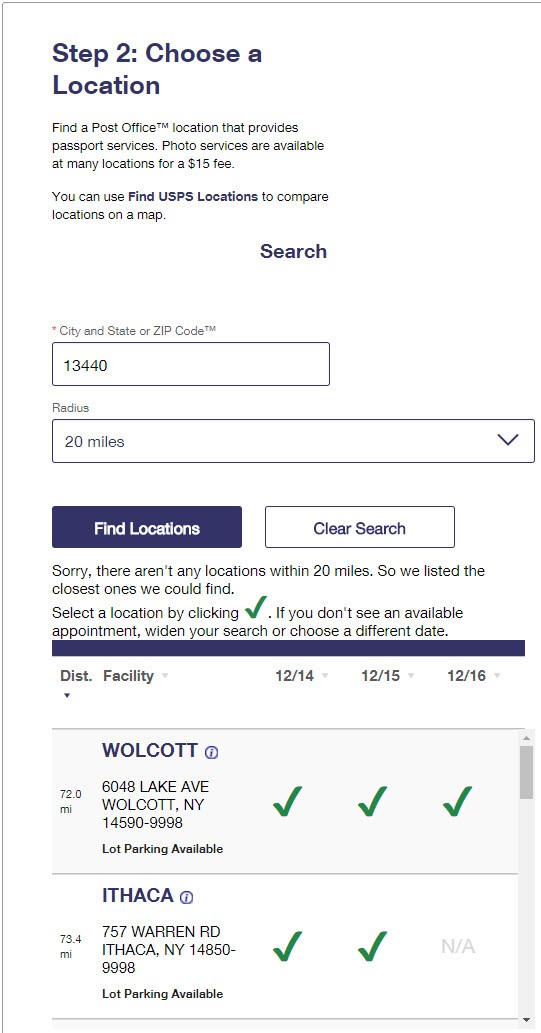 However, a search performed using the U.S. Department of State's database of application acceptance facilities reveals several locations to apply for a passport within 16 miles, the closest being in Rome.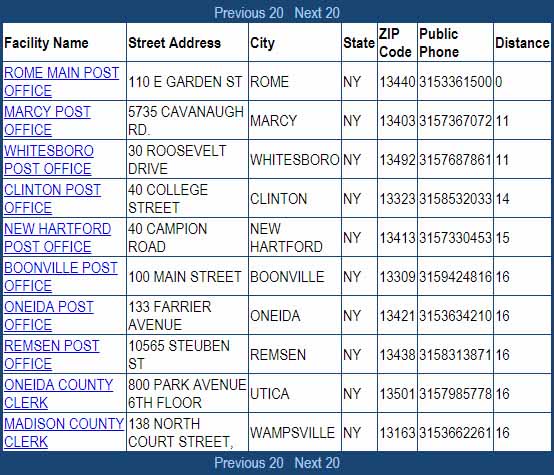 The reason for this is that none of the facilities closest to the zip code entered requires an appointment. Since they no not require an appointment, they are not in the database of the online appointment system. This can even happen in large cities. The online system might show a facility within 10 miles when there is, in fact, another located less than a mile away that does not require an appointment. To use the online passport appointment system most effectively, you should first establish the maximum distance you would be willing to travel to apply for a passport. If the results of your search include a facility within that distance, schedule your appointment. If not, search for a facility that
accepts walk-ins
. Let's look at an example in Houston to see how to complete the online appointment process. A search for the 77002 zip code brings back ten results from 0.9 to 7.3 miles away.
Click on the checkmark for the date and facility for when and where you want to apply. You will be presented with available time slots.
Step 3: Choose a Time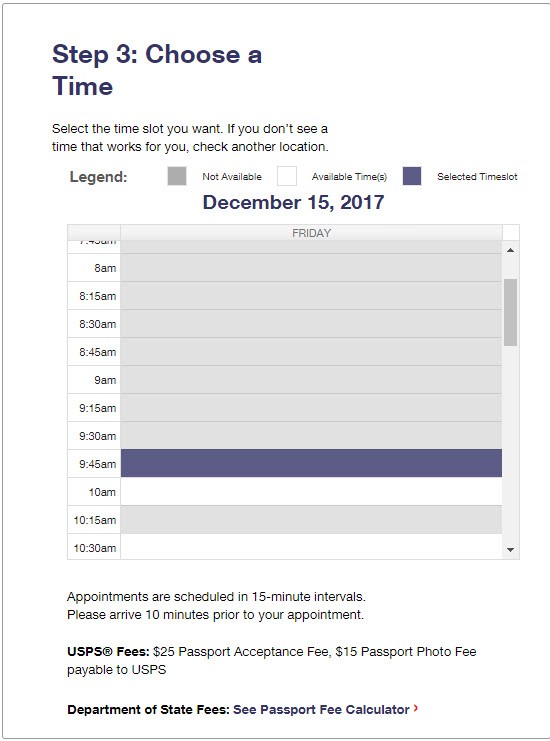 If no appointment is available when you can visit the facility, you can return to Step 2 and edit the location. After selecting the time you want by clicking on it, you need to complete Step 4.
Step 4: Provide Your Details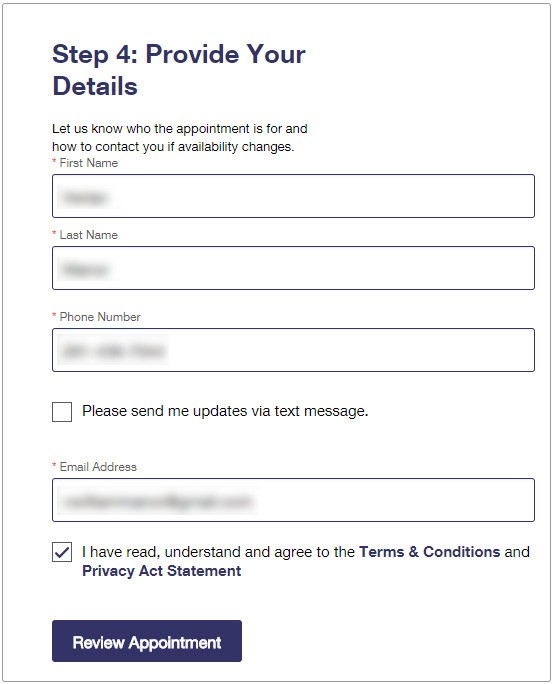 Enter your name, telephone number and email address. Then, click to review your appointment. A window will appear with the all the information you input into the system.
Review your personal information, the location selected and the date and time of your appointment. If everything is correct, click the Schedule Appointment button to confirm.
Related Articles:
What to bring to a passport appointment
Click for expedited passport service in 24-48 hours
The
passport appointment scheduler
for the U.S. Department of State allows you to do the following.
Make passport appointment.
Confirm an existing appointment.
Reschedule an existing appointment.
Cancel passport appointment.
There are 5 steps to scheduling a new appointment at a regional agency.
Step 1: Travel Plans & Proof of Travel
To schedule an appointment, you must have international travel plans within 2 weeks or within 4 weeks if you also require an entry visa.
Proof of travel
is required to apply at a regional passport agency. If you do not need a passport quickly, you can apply in person an acceptance facility for a new passport or by mail for renewals and other services.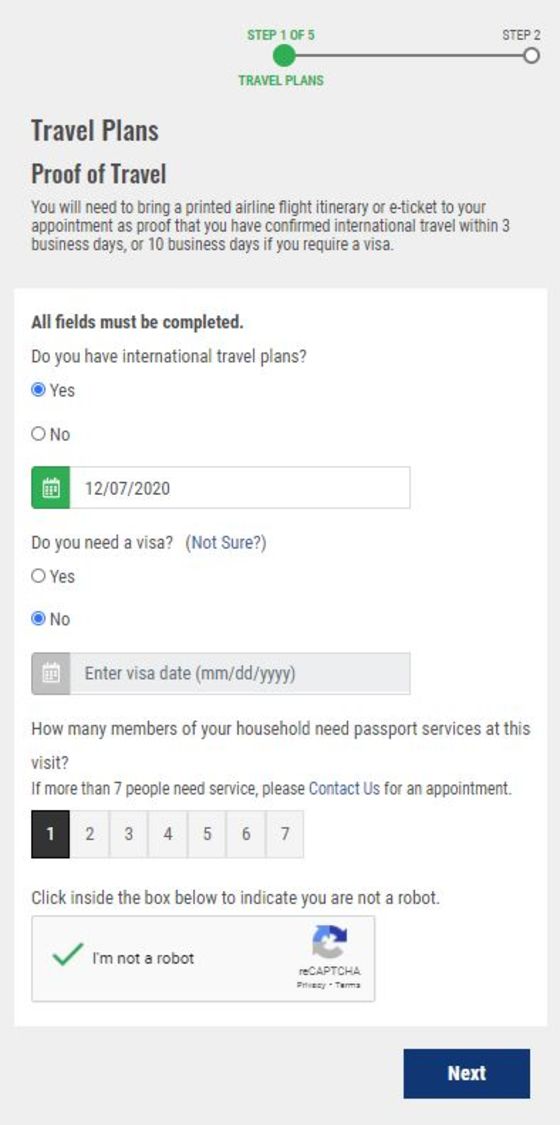 Step 2: Find an Agency
The appointment system will use your location to identify the regional agency nearest to you. As you can see below, the
Houston Passport Agency
did not have an appointment available for before the travel date that was entered.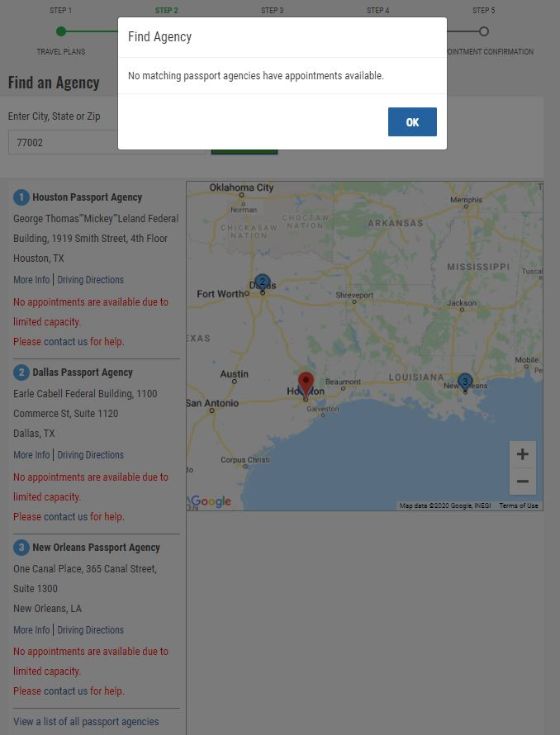 In this case, you either go back and choose a different date, enter a different agency or use a different way to get your passport expedited. You can only change the date you entered if you can change the date your flight departs or the day you need to submit your passport to get a travel visa. If you already entered the latest possible date, you might consider changing the agency. In the example above, no appointment was available at the Houston agency. The next closest agency is in
Dallas
. If you do not know where the next closest agency is located, you can click the link "View a list of all passport agencies". A page will open that shows all current agencies. Once you decide which one is closest to you, you must return to the appointment system to enter it and search.
NOTE:
If the nearest agency to you does not have an appointment available and you do not want to travel to one that is farther away, you have a couple of options. One, you can try visiting the nearest agency without an appointment. Agencies try to attend to all who show up, but no guarantee can be made. There is a limit to the number of applications that can be processed each day. Alternatively, you can get a
registered passport courier
to hand-deliver your application and pick up your new passport for you.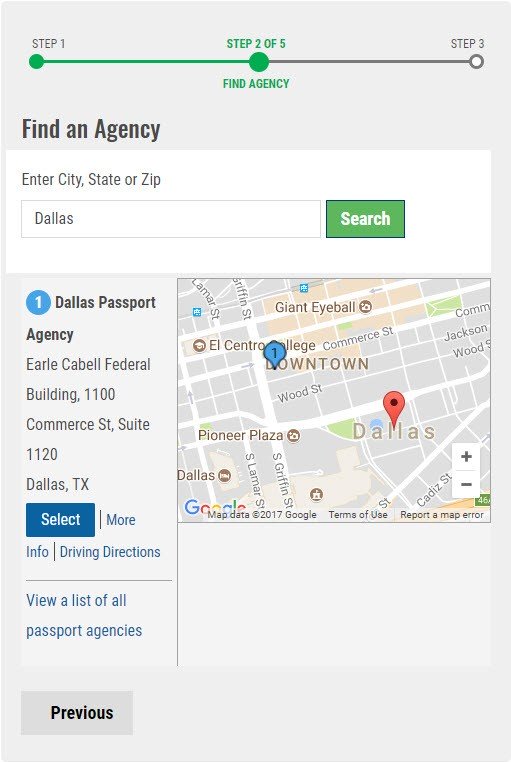 After finding an agency that has an appointment available prior to the date you entered in Step 1, click the "Select" button.
Step 3: Select Date & Time
Based on the date you entered in Step 1, you will be shown a list of dates on which appointments are available. Clicking on the arrow to the right of AM will reveal available time slots.
Step 4: Appointment Registration
After you select the passport appointment time that best fits your schedule and click "Next" you will be taken to the Appointment Registration page.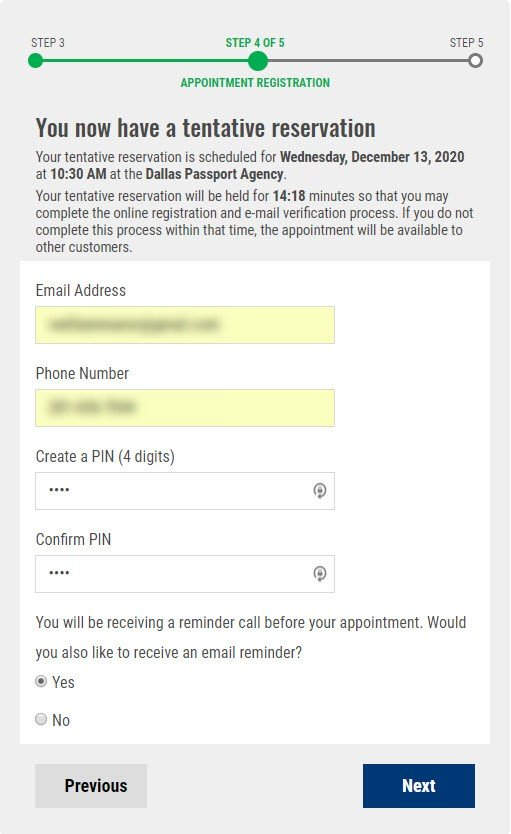 You have now made a tentative reservation which will be held for a short period of time. During this time, you need to complete the form with your email address, phone number and a PIN that you create. You can also choose to receive an email reminder in addition to a reminder call. After clicking "Next", you will be taken to a page where you will enter a confirmation code that was sent to the email address you entered.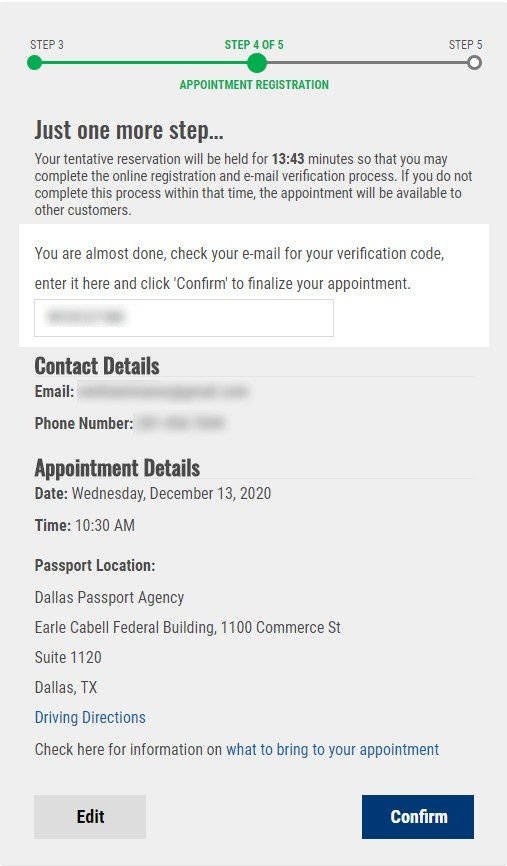 Step 5: Appointment Confirmation
After entering the verification code and clicking "Confirm", your appointment will be confirmed. Details of your appointment will be listed for you to print as well as sent to your email address.
Now that your appointment to get your passport expedited at a regional agency is confirmed, you can complete the application form and gather the required supporting documents for the
type of passport service
that you need.
Click for expedited passport service in 24-48 hours
Top 5 Questions About Expedited Passport Couriers
Expedite Your Passport Now!