Passport Appointment Online - How to Find the Location Nearest You to Apply for a New Passport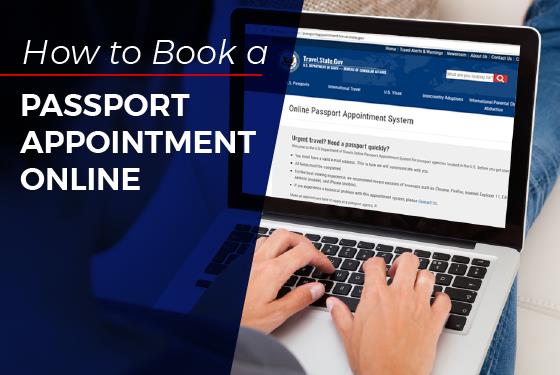 Passport appointments can be hard to get. But if you need a new passport, you have no choice. You have to visit either a regional passport agency or a local passport application acceptance facility.
There is a good reason for this. You must sign your DS-11 application for a new passport in front of an Acceptance Agent. You also must swear an oath. These are key requirements for a new passport. No one else can do these on your behalf.
There are 2 ways to make a passport appointment online. Your choice depends on how quickly you need your new passport:
Routine passport processing appointments are available online through the United States Postal Service. Users can use the online appointment scheduler to apply for a new passport in person at an application acceptance facility.

Both individual and family appointments are available. Some locations offer passport photo services, as well.

Be advised: Routine passport processing time is currently taking 11-13 weeks. This does not include delivery times.

Expedited passport processing appointments are only for those who need to get a passport expedited at a regional agency in 6 weeks or less. Online scheduling is no longer available through the U.S. Department of State.

According to the State Department website:

Currently, the only way to schedule an appointment is to call the National Passport Information Center at 1-877-487-2778 (TDD/TTY 1-888-874-7793) from 8:00 a.m. to 10:00 p.m. ET, Monday through Friday
Routine appointments are usually easier to get than those at regional passport agencies. Yet, you still may find it hard to get one depending on demand and the season.
The USPS system is explained below. You can also click here for more information about making an urgent appointment at a regional agency.
What if you need a new passport fast?
Passport expediting services can help you get your new passport fast. However, an expediter can't get you out of the DS-11 signature or oath requirements. Even if you are using a passport expediting service to get a new passport fast, you will still need to make an appointment to sign your form in person.
The good news is that you can sign your DS-11 and complete your oath at one of the thousands of passport offices across the country. The form can then be mailed or handed to a passport expediting service. THey will be able to rush your application at a regional passport agency for you.
One expediter we highly recommend is Rush My Passport. Their credentials include:
Over a decade of experience expediting passports
Multiple offices across the country
A partnership with FedEx Office
Features in The Wall Street Journal, The New York Times, Forbes, The Los Angeles Times, MSNBC, and many other news and travel outlets.
Hundreds of 5-star reviews on Yelp, TrustPilot and other third-party review sites.
USPS Online Passport Appointment System: Application Acceptance Facilities
The United States Postal Service online passport appointment system is simple. In most cases, it is better than the previous system of requesting appointments by phone.
Here's how it works:
Step 1: Choose a Service
The first step is to select the passport service you need from the drop down menu.
There are four options:
New Passport Only
New Passport with Photo Service
Passport Photo Only
Passport Renewal
If you select Passport Renewal, you will see the following message: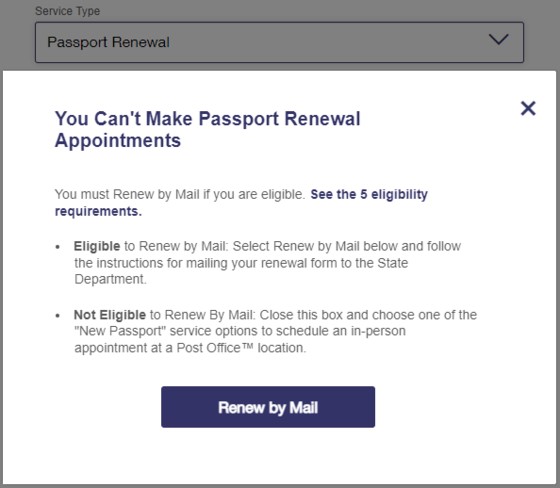 This is because you do not need to apply in person to renew a passport. Check that you meet the requirements for a passport renewal. If you qualify, complete form DS-82 and mail it to the address on the form. You can also choose to expedite your passport renewal if you need to.
Apply for a new passport if you need:
to replace a lost, stolen or significantly damaged passport.
to replace a passport that is over 15 years old
to replace a current passport that issued before a person was age 16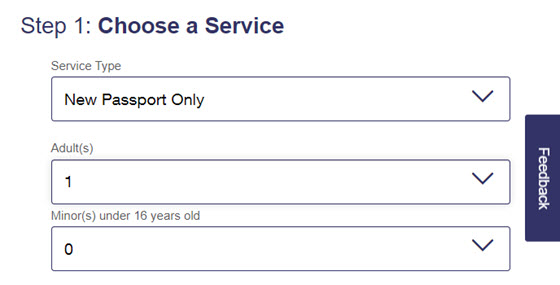 Next, select the total number of adult and minor applicants. For passport purposes, a minor is anyone under the age of 16.
You can select up to 6 adults and 6 minors for a single appointment.
Step 2: Choose Search Method
The online appointment system allows you to search by Location or Date. We recommend you search by Location first to find the passport offices nearest to you. If the nearest locations do not have available dates that work for you, try searching by date.
Know that the online system has some limitations:
The system does not include all the passport application acceptance facilities that exist.
The system does not show some offices. Some that are missing include public libraries, local government offices, and post offices that do not need an appointment.
Moving on. At this step you can check the small box to include locations that offer photo services. This is an option even if you did not include this service in Step 1.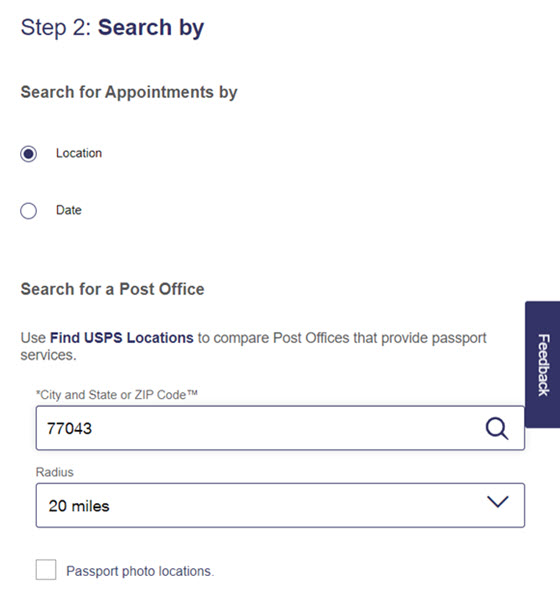 Next, you will see a list of passport application acceptance facilities within the radius you chose. On larger devices, maps will also appear. Hovering over the "i" icon next to a location will bring up a list of Appointment Hours (pictured below).
If you don't get any results, you need to increase the radius.
Once you find a location that has hours that work for you, click the "Select Location" button. A section will open for you to select a date.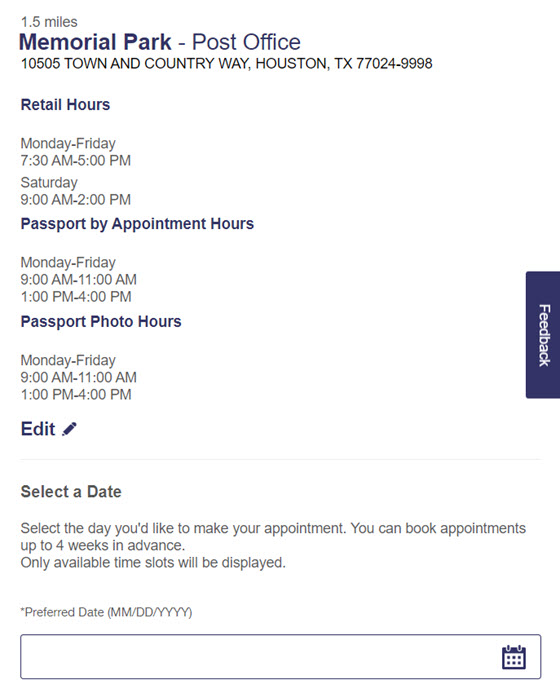 A window will open with a calendar. Find the date you want to submit your passport application and click the "Select Date" button.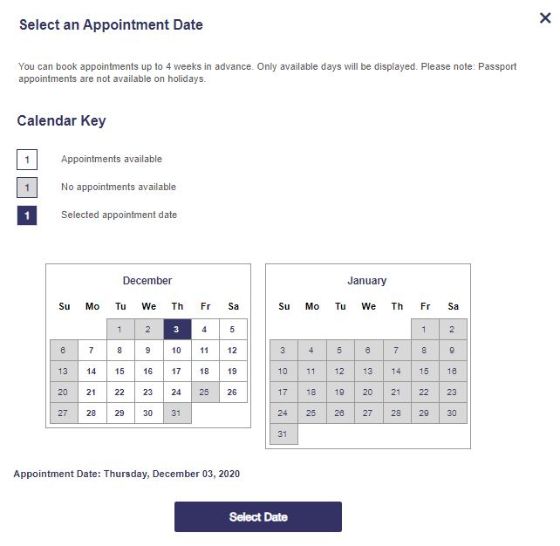 Step 3: Select a Time
Select an available time from the list. The schedule has 15 minute slots for each application. As such, you will need a longer appointment slot if you need many passports at once.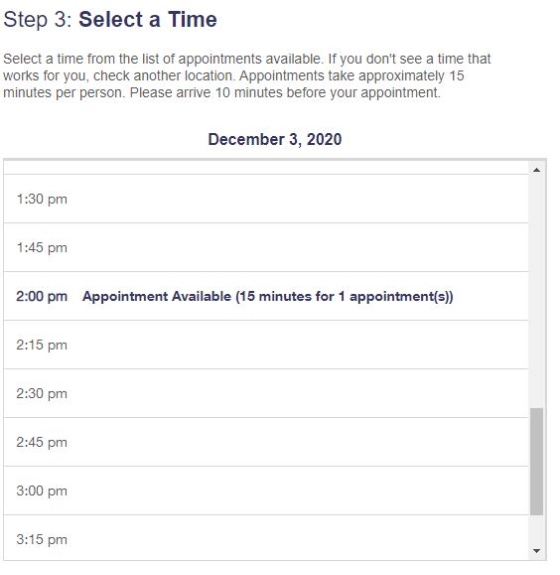 Once you make your selections, they will be listed on the page for you. Make a mistake? You can click the "Edit" link to make any changes.

Step 4: Provide Contact Information
Enter your first name, last name, telephone number, and e-mail address. You can also request to receive text message updates. This is a good way to make sure you get reminders and information about your appointment.
Be sure to check the box to agree to the Terms and Conditions. You cannot make your appointment without doing so.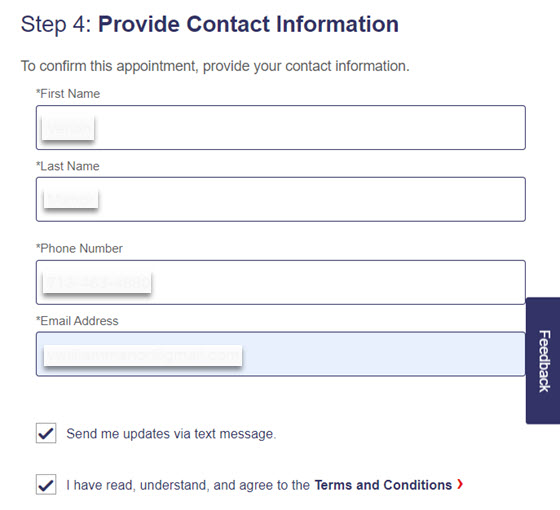 Review the Privacy Act Statement then click the button to review your information.
Step 5: Review & Confirm Appointment Information
Before moving on, review everything. Make sure your personal information is correct. Confirm and note your chosen location, date, and time of your appointment. Once you're sure everything is good to go, click the button and confirm your appointment.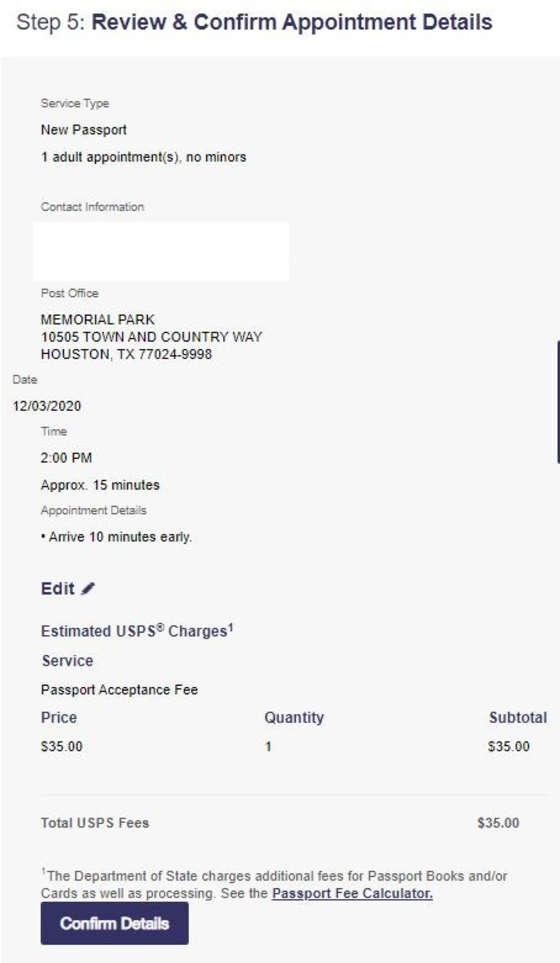 If any of the information is incorrect, click the "Edit" link and make any necessary changes.
It's possible you can't get an appointment close enough or as soon as you need. If you need more choices than what the online system offers, visit our passport facility directory. It includes a larger list of state-by-state listings to choose from.
If you need to apply for a passport by a specific date but no passport office near you has an appointment available, visit our passport facility directory for more options.
Related Articles: What to bring to a passport appointment
Top 5 Questions About Expedited Passport Couriers