How to Apply for Expedited Service at a Regional Passport Agency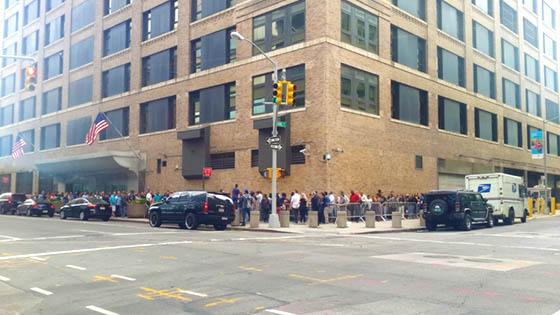 Regional passport agencies are located in several major U.S. cities. These agencies are the only viable option for U.S. citizens who need to obtain a passport in 2 weeks or less, or a passport and entry visa in 4 weeks or less.
Acquiring a passport from a regional passport agency requires applicants to follow a specific set of steps:
Schedule an appointment.The first step to getting a new passport fast is to schedule an appointment at a regional agency. You can do this by calling the National Passport Information Center at 1-877-487-2778. The center's automated appointment system operates 24 hours a day, 7 days a week. However, customer service representatives are only available Monday through Friday from 8:00 a.m. to 10:00 p.m. EST.

Applicants may also locate a regional agency and schedule an appointment through the U.S. Department of State's convenient online appointment system
Assemble the proper documentation. You need to take your completed passport application form with you to the appointment. Do not mail it!

You also need to be sure to have your required supporting documents - these are the same materials you would need to present at a passport application acceptance facility. These documents include proof of citizenship, proof of identity, a copy of your identification document, and a passport-style photo.

Arrive on time. You should arrive for your passport agency appointment no more than 15 minutes early. You will need your Social Security card or your appointment confirmation number. Upon entering, you will have to pass through a security checkpoint, which includes metal detectors. You will then be directed to the appropriate location.

Your appointment will be verified at the check-in desk. You will receive a numbered ticket with the current waiting time. When your number appears on the monitor, you will go to the appropriate window.
Prepare yourself for a long wait. Even if you finish your application submission process quickly, you will be required to return at a later time to pick up your new passport.

Some applicants wrote to inform us that they were able to get in and out of a regional agency in less than 30 minutes. Others took several hours to complete their submissions. Much depends on the regional agency where you will be applying and the current volume of applications that the agency has to process.

Ultimately, the time it takes for you to get your travel document at these same-day passport locations will depend on the nature of your travel plans and the current volume of submissions.

Applicants with medical emergencies are given priority. So, while it is possible to receive a passport only a few hours after applying, be prepared to wait until the following day or even several days before it is ready to pick up.
Don't have ability, time, or willingness to visit the regional agency yourself? Find out how to apply for expedited service through a registered passport expediter. These professionals handle the face-to-face portions of your expedited passport application process for you, saving you valuable time and helping you avoid costly application delays.
Click here to get a passport expedited in 24-48 hours
.
FAQ about Expediting Passports at a Regional Agency
Below is a list of answers to some of the most frequently asked questions submitted by our visitors. If you still have questions about the process, please read through the list below for more specific information.
Is a new same-day passport processing office opening in Atlanta, GA?
Question: Please advise about the location and date if this is true. I'm planning a group trip and most of the travelers live 45 minutes from downtown Atlanta ...
How do I get a passport expedited in 3 days by visiting a regional agency?
Question: I am traveling on July 29, 2010 to Nassau, Bahamas and need to get a passport. I have a completed passport application, my 2 passport photos,...
If I go to a regional agency to get a new passport, will I walk out with it immediately?
Question: Today is Nov 22, I leave for Belize on Dec 8th. If I come in to the agency on the 7th, will I walk out with my new passport that day? I thought ...
Where to get a passport if the regional agency is too far away?
Question: If my regional passport office is a great distance away, and I need a passport within the next two weeks (as a new applicant), will I be able ...
Click here to get a passport expedited in 24-48 hours
.
Top 5 Questions About Expedited Passport Couriers