Supporting Docouments for Passports FAQ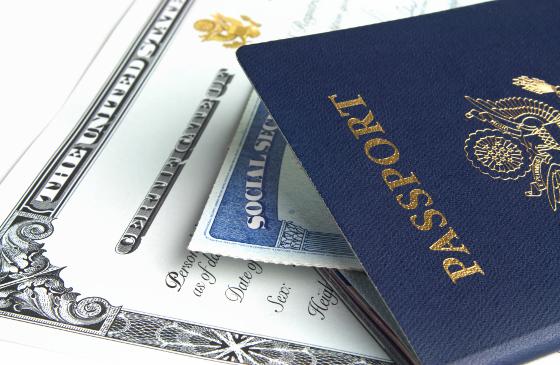 There are many supporting documents that can be required of American citizens when applying for passports. Some of the most common include
birth certificates
, marriage certificates, divorce decrees, naturalization certicates and driver's licenses. These documents serve as
evidence of citizenship
and
proof of identitity
of the applicant. The FAQ below provides answers to frequently asked questions about supporting documents.
List of Supporting Documents FAQ
If you find a question below for which you would like to read the answer, just click the link.
Birth Certificate for Getting Passport
Question: I have been in the US Military for the past 13 years and currently need a Military Passport (Brown Passport) for an upcoming deployment. My issue is that my certified birth certificate...
I need the birth certificate sent in with the passport application as soon as possible
Question: I applied November 3, 2010 for my daughter's first passport. I sent the original birth certificate in with the passport application. I ...
Missing two sets of passport photos in my renewal application packet.
Question: My admin assistant mailed today via regular mail my wife's and my own passport renewal applications. Unfortunately, she did not include our ...
How do I get my original passport and supporting documentation back?
Question: I recently applied for and received a new passport due to a marital name change, however I only received my new passport, and I would like ...
How do I renew an expired passport if I lost my naturaliazation papers?
Question: I lost my expired passport (expired 2009), don't have my naturalization papers (born in Cuba), and need to have a passport in the next 3 months....
My Passport Paper Work
Question: I applied for a passport card two months ago. I paid my fee and had letters sent to me twice now for more info. The first was for a divorce ...
Identification Documents for Getting Passports
Answers to questions about identification documents used as proof of identity when applying for a new U.S. passport.
Proof of Citizenship
Question: I am a US citizen born in Okinawa, Japan on a military base. I have been issued several passports over the years, however, my most recent ...
What are acceptable forms of evidence when changing name to a hyphenated form?
Question: I recently legally hyphenated my name with the Social Security office and the DMV; however, I'm confused about the form of evidence I need ...
I received my passport but where are my supporting documents?
Question: The following documents are those that I submitted to you to support my citizenship:
1. My Permanent Residence Card
2. My Original Mexican ...
Why is the passport agency asking me for more documents?
Question: I'm going to write down what the letter says.
"Thank you for your recent passport application. We need help in providing the necessary evidence ...
What proof of citizenship is needed to get a passport for an adopted child?
Question: My daughter was adopted and born in Korea--she is a US citizen--what paperwork do we need to show as evidence of her U.S. citizenship to get her a passport....
Can I use a birth registration notice in place of a certified birth certificate to get a passport?
Question: I have a Birth Registration Notice. It gives my name, that I am a twin, my birth date and the place where I was born. It has an embossed ...
How can I renew my passport if I can't mail it in?
Question: I need my passport everyday since I work in Mexico. What is the best way to renew, since I can't mail it in with form DS-82. Passport will ...
More Passport FAQ
Click for expedited passport courier service in 24 to 48 hours!
.
Expedite Your Passport Now!
Click to Call for Expedited Service!