FAQ: Supporting Docouments Required for Passports 2023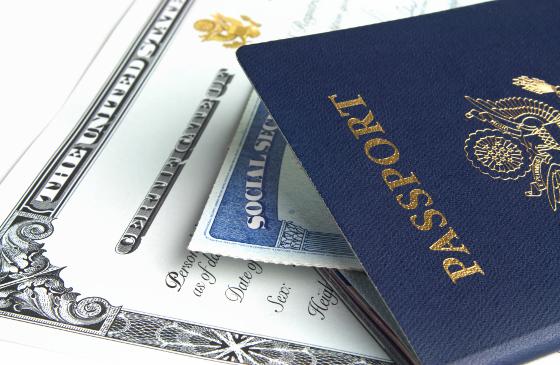 Document requirements for getting a US passport can vary depending on the type of passport that is being requested. The documents required to get a new passport are used to prove both citizenship and identity as well as any legal name change that might have taken place.
Documents That Prove U.S. Citizenship
Primary proof of United States citizenship is preferred but secondary proof is accepted if primary evidence is not available.
Primary Evidence of Citizenship
Primary Evidence of Citizenship
Acceptable Identification Documents
You must present one of the following identification documents (IDs) to the acceptance agent. The ID must readily identify you. Some documents serve the dual purpose of proving both U.S. citizenship and identity.
In-state, fully valid driver's license or enhanced driver's license with photo
In-state, fully valid learner's permit
In-state, fully valid non-driver ID
Temporary driver's license
Valid or expired, undamaged U.S. passport book or passport card
Certificate of Naturalization
Certificate of Citizenship
Government employee ID (city, county, state, or federal)
U.S. military or military dependent ID
Current (valid) foreign passport
Matricula Consular (Mexican Consular ID) - commonly used by a parent of a U.S. citizen child applicant
U.S. Permanent Resident Card (Green Card) - commonly used by a parent of a U.S. citizen child applicant
Trusted Traveler IDs (including valid Global Entry, FAST, SENTRI, and NEXUS cards)
Name Change Documents
You only need to submit a
name change document
if the name you request on the passport application form is different from the name in your previously-issued passport or the citizenship and identification documents you plan to submit.
Marriage certificate
Divorce decree
Adoption decree
Name change court order
Public records
Supporting Documents FAQ
If you find a question below for which you would like to read the answer, just click the link.
Proof of Citizenship
Question: What documents are accepted as evidence of United States citizenship when applying for a passport: Answer...
I received my passport but where are my supporting documents?
Question: The following documents are those that I submitted to you to support my citizenship:
1. My Permanent Residence Card
2. My Original Mexican ...
How can I renew my passport if I can't mail it in?
Question: I need my passport everyday since I work in Mexico. What is the best way to renew, since I can't mail it in with form DS-82. Passport will ...
Birth Certificate for Getting Passport
Question: I have been in the US Military for the past 13 years and currently need a Military Passport (Brown Passport) for an upcoming deployment. My issue is that my certified birth certificate...
I need the birth certificate sent in with the passport application as soon as possible
Question: I applied November 3, 2010 for my daughter's first passport. I sent the original birth certificate in with the passport application. I ...
How do I get my original passport and supporting documentation back?
Question: I recently applied for and received a new passport due to a marital name change, however I only received my new passport, and I would like ...
How do I renew an expired passport if I lost my naturaliazation papers?
Question: I lost my expired passport (expired 2009), don't have my naturalization papers (born in Cuba), and need to have a passport in the next 3 months....
My Passport Paper Work
Question: I applied for a passport card two months ago. I paid my fee and had letters sent to me twice now for more info. The first was for a divorce ...
Identification Documents for Getting Passports
Answers to questions about identification documents used as proof of identity when applying for a new U.S. passport.
Why is the passport agency asking me for more documents?
Question: I'm going to write down what the letter says.
"Thank you for your recent passport application. We need help in providing the necessary evidence ...
What proof of citizenship is needed to get a passport for an adopted child?
Question: My daughter was adopted and born in Korea--she is a US citizen--what paperwork do we need to show as evidence of her U.S. citizenship to get her a passport....
Can I use a birth registration notice in place of a certified birth certificate to get a passport?
Question: I have a Birth Registration Notice. It gives my name, that I am a twin, my birth date and the place where I was born. It has an embossed ...
Return to Passport FAQ list
Click for expedited passport courier service!
.
Top 5 Questions About Expedited Passport Couriers
Expedite Your Passport Now!