Enhanced Driver's License for International Travel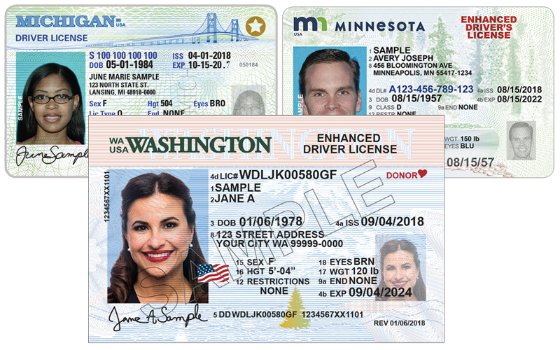 A State-issued Enhanced Driver's License (EDL) provides travelers not only a license to drive but also a proof of identity and citizenship when exiting and re-entering the United States borders.
This card was created under the
Western Hemisphere Travel Initiative (WHTI)
to provide a convenient, yet secure way for travelers from certain border states to enter and exit the country. That said, there are limits to what countries can you visit with an enhanced license.
An EDL provides travelers with a low-cost to a passport for entering the United States from Canada, Mexico or the Caribbean through a land or sea port of entry.
An EDL qualifies as a REAL-ID that can be used for domestic air travel in the US. However, an EDL cannot be used for international air travel, nor can it be used for domestic air travel within the borders of any of the countries mentioned above.
Note: While some countries, like Canada, allow you to drive with either a valid U.S. driver's license or state-issued enhanced driver's license, others require an international driver's permit if you plan on driving abroad. Before you depart on your trip, be sure to check the regulations of any country you plan to drive to or through.
What does an Enhanced Driver's License offer?
Enhanced Driver's Licenses include security features and technologies designed to make travel both easier and safer. Each EDL includes both a Radio Frequency Identification (RFID) chip and a Machine Readable Zone (MRZ) barcode that CBP officers can scan to quickly access to your biometric information.
The top 39 land ports of entry in and out of the US (which service over 95% of all U.S. land border crossings each year) are equipped with RFID-reading technology. This helps facilitate speedy travel for those presenting EDLs or one of the other RFID-enabled documents. The MRZ barcode is available as a backup to CBP officials if a particular port-of-entry does not have access to RFID or there is an RFID malfunction.
Scanning either the RFID or MRZ on an enhanced license is as fast if not faster than processing a traditional passport. An EDL is also significantly more durable and convenient than a passport book. As a result, an EDL can make life easier for both travelers and border officials - particularly for travelers who cross the border frequently.
How to apply for Enhanced Driver's License?
The application for an Enhanced Driver's License depends on where you live. It is currently only available to residents of the following states:
Michigan
Minnesota
New York
Vermont
Washington
If you live in a state without an EDL option (like this reader realized), you're not totally out of luck. For travelers in other states seeking similar convenience, consider applying for a U.S. Passport Card.
If you meet the residency requirements, applying for an EDL is nearly identical to applying for a standard driver's license in most participating states:
If you have never been licensed, you must successfully complete the written knowledge and driving skills tests before a license can be issued. Although driver education is not required for individuals 18 and older, it is highly recommended.
If you have a current driver's license, you can apply for the EDL once you renew your license or extend expiration date.
You must supply the required documentation including some combination of Social Security, proof of identity, US citizenship, and residency.
In case of a name change, present lawful and valid proof with your application.
You must have no violations, suspensions, revocations or denials on your driving record that would prevent you from legally operating a motor vehicle.
Note: In Some states you may be required to undergo an interview to receive an EDL.
Once you have completed the application, your biometrics and photos have been taken, and you have signed the necessary declaration papers, you will be issued a temporary operator's permit or a temporary enhanced ID. This permit is not valid for crossing the border - only for identification.
Your enhanced license is valid for up to four years and should arrive in the mail within two to three weeks. The validity of the Enhanced License typically matches the validity of your regular Driver's license.
Enhanced Driver's License Costs
An EDL usually costs more than a standard-issue driver's licence.
See the current fees below (Updated 2021):
Michigan: $45 ($38 for renewal)
Minnesota: $15 in addition to the $51 fee required for your Class A driver's license
New York: $30 in addition to regular driver's license fees (fees vary by age)
Vermont: $30 in addition to the standard fees for licenses and/or non-driver ID (fees vary by validity length).
Washington: $113 (covers application and issuance fee)
In most cases, fees can be paid by wither cash, check, money order, or major credit card.
Learn More About EDL Applications in Your State
For the most up-to-date requirements and applications for an EDL in participating states, visit the relevant DMV home pages offices below:
Expedite Your Passport Now!