New Orleans Passport Agency Information
The New Orleans Passport Agency attends to travelers who need to obtain a same-day passport. To make an appointment, your departure date must be within 14 days or 28 days if you need to secure a foreign visa. To apply at the Agency, you must schedule an appointment by calling toll-free at 1-877-487-2778 which is available 24 hours/day. Appointments can also be made through the new
online appointment system
. If you are not traveling or needing to submit your passport for foreign visas within 2-4 weeks, you can submit your application at the nearest
Passport Application Acceptance Facility
or
request expedited services by mail for passport renewals
. If getting to the New Orleans Passport Agency is a problem, an alternative is to apply to expedite your travel document through an
emergency passport expediting service
.
New Orleans Passport Agency
One Canal Place
365 Canal Street, Suite 1300
New Orleans, LA 70130-6508
Appointments Available From
8:00 a.m. to 3:30 p.m.
Monday through Friday
All Federal Holidays are excluded
Automated Appointment Phone Number
(Available 24 hours/7 days)
1-877-487-2778
Processing Times
Passports are issued according to travel plans. Same-day passports are issued in emergency situations. This agency only issues the U.S. passport book on-site.
COVID-19 UPDATE:
This agency is currently processing passport applications. To prevent the spread of COVID-19 and protect both workforce and customers, agencies are currently limiting in-person appointments to customers who are traveling internationally in the next 72 hours (3 business days) due to a life-or-death emergency. Life-or-death emergencies are serious illnesses, injuries, or deaths in your immediate family (parent, legal guardian, child, spouse, sibling, and grandparent) that require you to travel outside the United States within 72 hours (3 business days). You can apply for routine service and expect to receive a passport in 10-12 weeks. You also have the option of paying an additional fee for expedited service to receive your passport in 4-6 weeks.
Map
Directions
Car:
The New Orleans Passport Agency is located in the heart of downtown New Orleans at One Canal Place, 365 Canal St., Suite 1300. One Canal Place is an office tower / shopping center/ hotel complex, and is located between the historic U.S. Customhouse and the Aquarium of the Americas at the intersection of Canal and North Peters Streets. Passport customers departing New Orleans International Airport and heading toward the downtown area on I-10 eastbound should follow signs on the Interstate marked "New Orleans Business District". With the Superdome visible in the distance, the traveler will approach a two-lane off-ramp marked "I-10 East Slidell". Take the off-ramp, and very shortly you will exit to your left at Exit 234B, "Poydras St. Superdome". Proceed down Poydras St. approximately 1 mile, and then take a left onto South Peters St. Continue down South Peters approximately 2 blocks to the intersection with Canal St. The One Canal Place office tower will be just ahead to your right at the corner of Canal and North Peters Streets. Customers approaching the downtown area on I-10 westbound should exit to the right at Exit 235B, "Canal St. Superdome". Canal Street is approximately 1 block straight ahead from the downside of the off-ramp. Take a right onto Canal Street, and proceed approximately 1 mile. The One Canal Place office tower will then be visible to your left. Customers travelling from the West Bank of the Mississippi River should take the Crescent City Connection (Mississippi River Bridge) and then exit at Camp Street. Turn right onto Andrew Higgins Drive and proceed approximately 4 blocks to South Peters St. Take a left onto South Peters and continue several blocks until you reach the Canal St. intersection. The One Canal Place office tower will be just ahead to your right at the corner of Canal and North Peters Streets. Paid parking is available in the One Canal Place garage as well as in several lots nearby.
Train:
From Union Passenger Terminal - taxis available (approximately 1 and a half miles).
Taxi:
From New Orleans International Airport - taxis available (travel time from the airport is approximately 30 - 45 minutes).
Apply Online for Your Passport
.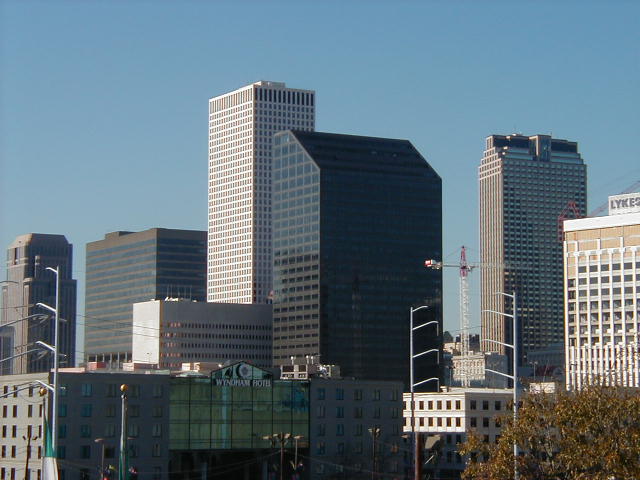 What to Do When You Arrive for Your Appointment at the New Orleans Passport Agency
You will need your Social Security Number or your confirmation number.
Please arrive no more than 15 minutes prior to your appointment. Earlier arrivals will not be admitted.
Late arrivals, 15 minutes after the scheduled appointment, will have to reschedule their appointments.
Upon entry to the building, you will go through security, including metal detectors.
Take the elevator to the 13th floor, Suite 1300
Go to check-in/information. Your appointment will be verified.
You will be given a numbered ticket with the approximate, current waiting time at the bottom. (We do our best to keep the waiting time as short as possible.)
When your number is called and/or appears on the television monitor, go to the number of the window indicated.
In a hurry? Get your passport expedited quickly
.
Expedite Your Passport Now!