Passport Application FAQ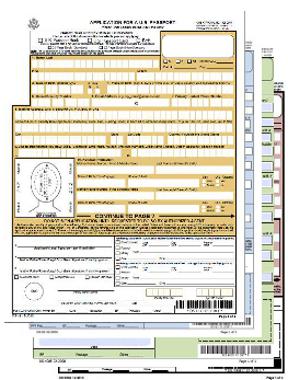 Below are some of the most frequently asked passport application questions. If you don´t find what you are looking for, please visit our
passport form FAQ
page.
What U.S. passport application do I need?
The application form you use will depend on the type of service you require. Forms are listed below along with the purpose for which they are used.
DS-11: Application for New Passport
DS-82: Application For Passport Renewal By Mail
DS-64: Statement Regarding Lost Or Stolen Passport
DS-3053: Statement of Consent - Issuance of a Passport to a Minor Under Age 14
DS-4085: Application to Add Visa Pages to Passport
DS-5504: Application for a US Passport Name Change, Data Correction or Replacement of Limited Validity Passport
Where can I get an application form?
Forms are available at authorized application acceptance facilities and regional processing centers. They are also available for download on our website. Some can be completed online. Please pick from the list of passport services in the left-column menu for links to the specific application you require.
How do I fill out the application form?
Forms completed by hand should be filled in using black ink. Use legible writing and complete as many of the entries as possible. Failure to provide requested information can lead to delays or denial of your passport. Additional instructions are provided with each application form. Step-by-step instructions are provided for those who apply online. Occasionally technical issues impede applicants from completing the form. If this happens to you, please complete a hard copy.
Guidelines for Printing Forms
The forms you print must be clear and sharp. Passport applications that are blurred or illegible will not be accepted. They must be printed in black ink o n white paper. The paper must be 8 1/2 inches by 11 inches, with no holes or perforations, at least medium (20 lb.) weight, and with a matte surface. Thermal paper, dye-sublimation paper, special inkjet paper, and other shiny papers are not acceptable. Some printers will reduce the photograph area on the passport application to less than 2x2 inches. Please make sure that the photograph area on the printed application form is 2x2 inches to ensure that the photographs you submit (also 2x2 inches in size) can be correctly attached. You should type or print legibly when completing all sections of the application. You should PRINT OUT AND SUBMIT ONLY ONE-SIDED PAGES OF THE APPLICATION FORM.
Click for answers to the Passport Application questions.
Click for expedited passport courier service in 24 to 48 hours!
.
Expedite Your Passport Now!