Form DS-64: Statement Regarding a Lost or Stolen Passport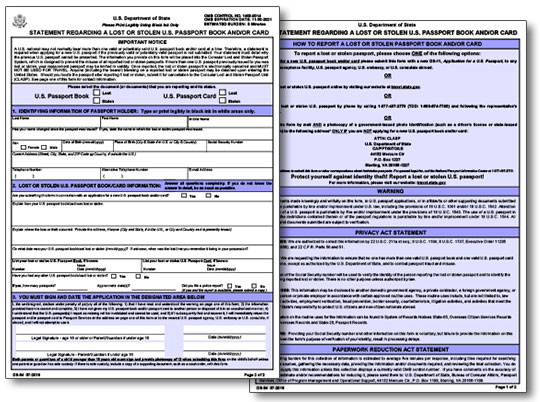 Application Form DS-64
should be submitted when reporting a lost or stolen passport. The application form should be completed in black ink and answers should be as exact as possible. Be aware that the passport you report as lost or stolen will be invalidated.
If found, it cannot be used. It is not necessary to report the loss of a passport that has already expired. Once submitted, you need to replace your
lost
or
stolen passport
.
How to Submit Form DS-64:
The instructions are straight-forward and easy to understand. There are three steps to the process.
STEP 1: Complete and Print Form
Follow the instructions below to download the passport application form DS-64:
Right click on the link below.
Select "Save Target As..."
Choose the folder where you want to save the form.
Click on "Save"
Click the link to open the form in PDF format:
Form DS-64: Statement Regarding a Lost or Stolen Passport (PDF)
. The first section of the Form DS-64 is for identifying information. You are asked to provide your full name, sex, date of birth, palce of birth, social security number, current address, home phone number, work phone number, email address and whether you name has changed since the passport was issued. The second section is for information about the lost or stolen passport. This include the number of the passport and date it was lost or stolen as well as details about how, where and what date the loss or theft took place. You are asked to describe the efforts you made to recover the passport.
STEP 2: Sign and Date the Form
The place to sign the application form is at the very bottom of page one. Right above is a place to check whether or not you are submitting the form in connection with an
application for a new passport
.
STEP 3: Submit Completed Form DS-64 and Completed Form DS-11
You need to submit only the completed form DS-64 if you want to report the lost or stolen passport but do not plan on obtaining a new one. If you do want to replace it, you also need to send Form DS-11 and all supporting documents along with DS-64.
How long does it take to process Form DS-64 and get a new passport?
The lost or stolen passport is entered into the system immediately upon arrival and the passport invalidated. Getting a new passport takes 4 to 6 weeks if you do not request expedited service.
Expedited processing
will get a replacement passport delivered to you in up to 3 weeks. If you need to get another passport more quickly, you either have to visit a
regional passport center
or, in case this is not possible, employ the services of an
urgent passport expediter
,
Click for expedited passport courier service in 24 to 48 hours!
.
Expedite Your Passport Now!