Stolen Passport Replacement:
4 Steps to Replace a Stolen Passport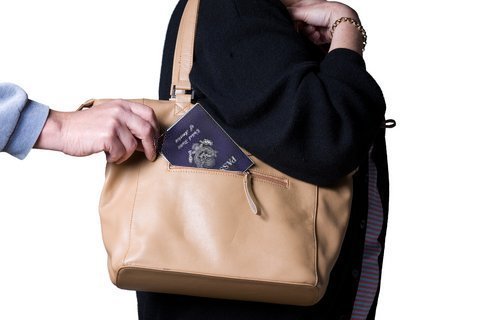 Having your passport stolen is a terrible and unfortunate experience compounded by the fact that you will be required to expend time, energy and money to have it replaced. The process to replace a stolen passport is similar to getting a new passport with the exception of having to report the theft. Steps are elaborated below to help you through the process as quickly as possible. When abroad, stolen passports are usually replaced the same day with an emergency, limited-validity passport. In the United States, regular passports are issued. The application processing time takes up to 6 weeks for routine service and up to 3 weeks for expedited service. You can get a replacement faster at a regional processing center or by utilizing the services of a registered expediter in order to
replace a passport in 24-48 hours
.
Replacing a Stolen Passport in the United States
Steps to Replace a Stolen Passport
Step 1: Report Theft of Passport
Step 2: Complete Application Form
Step 3: Gather Supporting Documents
Step 4: Visit Acceptance Facility


The first step to replacing a stolen passport is to visit the nearest police station in order to file a report. Then you need to report the theft of your travel document to the U.S. Department of State Passport Services by filling out the
Statement Regarding Stolen or Lost Passport, Form DS-64
. You can also report the stolen passport by calling the National Passport Information Center's toll-free phone number at 1-877-487-2778. You only need to register the report if your stolen passport has not yet expired. You should provide as much detail as possible concerning the passport.
If you decide to use the printed form, send it to the following address: U.S. Department of State
Passport Services
Consular Lost/Stolen Passport Section
1111 19th Street, NW, Suite 500
Washington, DC 20036

American citizens are only allowed to renew a passport by mail if they can submit their most recently-issued passport. Those whose passports were stolen must, therefore, apply for a new passport by submitting Form DS-11. Applicants can opt between
completing Form DS-11 online
or downloading the
application for a new U.S. passport
to print and then complete offline. Application forms that are filled out offline should be completed in black ink. You need to write legibly. The form states that there is a burden of 85 minutes to complete the application. However, it should take far less time. Do not sign the form until an agent informs you that you should do so.

Besides the completed passport application form DS-11, you also need to submit the following documents:
Evidence of U.S. citizenship
Proof of identity
Photocopy of the identification document
One (1) recent passport photo
Each document must meet the standards established by the U.S. Department of State Passport Services. Evidence of U.S. citizenship must be an orginal or certified copy. Evidence of citizenship that is not damaged, altered, or forged will be returned to you. You must present an original ID and submit a photocopy of the front and back side on white paper that is 8 1/2" x 11" in size. The passport photo must be 2" x 2" in size, taken within the last 6 months and have a white or off-white background.

Applications for new passports must be submitted in person at an application acceptance facility. Individuals who are authorized to serve as Acceptance Agents include clerks of a federal or state court of record or judges or clerks of a probate court; designated municipal or county officials and designated postal employees at an authorized post office. Passport offices usually have limited operating hours and most require an appointment. Some offer on-site passport photo services. Be sure to call before visiting to make sure the location is still operating as an acceptance facility and to make an appointment if necessary. The execution fee is paid to the Acceptance Agent. Payment for the application fee should be sent in the package with your application to replace the stolen passport. You can request
standard service
(6-8 weeks) or expedited service (2-3 weeks) at the passport application acceptance facility. There is an additional fee for expedited service. If you need to get your stolen passport replaced much quicker, you can either visit a
regional passport agency
or authorize a professional passport expediter to submit the application for you. An expediter can
get stolen passports replaced in 24-48 hours
.
Important Notes about Stolen Passports
Once you report the stolen passport, it will be invalidated and can no longer be used for travel.
The information you enter on Form DS-64 is entered in the Consular Lost/Stolen Passport System.
If you somehow get the passport back after you have reported it as stolen, you should send it to the address given above.
When submitted, you can choose to have it canceled and returned to you or destroyed.
There is no way to re-validate a passport that has been reported stolen.
Replacing a Stolen Passport Abroad
As mentioned above, the first step to replace a stolen passport is to report the theft at a local police station. This applies when you are traveling abroad as well. Some major cities in other countries have specific places where foreign visitors can report crimes. Once the police report is completed, take it to the nearest
U.S. Embassy or Consulate General
. While it is often necessary to make an appointment for passport services at an embassy or consulate, the consular section does provide for emergency travel needs. Visit the embassy or consulate website for more information.
Click for expedited passport courier service in 24 to 48 hours!
.
Expedite Your Passport Now!