Form DS-11: New U.S. Passport Application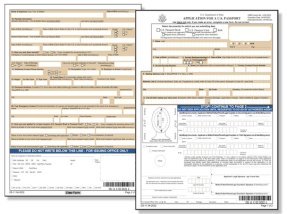 Form DS-11 is the application that should be submitted by U.S. citizens in order to obtain the following: first-time passport; replacement of a lost, stolen or damaged passport; renewal of a passport that has been expired for more than 5 years; renewal of passport issued to a minor age 15 or younger.
Not the form you need? Click here.
The completed, but unsigned application form must be presented to an agent at a passport acceptance facility or regional agency along with required supporting documents. The answers to the frequently asked questions below will help you understand where to get the form and how to complete it properly.
Need a passport fast? Click here to expedites a new passport in 24 to 48 hours.
Where can I get form DS-11?
We have made the application form available on our website in PDF format. You can
click here to open Form DS-11
. The application will open in a new window. You can complete the form and then print it.
If you prefer, you can download the new passport application to your computer and open it later. To download the document, follow the instructions provided below.
Right click on the link.
Select "Save Target As..."
Choose the folder where you want to save the form.
Click on "Save"
Download New Passport Application, Form DS-11.
Finally, you can complete Form DS-11 online and then print it. Some applicants have reported problems with the online form. If you find that the online application will not accept some of the data you input, download the PDF version and use that.
How do I fill out the US passport application?
Instructions are included with each application. It is very important that you follow the them very carefully. You should use black ink and write as legibly as possible when completing the application form offline. Illegible writing can lead to printing errors which would require you to apply for corrections.
You should fill out the form as completely as possible without making any false statements. The first page of the instructions makes it clear that false statements that are made knowingly and willingly on the application are punishable by fine and/or imprisonment. Incomplete forms can lead to delays and/or denial of your passport.
There is nothing complicated about completing an application for a United States passport. It just takes a little time and attention to detail. The form states that you can expect to spend up to 85 minutes to complete the application. However, most people can fill it out in a lot less time.
How long does it take to process the new passport application?
Routine processing can take between 10 and 12 weeks. This is an estimation and is not exact. It could require more time just as it could also take less time to process. Applicants who need to get a passport more quickly can request expedited service. Expedited applications submitted at an Acceptance Facility are processed in 4-6 weeks.
Those who need to get a new passport fast should first schedule a visit to a regional US passport agency or, in cases where this is not a possibility, employ the services of an express passport expediter.
Most experienced passport expeditors provide an email address, a toll-free telephone number and even online assistance for travelers who make use of their services. Expediters serve as a great resource if you have any questions about completing the new passport application form. Need your passport fast?
Top 5 Questions About Expedited Passport Couriers