American Passport Replacement - How to Replace a Passport Fast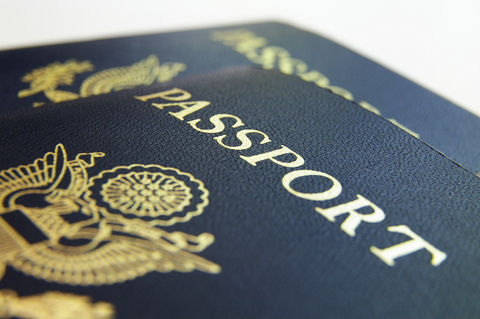 The steps to replace a lost, stolen or significantly damaged passport are the similar to what is required to apply for a new passport. There are a few differences which are discussed below.
Applying for a passport replacement currently takes 7 to 10 weeks.
You can request expedited service in order to get your new passport faster. This reduces the wait time to 3 to 5 weeks.
Replacing your travel document more quickly requires you visit a regional agency. This will likely require additional travel and costs to complete.
If you are unable to submit the application yourself, you can authorize a third party to do it for you. This can be a friend, family member, travel agent or an expedited passport courier service.
Limited-validity passports, those that are soon to expire and passport that expired less than 5 years ago can be replaced by submitting form DS-82 if you were age 16 or older when the passport was issued. This is the same application form that is used to apply for a passport renewal.
Lost Passport Replacement
One of the most common reasons travelers need to replace a passport is because theirs have been lost. This occurs a lot with those who travel infrequently. Years can lapse between international trips. The passport is put away in a "safe" place but, when needed, the owner cannot seem to remember where it was placed. Many passports are lost during moves. The travel document is packed away in box, shipped off to the new location and never seen again. Frequent fliers also lose passports but, more often than not, this occurs while they are traveling.
Whatever the reason, lost passport replacement basically requires you to apply as if for the first time. Not only do you have to personally appear and submit all the documents again, you also need to report the lost document. For complete details, click the link to learn how to replace a lost passport.
Stolen Passport Replacement
Replacing a stolen passport is similar to getting a lost passport replaced. You have to visit an application acceptance facility, regional agency, U.S. embassy or consulate general where you will submit form DS-11 along with all supporting documentation. Before doing this, you should file an official police report and take it with you when you submit the application.
If you are in the United States and have imminent plans to travel abroad, you can get an expediter to replace stolen passport fast. Otherwise, click the link for complete instructions on how to replace a stolen passport.
Damaged Passport Replacement
U.S. passports that are damaged or in poor condition should be replaced, even if there is validity remaining in them. One of the most common ways that a passport can be damaged is when it is accidentally washed along with clothes. A damaged passport is one that has been altered, damaged, or mutilated to the extent that the ability to read it is impaired. This is relative and open to opinion as to what constitutes readability. However, the final decision rests with the agent that examines your passport at a port of entry. If you have any doubt as to whether your damaged passport would be accepted or not, it is better to replace it and avoid any problems. For more information, visit the damaged passport page.
Applying for a lost, stolen or damaged passport replacement takes 7 to 10 weeks. You can get it done faster by requesting expedited service. If you have a flight booked within two weeks, you can visit the nearest regional passport agency or authorize a professional expediter to submit your application for fast passport replacement.
Q&A about Replacing a Passport
Click the links below to read answers to frequently asked questions about replacing a United States passport.
Do I need a new passport Question: My passport went through a washing in a washing machine. I can still read all of the information on the inside front cover, identify myself ...
Getting a new passport to replace a lost one Question: I have an appointment at the Connecticut Passport agency to obtain a new passport. I am replacing a lost passport given out in July 2008....
Mutilated passport renewal information Question: I went to the passport agency at the post office and completed a passport renewal application form.

Sent the new application and all the ...
Should I renew my expired passport or apply for a new one? Question: My name is Katie.
My passport was issued Feb. 24, 2000.
My passport expired Feb. 23, 2010.

So - My passport was issued less than 15 years ...
Do I need to send in an expired passport that has been reported lost then found? Question: A year ago I lost my passport. I applied for a new passport and received a replacement. I have recently found the lost passport and it is expired....
Regarding replacing a lost passport in Italy earlier this year Question: I lost my passport while studying abroad in Italy earlier this year. I was given a temporary one and paid $100 at the US consulate with ...
Limited Passport Question: My husband and I were issued limited passports (passport for one year only). The passport says see page 27 which says replacement may be issued ...
Do I need to submit proof of citizenship to renew an emergency passport? Question: My passport was stolen this May while I was in Romania and the US Embassy there issued me an emergency passport that was limited in validity....
Can I renew a passport with a little water damage? Question: Should I renew my passport that is not expired or apply for a new one? If yes, will the renewal expire in 2013 or will it be extended?

* my ...
I lost my son's U.S passport and visa - how do I get them back asap? Question: I lost my son's U.S passport and visa in my recent trip back from India. I didn't find it at the lost and found at the airport. I want to know ...
Washed my husband's passport Question: I washed my husband's passport, and it is all crinkled. It has not expired. What is the replacement process? Is it OK to use for a trip we ...
Replace limited passport obtained in a foreign country Question: Last July, while traveling in Peru, my passport was lost/taken and it was necessary to go the the US Embassy to get a temporary passport to ...
I have a 3-month emergency passport Question: I am presently in the USA. I have a 3-month emergency passport that was issued to me in Israel on April 19, 2010. I will be leaving the States ...
We accidentally washed my passport. Do we need to get a new one? Question: We accidentally washed my passport. The photo is still good but the blue cover looks worn. Do we need to get a new one?

Answer: Damaged ...
What do I do to replace my temporary passport with a permanent passport? Question: My passport was stolen while I resided in the UK and the US Embassy issued me a "temporary passport". This temporary passport needs to be ...
My passport is both lost and expired. What steps do I need to take to get a replacement? Question: I lost my passport and it has also expired. What forms do I need to complete to replace it? Are there any additional steps? Am I able to replace ...
Stolen Passport Question: My passport was stolen about four years ago. I have an opportunity to travel to London, England in May. Do I have to go through all of the ...
What do I do with a damaged passport? Question: Passport went in the washer and was damaged.

Answer: Significantly damaged passports can neither be used for international travel nor ...
Click for expedited passport courier service in 24 to 48 hours!.
Top 5 Questions About Expedited Passport Couriers