Honolulu Passport Agency Information
The Honlulu Passport Agency expedites passports for American citizens and non-citizen nationals in Hawaii, Guam, American Samoa, Commonwealth of the Northern Mariana Islands, Koror, Kolonia, Majuro, Kwajalein and Johnston Island. Evidence of travel is required; please bring hard copies of your itinerary. The first step to apply at the Honolulu Agency is to schedule an appointment. Appointments can also be made through the new
online appointment system
. If you are not traveling in 2 weeks, or needing to submit your passport for foreign visas within 4 weeks, you need to take your application to the nearest
Passport Application Acceptance Facility
. In emergency situations in which you need your passport fast but are unable to get to the Honolulu Passport Agency, you can get your travel document through an
emergency passport expediter
.
Honolulu Passport Agency
Prince Jonah Kuhio Kalanianaole Federal Building
300 Ala Moana Blvd., Suite I-330
Honolulu, HI 96850
Appointments Available From
8:30 a.m. to 3:00 p.m.
Monday, Tuesday, Wednesday, Friday
9:00 a.m. to 3:00 p.m.
Thursday
Excluding Federal Holidays
Automated Appointment Phone Number
(Available 24 hours/7 days)
1-877-487-2778
Processing Times
Will call service is offered for life/death emergencies and immediate travel abroad (leaving within 8 business days). Pickup will be based on travel plans. For all other customers, passports will be issued within 8 business days of applying at the agency. You will be informed of how the passport will be sent during your appointment. *This agency can only issue the U.S. passport book on-site.
UPDATE:
Mailing delays and high demand are impacting passport processing. The Department of State's processing times begin when applications are received at a passport agency or center and not when you mail them or apply at a local acceptance facility.
Standard service may take between 10 and 13 weeks. This timeframe does not include delivery time. Mailing times vary across the country.
Expedited service takes from 7 to 9 weeks excluding mailing times on the front and back end. Current mailing delays are significant. Requesting 1-2-day mailing service is recommended.
Regional passport agencies are offering two types of appointments: Life-of-Death Emergency Service and Urgent Travel Service.
Life-or-death emergencies are serious illnesses, injuries, or deaths in your immediate family (parent, legal guardian, child, spouse, sibling, and grandparent) that require you to travel outside the United States within 3 business days.
If you need to travel due to a qualified life-or-death emergency, please call the National Passport Information Center for an appointment.
For Urgent Travel Service, you need to call 14 days before your scheduled international travel or 28 days if you also need to secure a foreign visa.
If you need to travel urgently for reasons other than a life-or-death emergency, please call the NPIC.
A registered expedited passport courier can often assist in obtaining a passport as quickly as the same day. You can learn more about this service here.
Map
Directions
Car:
From H-1 Eastbound, take the Punchbowl exit. From H-1 Westbound, take the Vineyard Ave. exit to Punchbowl Street. Travel makai on Punchbowl. The Federal Building is on the ewa corner of Halekauwila and Punchbowl. Public parking is not available on site. There are other parking lots nearby.
Bus:
Call "The Bus" at 848-5555.
Taxi:
From Honolulu International Airport - travel time is approximately 30 minutes.
Apply Online for Your Passport
.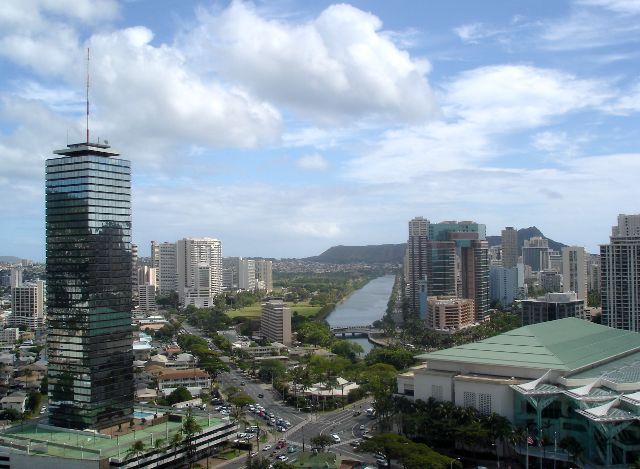 What to Do When You Arrive for Your Appointment at the Honoluylu Passport Agency
You will need your Social Security Number or your confirmation number.
Please arrive no more than 15 minutes prior to your appointment. Earlier arrivals will not be admitted.
Late arrivals, 15 minutes after the scheduled appointment, will have to reschedule their appointments.
Upon entry to the building, you will go through security, including metal detectors.
Go to check-in/information. Your appointment will be verified.
You will be given a numbered ticket with the approximate, current waiting time at the bottom. (We do our best to keep the waiting time as short as possible.)
When your number is called and/or appears on the television monitor, go to the number of the window indicated.
In a hurry? Get your passport fast
.
Expedite Your Passport Now!