Seattle Passport Agency Expediting Services
The Seattle Passport Agency provides emergency passport services for U.S. citizens who are traveling, or submitting their passports for foreign visas, within 14-28 days. If you would like to apply for your travel document at the Seattle Agency, you first have to schedule an appointment. Call the toll-free automated system, which is available 24 hours a day and 7 days a week, to set up an appointment. Appointments can also be made through the new
online appointment system
. If you are not traveling or needing to submit your passport for travel visas within 14-28 days, you need to submit your application at the nearest Passport Office or request expedited renewal by mail. If you are unable to travel to the Seattle Passport Agency, you can request quick processing through an
emergency passport service
.
Seattle Passport Agency
Fifth and Yesler Building
300 5th Avenue, Suite 600
Seattle, WA 98104
Appointments Available From
8:00 a.m. to 3:00 p.m.
Monday through Friday
All Federal Holidays are excluded
Automated Appointment Phone Number
(Available 24 hours/7 days)
1-877-487-2778
Processing Times
Will call service is offered for life/death emergencies and immediate travel abroad (leaving within 8 business days). Pickup will be based on travel plans. For all other customers, passports will be issued within 8 business days of applying at the agency. You will be informed of how the passport will be sent during your appointment. *This agency can issue both the U.S. passport book and U.S. passport card on-site.
COVID-19 UPDATE:
This agency is currently processing passport applications. To prevent the spread of COVID-19 and protect both workforce and customers, agencies are currently limiting in-person appointments to customers who are traveling internationally in the next 72 hours (3 business days) due to a life-or-death emergency. Life-or-death emergencies are serious illnesses, injuries, or deaths in your immediate family (parent, legal guardian, child, spouse, sibling, and grandparent) that require you to travel outside the United States within 72 hours (3 business days). You can apply for routine service and expect to receive a passport in 10-12 weeks. You also have the option of paying an additional fee for expedited service to receive your passport in 4-6 weeks.
Map
How to Get to the Seattle Passport Agency
Driving Directions
From the South, including Sea-Tac Airport:
Follow the signs to Seattle and I-5. Take I-5 North into downtown Seattle and take Exit 164A (multiple streets) and take the James Street exit one, keeping to the left. Turn left at James Street (west towards the water) to 5th Avenue (approximately 2 blocks) and make a left turn. The Fifth and Yesler Building will be on your left. Travel time is approximately 20 minutes from the airport.
From the North:
Take I-5 South to the James Street. (Exit 165A). Exit downtown. Merge onto 6th Avenue and turn right onto James Street. Keep to the left and turn left on 5th Avenue. Then travel two blocks, the Fifth and Yesler Building will be on your left.
From the East:
Take I-90 to I-5 North. Exit at James Street. (Exit 165), keep to the left. Take James Street West (towards the water) to 5th Avenue (approximately 2 blocks) and make a left turn. Then travel two blocks, the Fifth and Yesler Building will be on your left.
From the West via ferry:
From the ferry terminal (Coleman Dock) drive east on Marion Street to 5th Avenue and make a left turn. Travel south on 5th Avenue for five blocks. The Fifth and Yesler Building is on your left (just before the Yesler St. overpass).
Parking:
There are parking garages and lots located in several locations around the building. Some meter street parking is also available.
Apply online for reliable expedited passport courier service
.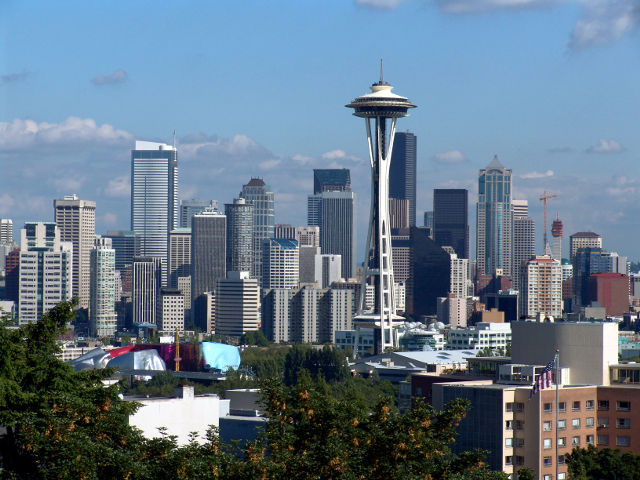 What to Do When You Arrive for Your Appointment at the Seattle Passport Agency
You will need your Social Security Number or your confirmation number.
Please arrive no more than 15 minutes prior to your appointment. Earlier arrivals will not be admitted.
Late arrivals, 15 minutes after the scheduled appointment, will have to reschedule their appointments.
Upon entry to the building, you will go through security, including metal detectors.
Go to check-in/information. Your appointment will be verified.
You will be given a numbered ticket with the approximate, current waiting time at the bottom. (We do our best to keep the waiting time as short as possible.)
When your number is called and/or appears on the television monitor, go to the number of the window indicated.
In a hurry? Get your passport expedited quickly
.
Expedite Your Passport Now!