Does a minor need a passport to enter Canada and return to the US?
by Jenny
(Dayton, OH USA)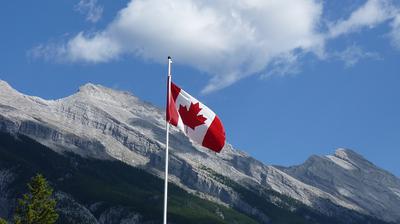 Canadian Flag with Mountains in Background
Question: We are going to Canada for my sister's wedding. My daughter is 3 and is in the wedding.

Answer: There are two things to consider.

Entering Canada: U.S. citizens are not required to present a passport when entering Canada. They must show a government-issued photo ID such as a valid Driver's License and proof of U.S. citizenship such as a U.S. birth certificate, naturalization certificate, or expired U.S. passport. Children under sixteen need only present proof of U.S. citizenship.

Returning to U.S.: When returning to the United States from Canada, it is very important to note that all U.S. citizens are required to present a valid U.S. passport book to enter or re-enter the United States via air. For entry into the United States via land and sea borders, U.S. citizens must present either a U.S. passport, passport card, NEXUS card, Enhanced Drivers License or other Western Hemisphere Travel Initiative (WHTI)-compliant document. The only exception to this requirement is for U.S. citizens under the age of 16 (or under 19, if traveling with a school, religious, or other youth group) who need only present a birth certificate (original, photocopy or certified copy), Consular Report of Birth Abroad, or naturalization certificate.

NOTE: If one parent will not be making the trip, it is recommended that the accompanying parent have a letter of authorization from the other parent to take the child on a trip out of the country.

In summary, if you plan to travel by air, your daughter will need a passport. Otherwise, it is not necessary. If you need to obtain a passport for your daughter, you can click on the link for complete instructions.

How to Apply for a Child's Passport

If you need to get her passport quickly, you can request expedited services to get it in 2-3 weeks. If you need it before then, you can apply at the New Orleans Passport Agency which serves residents of Ohio or apply through a private passport expediting service.

Expedite Passport for Minor
Top 5 Questions About Expedited Passport Couriers
Latest Passport & Travel Updates
Emergency Passport Renewal
How to get an emergency passport renewal in the U.S. or abroad. Discover the steps to renew your passport the same day.
How to Renew a U.S. Passport Fast
Learn to expedite passport renewals as quickly as the same day. Where and how to renew passport in a hurry.
Make Your Own Passport Photos
Use the online Passport Photo Wizard tool to make your own passport photos in minutes. Save money and time.
Passport Renewal Videos
Watch step-by-step instructional passport videos of how to renew a passport in 3 steps.
The Ultimate Jet Lag Survival Guide
Jet lag is almost certain if you travel across several time zones. Discover how to minimize the effects of jet lag for every age group and ensure a more rewarding family trip.
Expedite Your Passport Now!