Passports for Minors - Get the FAQ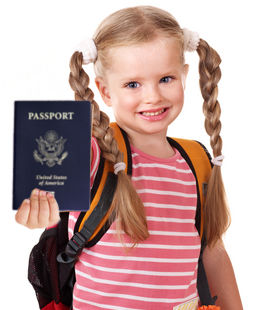 Getting passports for minors age 15 or younger requires some extra steps that are not necessary when applying for an adult passport. These requirements exist to guarantee the safety and well-being of the minor. You will find answers to the most frequently asked questions below.
Does a minor need a passport to travel abroad?
Yes. Each American citizen must possess his or her own passport. Exceptions include land and sea travel to Canada or Mexico.
How do I get a passport for a minor?
Each minor must submit a completed, unsigned application form, evidence of citizenship, evidence of identity, and passport photos. The difference is that the minor's parents must appear with the child or provide a consent form and submit evidence of relationship to the child.
Can a passport issued to a minor be renewed by mail?
No, passports issued to a minor cannot be renewed. You must apply for a new passport by submitting Form DS-11 and all required supporting documents.
Do minors require the consent of parent(s) or legal guardian(s)?
Yes. The Department of State's Bureau of Consular Affairs requires that all consent statements by a non-applying parent included with U.S. passport applications for minors under age 16 be notarized. The consent statement must include the child's name and date of birth, as well as the parent's identification information or a copy of his/her ID. This new requirement is being implemented to enhance the accurate identification of applicants and aid in the prevention of international child abduction and substitution.
What is the Children's Passport Issuance Alert Program (CPIAP)?
Separate from the Two-Parent Consent requirement for U.S. passport issuance for minors under the age of 16, parents may also request that their children's names be entered in the U.S. passport name-check system. The Children's Passport Issuance Alert Program provides:
Notification to parents of passport applications made on behalf of minor children, and
Denial of passport issuance if appropriate court orders are on file with CPIAP.
For more information, contact the Office of Children's Issues at 202-736-7000, or, by fax at 202-312-9743.
For more information, visit the
Children's Passport Issuance Alert Program
page.
My child is too young to sign his/her own passport. How do I sign my child's passport?
In the space provided for the signature, the mother or father must print the child's name and sign their own name. Then, in parenthesis by the parent's name, write the word (mother) or (father).
What is the validity of a minor's passport?
A minor's passort is valid for five (5) years from the date of issuance.
What are the fees to process a passport application for a minor?
You will have at least two fees - the Passport Application Fee and the Execution Fee. For minors age 16 or 17, the passport fee is $110 and the execution fee is $25. The total is $135. For children under age 16, the passport fee is $80 and the execution fee is $25. The total is $105.
Where can I get a minor's passport quickly?
You can request expedited service at the nearest passport application acceptance facility to get the application processed in 2 to 3 weeks. For faster service, you can schedule an appointment to
apply at a regional passport agency
. Those who are unable to visit one of the regional processing centers can
employ the services of a registered passport expediting courier
. An additional fee of $60 is paid to the Department of State for expedited service. Fees for expedited courier service varies depending on how quickly you need to get the passport.
Click here to expedite your child's passport in 10 days or less.
Click for expedited passport courier service in 24 to 48 hours!
.
Expedite Your Passport Now!