Relationship Evidence: Documents to Establish Relationship of Parent or Guardian to a Child When Applying for a Passport
When applying for a minor's passport, evidence of the relationship between the child and the person(s) who has legal custody, whether parent(s) or guardian(s), must be submitted.
Minor's Certified U.S. Birth Certificate
A certified birth certificate is the document that is most frequently submitted for this purpose of establishing the relationship between a parent/guardian and child. Most states require the registration of a baby's birth by law. The objective is to create a permanent legal record of the birth. This is also necessary to obtain an official birth certificate. Once the birth is registered, you can request a certified copy of the birth certificate from the Local Health Department or County Recorder in the county where your child was born, or from the State Office of Vital Records. Verify the exact location that copies are issued for the state where your child was born.
Minor's Certified Foreign Birth Certificate
Birth certificates of children born abroad can be used as relationship evidence. If the foreign birth certificate is in a language other than English, it must be translated. The translation can be either formal or informal.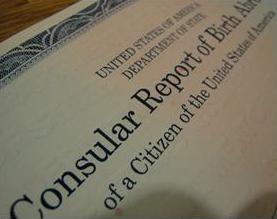 Minor's Report of Birth Abroad
The
Consular Report of Birth Abroad
is a certificate that declares that a child born abroad to a U.S. citizen parent or parents acquired U.S. citizenship at birth. This document, also referred to as FS-240, serves as proof of citizenship. The parent or parents of the child can submit the application for a Consular Report of Birth Abroad at the nearest U.S. embassy or consulate. An official copy of this document can be obtained through the Vital Records Section of the Department of State.
Adoption Decree
A Decree of Adoption is a legal document that is signed by a judge. It is a declaration of finalization of the adoption process. By this document, the relationship betweent the parent and child is established. The full legal responsibility and physical well-being of the child is placed upon the new passport. The child's new name is determined and stated in this document.
Court Order Establishing Custody
A court order establishing custody is a written order that determines who will provide care for a child. It must be signed by a judge. There are two main aspects to the custody of a child. One is physical custody. This establishes where and with whom the child will live. The other is legal custody. This determines which parent has the right to make important decisions for the child's well-being. Areas which might be affected by this include questions of medical care, education and religion. The parent or parents who apply for a passport with a minor child must possess legal custody in order to do so. If that legal custody is shared, then both parents must appear. If one parent has sole legal custody, then consent from the non-custodial parent is not required.
Court Order Establishing Guardianship
A guardian is a person who has the legal right and duty to take care of a minor and/or a minor's property. Guardianship results either by virtue of the role as parent of the minor or appointment by a Probate Court or other court of competent jurisdiction. This right and duty includes the obligation of care and control of that minor and/or his property and the authority to make major decisions affecting the minor's welfare. A court order establishing guardianship is a short document that includes information such as name and date of birth of the child, name of the guardian(s), whether or not bond is required and any restrictions placed upon the guardian(s). It is signed by a judge or court commissioner. Any of the documents listed above can be submitted as relationship evidence when a parent or guardian applies for the passport of a minor.
Click for expedited passport courier service in 24 to 48 hours!
.
Expedite Your Passport Now!