U.S. Passport Applications - Discover Which Form You Need to Apply for United States Passport Services
What US passport applications do I need?
The United States passport application form you submit will depend on the type of service you need, whether it is a
new passport
,
passport renewal
or something else. If you are unsure which passport service you need, visit our
Passport Information
page. Instructions for completing each form can be found on our website as well as included with each passport application. It is very important that you follow the instructions carefully. An error or an illegible form can lead to delays in the process.
Normal processing takes up to six weeks while
expedited service
takes up to 3 weeks. Applicants who require emergency service for urgent travel need to either schedule an appointment at the nearest regional
processing center
or request the assistance of an authorized
passport expediting service
. You can download the passport applications you need below. The forms are available in PDF format. You will need Adobe Acrobat Reader to open and print each form. You should already have this program on your computer. If you don't, you can click the link to download
Adobe Reader
.
Form DS-11: Application for a New Passport
Form DS-11 should be submitted when applying for a first-time passport. It is also used to replace a lost, stolen or damaged passport or renew a passport that was issued to a minor age 15 or younger. The applicant must appear in person to submit the form and should only sign the application when requested to do so by the acceptance agent.
Download Form DS-11: New US Passport Application
Form DS-82: Application for a Passport Renewal
Form DS-82 is used when renewing a passport that was issued to an applicant age 16 or older. This form can be used at any time during the validity of the passport or up to five years after the expiration of the passport. It is only necessary to apply in person with Form DS-82 if you are submitting the application for expedited service at a regional agency.
Download Form DS-82: Application for Passport Renewal
Click for expedited passport renewal courier service in 24-48 hours
.
Form DS-3053: Statement of Consent for Issuance of a Passport to a Minor Under Age 16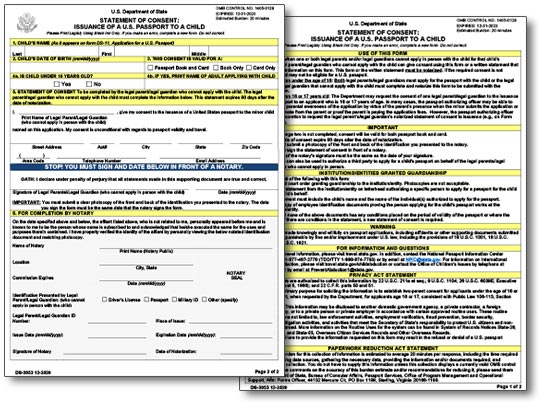 This form should be submitted, along with the DS-11 Application for Passport, as evidence of parental consent to
get a passport for a minor age 15 or younger
. There is a section on the form for special circumstances when obtaining consent is not possible. A Passport Agent will determine the acceptability of a special circumstance.
Download Child Passport Consentment or Special Circumstances, Form DS-3053
.
Form DS-5504: Application for a US Passport Name Change, Data Correction or Replacement of Limited Validity Passport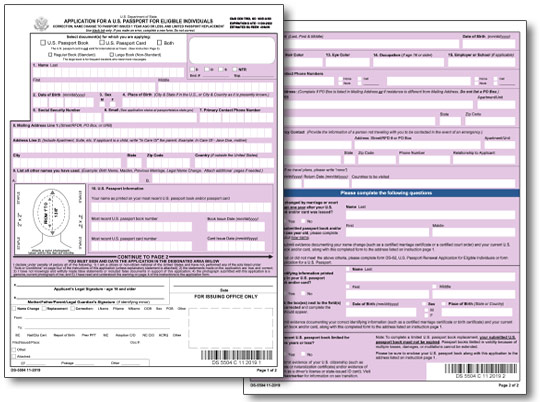 American citizens need to use this form when requesting a name change, data correction or replacement passport within one year of the date of issuance of the travel document. While correction of errors committed by Passport Services can be requested at any time, those wishing to get a name change or replace a temporary passport more than one year after the issuance date must apply for a renewal using Form DS-82.
Download Form DS-5504: Application for a Passport Name Change
.
Form DS-64: Statement Regarding Lost or Stolen Passport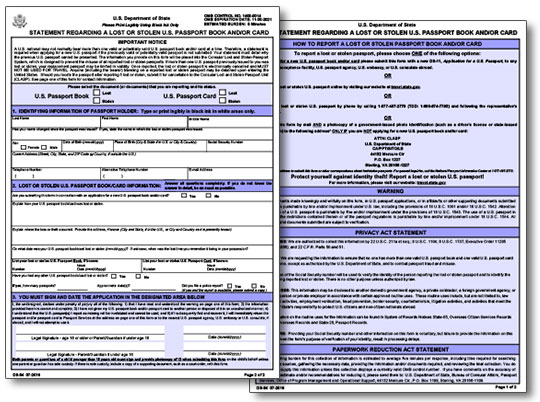 This United States passport application should be submitted along with the DS-11 New Passport Application form and brought with you when you go in person to
replace a lost or stolen passport
.
Download Statement Regarding Lost or Stolen Passport
.
Form DS-4085: Application to Add Visa Pages to Passport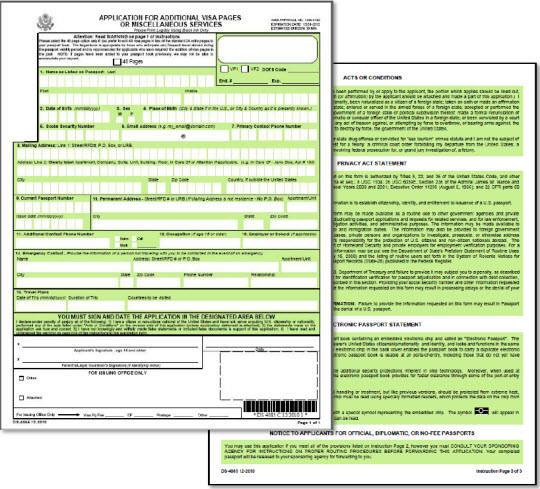 This official passport application form is used when you need additional visa pages but your passport is not near its expiration date. Applicants can submit this application when their passport has between 2 and 4 visa pages remaining. If only a year or two of validity remain, it may be more advantageous to simply apply to renew the passport. While the fee for renewal is more than that for adding pages, the new passport will have full validity of 10 years for applicants age 16 or older.
Effective January 1, 2016, the Department of State will no longer issue additional visa pages to valid passports. This service will be eliminated to further enhance the security of US Passports and to abide by international passport standards. Those who travel frequenly are advised to apply for a 52-page passport book which has been issued without extra charge since October 1, 2014.
Download Application for Adding Visa Pages to Passport
.
Form DS-10: Birth Affadavit
A birth affidavit should be submitted (with an application for a U.S. passport) when an acceptable birth certificate cannot be obtained for a person born in the United States and must be accompanied by a notice from the appropriate authorities indicating that no birth record exists. It should also be submitted with a birth record that is incomplete.
Download Birth Affidavit Form DS-10
.
Click for expedited passport courier service in 24 to 48 hours!
.
Expedite Your Passport Now!
Click to Call for Expedited Service!