Where Can U.S. Citizens Travel Without a Passport?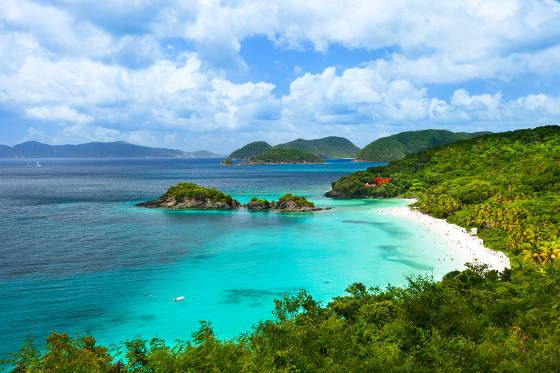 Travel sites love to tout the value of a U.S. passport. United States citizens have some of the greatest travel freedom in the world, being able to travel to 173 countries visa-free with only a U.S. passport in hand. That's a lot of travel options! But did you also know there are actually a lot of places to travel without a passport? It's true.
Whether you are looking for stunning white sand beaches and the tropical island feel, historical locales to explore, great food to try, or awesome mountainous landscapes to explore, American travelers have plenty of places to go without a passport.
Travel Within the United States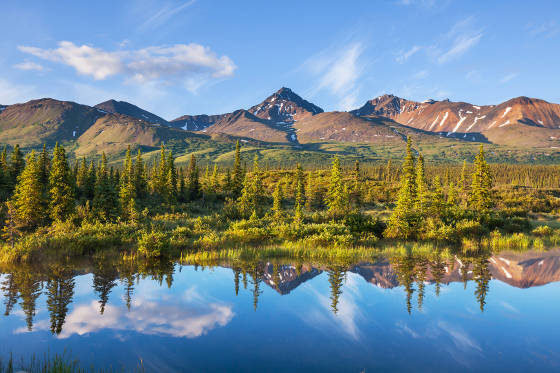 American Citizens can travel to any of the 50 states without a passport. That means something as simple as a state issued ID, like a driver's license, can open the door to a variety of popular destinations and hidden gems.
It is easy to overlook how big and diverse the United States really is. There is a wide variety of climates, landscapes, and attractions spread across the country. Yet, it is all one nation, accessible to all U.S. citizens.
Within America's borders you can find pristine beaches, dramatic mountain ranges, harsh deserts, and lush forests. At the same time, there are culturally-rich cities and towns-each full of history, culture, and excitement.
On the other hand, Europe, Africa, South America, and other continents are divided into separate countries requiring passports to cross borders within them.
This is not the case when traveling within the United States. You can drive throughout all 48 contiguous states (and the District of Columbia) without a passport. In fact, sometimes a big welcome sign on the side of the road is the only indication you've passed from one state into another.
It doesn't matter whether you are looking for adventure, nature, gorgeous beaches, awe-inspiring glaciers, a mountainous landscape, or historical landmarks. You can find all of these sights and experiences within the U.S. borders-and without a passport.
Hawaii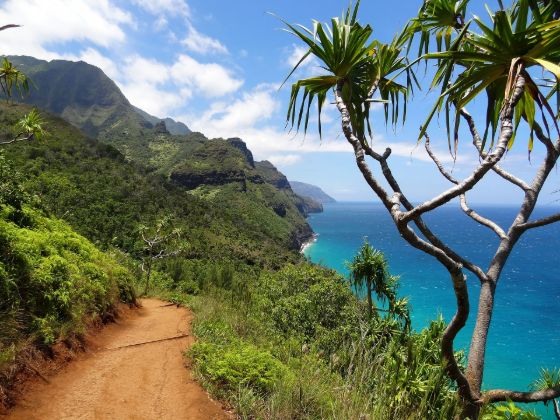 We get this question all the time: Do you need a passport to visit Hawaii?
The answer: No!
The 137 islands of the Hawaiian island chain make up America's 50th state. These iconic volcanic islands of the South Pacific are located over 2,000 miles from the west coast of the U.S. Despite the distance, Hawaii is a great tropical getaway for American citizens looking to travel without a passport.
Most travelers will fly in to the big island of Hawai'i. This is the largest island in the chain and home to the state capital, Honolulu.
There are 7 other major islands, all of which featuring stunning beaches, and a unique, tropical island feel. According to most travel experts, the 5 best islands for travelers are Hawai'i, Maui, O'ahu, Kaua'i, and Lana?i.
Lana?i and Maui tend to be the best choices for relaxation. Their beautiful beaches, lush hiking trails, towering volcanos, and slower pace are ideal for unwinding.
On the other hand, Oahu and "The Big Island" offer more rounded experiences. There are still plenty of amazing beaches and scenic hikes to enjoy, but there is also a variety of world-class resorts, delicious dining options, thrilling night life, and unique shopping venues to enjoy.
As far as a state goes, the Hawaiian islands represent one of the best places to travel without a passport.
Note: Even though Hawaii is a state, not all of the Hawaiian islands are open to tourists. For example, the tiny island of Niihau is privately owned and off limits to visitors, American or otherwise, with or without a passport.
Alaska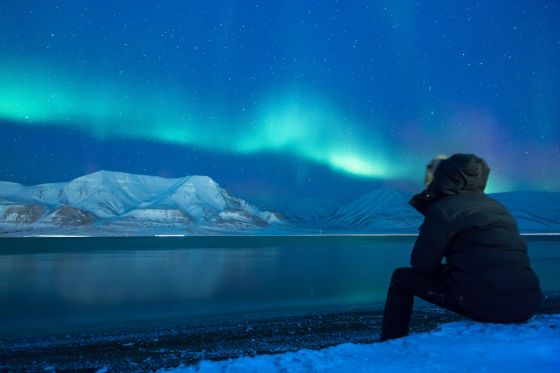 America's 49th state is both its largest and one of the most rich with undisturbed, unique natural wonders. There are few places in the world where you can experience the grandeur of the subarctic wilderness like you can in Alaska. Hiking trails, river rafting, mountain climbing, the northern lights, whale watching, and more await adventurers and tourists alike looking to soak in the great outdoors.
You don't need a passport to travel to Alaska, but you might.
Alaska is separated from the lower 48 states by Canada. So, if you're traveling by land, you may have to present a U.S. passport at the Canadian border if you aren't otherwise qualified with WHTI document to enter their country. If you're flying from within the United States to Alaska and returning the same way, you won't need a passport.
Key West, Florida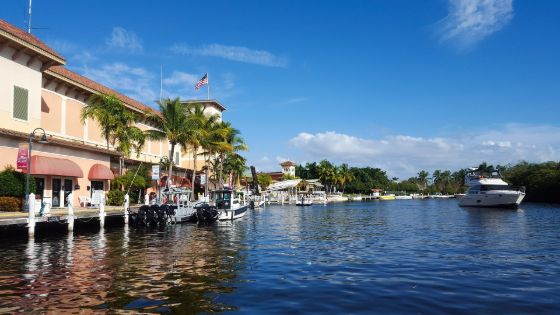 Ask anyone who has been there. Key West, Florida is a truly unique destination. What's more, your can visit without a passport.
There are plenty of great reasons to visit Key West. Located at the southwest tip of the Florida Keys, you will be hard-pressed to find beaches this gorgeous anywhere in the continental U.S. The crystal-clear water and soft, warm sand create the perfect venue for swimming, sunbathing, and water sports.
Speaking of sports, the Keys have plenty of options including snorkeling, diving, kayaking, and fishing.
If sports aren't your thing, you can take a sunset cruise, go on a ghost tour, or catch a street performance at Mallory Square.
The Florida Keys also have lots of history to explore. The town features countless historical landmarks dating all the way back to the early 1800s. Some of the most popular include:
The Ernest Hemingway Home and Museum
The Key West Lighthouse
The Truman Little White House
No trip to Key West would be complete without sampling some of the amazing food. Seafood is king, and there are plenty of waterfront restaurants where you can enjoy fresh catches of the day. You also won't want to miss out on trying some of the local Cuban cuisine or a slice of Key lime pie.
One of the most famous aspects of Key West, though, is its relaxed and laid-back atmosphere. The island is full of charming architecture, colorful streets, and lush tropical foliage, which makes it the perfect destination for those without a passport looking to unwind and recharge.
Jackson Hole, Wyoming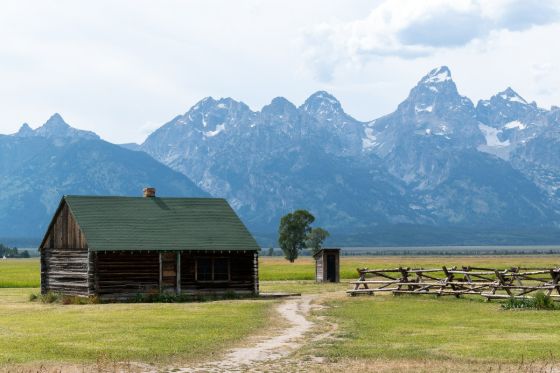 If you are looking to travel without a passport, but the tropics aren't your thing, consider Jackson Hole, Wyoming.
To start with, the scenery is absolutely breathtaking. Jackson Hole offers some of the most stunning natural environments in the country. The Teton Mountains tower over the valley town as the Snake River winds through it. Nearly everywhere you look seems like a painting.
If you're into outdoor activities, you'll find plenty to keep you busy in Jackson Hole. In the winter, the area is a skier's paradise. The town is home to world-class Rocky Mountain ski resorts like Jackson Hole Mountain Resort and Snow King Mountain.
The fun doesn't stop in the summer. Visitors will find no shrtage of outdoor activities to enjoy like hiking, mountain biking, fishing, and whitewater rafting. There are also plenty of opportunities to go wildlife spotting. Take a hike or bike ride through the many trails. On your way, keep your eyes peeled. You might see moose, elk, bison, or even a grizzly bear!
The town of Jackson Hole has a charming western vibe, with lots of shops and restaurants to check out. Jackson Hole also has a rich cultural scene, with lots of galleries, museums, and theaters to explore. If you're a history buff, be sure to visit nearby sites like the National Museum of Wildlife Art or catch a reenactment of the historic Jackson Hole Shootout.
Finally, one of the best things about Jackson Hole is its sense of community. The locals are friendly and welcoming. There's a real sense of pride in the town's heritage and natural surroundings. Whether you're looking for adventure, culture, or just a chance to get away from it all without a passport, Jackson Hole is a truly unique place that shouldn't be missed.
Boston, Massachusetts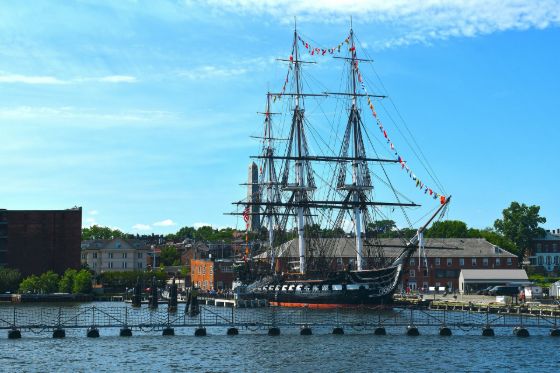 There's no shortage of amazing cities you can visit without a passport. For travelers looking for a blend of history, culture, and attractions, Boston, Massachusetts is a great choice.
Here are 5 of the top reasons to visit:
Rich history - Boston played a key role in the American Revolution and is home to many historical sites and landmarks, such as the Freedom Trail, the USS Constitution Museum, and the Paul Revere House. Visitors can also explore the beautiful campuses of Harvard University and MIT.

Outside the city limits, there is even more to explore. For instance, just a short drive away is Plymouth-the famed landing spot of The Mayflower and the the Pilgrims.

Delicious food - Boston is known for its seafood, chowder, and baked beans. It doesn't stop there. The city has a vibrant food scene with plenty of great restaurants to choose from. Some of the must-try dishes include lobster rolls, clam chowder, and Boston cream pie.
World-class museums - The Boston area is home to some of the best museums in the country. Some of the most notable are the Museum of Fine Arts, the Isabella Stewart Gardner Museum, and the Boston Children's Museum. Whether you're interested in art, science, or history, there's plenty for you to see and learn.
Sports - Boston is a passionate sports town, with legendary teams like the Red Sox, Celtics, and Bruins. Visitors can catch a game at Fenway Park, TD Garden, or Gillette Stadium.
Nature - Boston is surrounded by New England's beautiful scenery, which includes the Charles River Esplanade and the Arnold Arboretum. Just a short drive south nad you can explore the stunning beaches and picturesque towns of Cape Cod as well as the quaint island communities of Martha's Vineyard, and Nantucket.
Whether you're interested in history, culture, food, sports, or nature, Boston and its surrounding areas offer something for everyone-with or without a passport.
Big Sur, California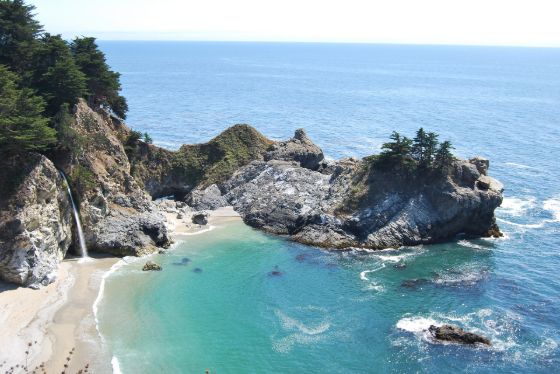 The West Coast of the United States has its fair share of amazing places to travel without a passport. One of the most impressive is Big Sur, California.
The natural wonder of Big Sur is awe-inspiring. The coastline is rugged and dramatic, with towering redwood forests and steep cliffs that drop off into the Pacific Ocean. The views are absolutely breathtaking and there are many hiking trails and scenic drives that allow visitors to take it all in.
Big Sur is also home to a wide variety of wildlife, including sea otters, harbor seals, elephant seals, whales, and dolphins. If you're a bird lover, you'll be in heaven - there are many species of seabirds and raptors to spot.
If you're the adventurous type, Big Sur is a great place to get outside and explore. There are many state parks and wilderness areas in the area, such as Pfeiffer Big Sur State Park and Andrew Molera State Park, where you can hike, camp, kayak, and more.
Pfeiffer Big Sur State Park is home to one of America's best pink sand beaches. The purple tint of the sand comes from the impressive rock formations that line the beach. The color really pops if you visit soon after it rains.
But Big Sur isn't just about outdoor activities-it also has a rich artistic and cultural history. Many famous writers, musicians, and artists have called it home over the years, and you can explore places like the Henry Miller Memorial Library, which celebrates the life and work of the famous writer.
Finally, if you're looking for a place to relax and unwind without a passport, Big Sur is the perfect destination. There are many luxurious resorts, spas, and retreats that offer breathtaking views and all the amenities you need to relax and rejuvenate.
Each region and each state of the United States has its own history and culture which offers a wide variety of attractions that are worth seeing. From world-class cities like New York and Los Angeles to a tropical paradises like Hawaii, there are hundreds of spots that rival any foreign destination. Here are a few more of the best travel opportunities that exist in the USA.
Visit U.S. Territories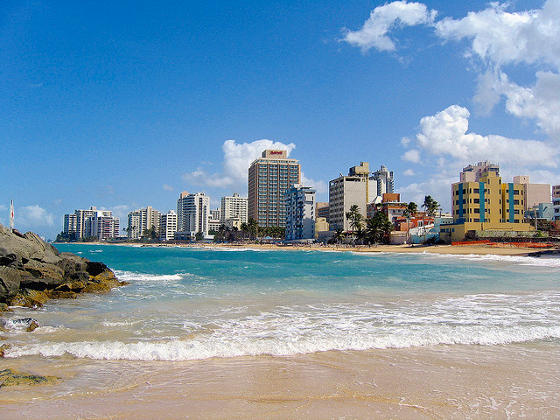 Most U.S. citizens know they can travel freely throughout the United States, but they don't realize that there are a lot of other alluring destinations that are also passport free.
The United States controls 14 U.S. territories. Of these, there are five permanently inhabited territories which can be visited without a passport.
These include the U.S. Virgin Islands and Puerto Rico. Both are located in the Caribbean, making them popular hot spots for U.S. travelers.
The other three U.S. territories that you can visit without a passport are all located in the Pacific Ocean; American Samoa, Guam, and the latest addition, the Northern Mariana Islands.
All of these can be great, passport-free alternatives to other popular Caribbean countries that do require passports. In other words, if you are looking for tropical places to travel without a passport, these are your best option.
The U.S. Virgin Islands
The Virgin Islands are a Caribbean island chain made up of 9 different islands. They fall under 3 different political jurisdictions:
The Virgin Islands of the United States are some of the most popular of America's unincorporated territories. They include St. Thomas, St. John, St. Croix. They represent the most popular tropical islands where Americans can go without a passport.

Of the three islands, St. John, is an outstanding choice for nature lovers. The US Virgin Islands National Park makes up two-thirds of the island. It is home to historical ruins, world-class snorkeling, exotic animals, and some of the best beaches in the entire Virgin Island chain.

You can even volunteer to participate in the park's sea turtle monitoring program where you can help locate sea turtles' nesting sites and protect newly hatched turtles along their journey to the Atlantic Ocean.

There are plenty of other opportunities to experience nature's beauty on the other two islands as well. The US Virgin Island of Saint Croix is home to a lush rainforests, some of which you can visit and explore. There are sprawling white sand beaches with glistening turquoise waters, perfect for a scuba dive!

The tropical island of St. Thomas is not to be overlooked, either. Its sandy shores offer a variety of both secluded beaches and world-class resorts.

On the whole, the US Virgin Islands represent some of the best opportunities to experience a tropical paradise without a passport.

The Spanish Virgin Islands, Culebra and Vieques, are technically part of Puerto Rico, which is another unincorporated territory of the United States. This means they are also great options for U.S. vacationers looking to travel without a passport.

Like other islands in the Caribbean island group, Culebra and Vieques offer beautiful beaches, colorful coral reefs, and unique hiking experiences sure to satisfy even the most seasoned outdoor lovers.

The British Virgin Islands (formally known as simply the Virgin Islands) are a British overseas territory. They include the islands of Tortola, Virgin Gorda, Anegada, and Jost Van Dyke. U.S. travelers cannot visit these islands without a passport.

That said, these islands offer their own unique opportunities for vacationers looking to experience some of the best beaches in the world. Not only that, depending on where you live, they offer the excitement of international travel without the lengthy travel-time associated with leaving the Western Hemisphere.

All told, the British Virgin Islands represent some of the best reasons to get a passport.
Puerto Rico
Many people assume Puerto Rico is an independent island nation. Actually, the 4th largest island in the Caribbean is a U.S. territory. Like the other destinations on this list, that means you can visit the Caribbean island without a passport.
Puerto Rico is an island with rich Spanish colonial history that is on full display in the capital, San Juan. There are several tours of Old San Juan that can get you access to some of the most impressive sites including Castillo San Cristobal, the largest New World Spanish fortress.
But San Juan isn't just stuck in the past. The city features all the great food, shopping, and excitement you would expect from a modern city. There is a vibrant night life as well as bustling cultural and musical scenes.
Venture outside the city limits for incredible white sand beaches, rainforests, waterfalls, and tropical wildlife. Of all the places to travel without a passport, Puerto Rico truly has it all.
Guam
Guam is a beautiful American island territory located in the western Pacific Ocean. The island boasts pristine white-sand beaches, warm waters, and sprawling tropical forests. Like many of the other tropical destinations shared here, Guam has a variety of outdoor activities to enjoy. The island offers world-class snorkeling, scuba diving, hiking, and fishing.
Guam is also steeped in a rich culture and history. Control of the island has changed hands numerous times throughout history. The result is a fascinating mix of Chamorro, Spanish, and American cultural influences. Travelers can visit historic sites such as Fort Nuestra Senora de la Soledad, the Latte Stone Park, and the War in the Pacific National Historical Park.
Foodies will also love Guam, as the island offers a unique blend of flavors from its multicultural history. You can enjoy fresh seafood, local Chamorro cuisine, and international dishes all in one place.
Guam is also a great place for shopping. The island is home to many duty-free stores that offer designer brands at discounted prices. There are also many local shops and markets where you can buy handmade crafts and souvenirs.
Above all else, Guam is known for its hospitality. The locals are welcoming and eager to share their island's beauty and culture with visitors, making it a truly unforgettable experience.
All told, Guam is a perfect destination for those seeking time in nature, cultural immersion, delicious food, and warm hospitality. So if you're planning your next vacation, but don't have a passport, be sure to add Guam to your list!
American Samoa
American Samoa is a breathtaking and culturally rich destination that has a lot to offer. It is one of the more unique places to travel without a passport.
American Samoa is home to some of the most pristine and untouched natural beauty in the world. Each of the 5 islands boast stunning beaches, coral reefs, tropical forests, and waterfalls. You can hike through the lush rainforest, explore hidden coves, and go swimming or snorkeling in the beautiful blue waters.
American Samoa is also a great place to experience traditional Polynesian culture. The locals are proud of their heritage and provide opportunities for visitors to learn and experience it first-hand. You can attend a traditional dance performance, visit a local village, or learn about Samoan crafts and art.
American Samoa is a paradise for food lovers. The local cuisine features fresh seafood, tropical fruits, and unique Samoan dishes like palusami (taro leaves cooked in coconut cream) and oka (raw fish in coconut milk).
If you're interested in history, American Samoa is also home to many sites of cultural and historical significance, such as the Jean P. Haydon Museum and the Aunu'u Island Archaeological Preserve.
Ultimately, American Samoa offers a peaceful and relaxed atmosphere. The slower pace is a welcome reprieve from the hustle and bustle of the daily grind. American Samoa is an exceptional destination to truly unwind and enjoy your surroundings.
The Northern Mariana Islands
The Northern Mariana Islands are the newest of the American territories. They are an idyllic destination located in the western Pacific Ocean. Like the other territories discussed here, The Northern Mariana Islands boast breathtaking natural landscapes, fascinating history, and a vibrant mix of cultures.
If you're a nature lover, the Northern Mariana Islands offer a wide range of outdoor activities. The islands are well-known for their stunning coral reefs, turquoise waters, and white sandy beaches. As such, snorkeling, swimming, and fun in the sun await.
Leaving the beach behind, you can also explore the lush green forests, hidden waterfalls, and ancient lava tubes by hiking or taking a guided tour.
The Northern Mariana Islands is also a unique cultural destination, with a diverse population that reflects its rich history. The Chamorro culture, which has been influenced by centuries of Spanish and American colonization, is on full display across the islands. During your stay, check out the local hot-spots and experience the traditions of the Carolinians-the native people who have been living on the islands for over 2,000 years.
Moreover, the local cuisine in the Northern Mariana Islands is full of culinary delights that will tantalize your taste buds. You can enjoy fresh seafood, tropical fruits, and unique Chamorro dishes like kadon pika (a spicy chicken soup), and tinala katne (grilled marinated beef).
If you're interested in history, the Northern Mariana Islands offers a fascinating insight into its unique past. You can visit the World War II historic sites, such as the American Memorial Park, or explore the ancient Chamorro village of House of Taga, which dates back over 3,000 years.
Finally, the Northern Mariana Islands is a peaceful and serene destination that offers a slower pace of life. Relax on the beach, enjoy the beautiful sunsets, or go on an adventure to escape the hustle and bustle of your everyday life.
Travel to Canada and Mexico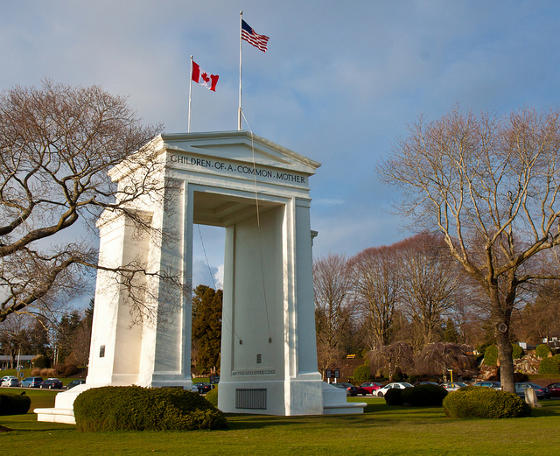 Two of the most frequent questions we have received in over 20 years of helping readers with their travel document needs are:
The answer to both questions is: it's complicated.
In certain cases, U.S. citizens can travel to both
Canada
and
Mexico
without U.S. passports. Children under 16 can visit Canada or visit Mexico without passports. You'll want to bring original certified birth certificates with you for each child under 16 who doesn't have a passport. This is critical so that they can get back into the United States without a problem.
Note
: This rule only applies to land travel.
A child that is flying, no matter what age, will be required to have a passport.
Because of this, traveling to Canada or Mexico without a passport can be risky. There is always the chance of leaving the US by land and needing to come back into the country by air in the case of an emergency.
Adult U.S. citizens are generally required to present a valid U.S. passport when crossing borders from the United States to visit Canada or Mexico.
Exceptions to this rule are those in possession of Western Hemisphere Travel Initiative (WHTI) approved documents. They include the Trusted Traveler Programs card (NEXUS, SENTRI, Global Entry, or FAST), or an Enhanced Driver's License. WHTI approved travel documents can be obtained through an application process.
Unfortunately, to visit Mexico or Canada, most people will need a passport. This is true of nearly all of the popular non-US travel destinations in the Western Hemisphere.
Thankfully, you there are ways to get a passport fast and broaden your travel horizons.
Take a Closed-Loop Cruise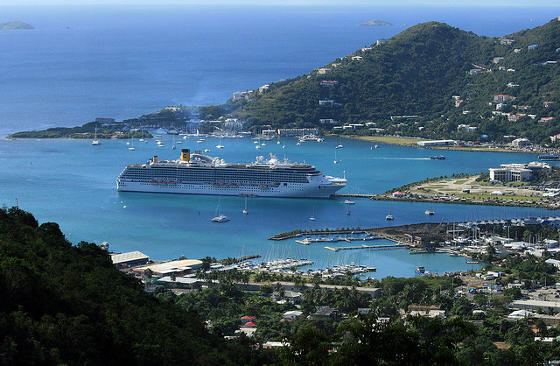 U.S. citizens who board cruise ships at U.S. ports, travel only in the Western Hemisphere, then return to the same port may present a government issued ID, such as a driver's license, to prove identification, accompanied by an original certified birth certificate to prove citizenship. These are the only two documents you'll need to reenter the U.S. on a closed-loop cruise.
Many American cruise lines offer closed loop cruises to foreign nations and popular destinations like the Cayman Islands, Costa Rica, or Cancun. This can be a great opportunity to visit a tropical getaway (from port) without a passport.
However, you must know that when a closed loop cruise stops at countries that require you to present a U.S. passport to enter, you could end up spending time on the ship when everyone else is enjoying the destination port city.
Also, most cruise ships (regardless of itinerary) may not let you board without a U.S. passport. So, be sure to check with the cruise line before booking those tickets.
Closed loop cruises that include destinations outside of the U.S. that are not U.S. territories usually make this known up front and try to limit the frustration of missing out.
With all these places to travel without a passport, you may never need to get one! Some of the destinations like Mexico and Canada, and even some cruises, will have other conditions to travel without a passport, which isn't quite as convenient, but still doable.
That said, there are a number of reasons why you should get a passport today.
Get a Passport and Expand Your Travel Options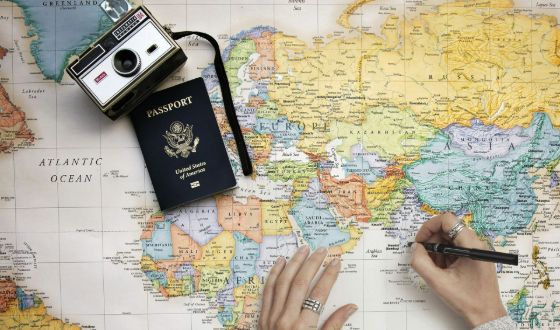 There are certainly many opportunities for US Citizens looking to travel without a passport. However, getting a passport opens up some of the most popular travel destinations in the Western Hemisphere including:
It is not possible to travel to any of these places listed above without a passport.
For a full list of countries and their passport policies, check out our complete guide to foreign entry requirements.
Having a passport or passport card also makes travel easier. Both are considered RealID documents that can be used to board a flight or a cruise-foreign or domestic.
Getting a new passport or renewing an expired one can be a time consuming process. This is especially true when demand is high. If you don't want to limit yourself to destinations you can reach without a passport, don't delay. Start the process soon.
Can't wait several months to get your passport application processed? Get help from a registered passport expediting service, like Rush My Passport, and start making your international travel plans today.
Top 5 Questions About Expedited Passport Couriers