Travel to Puerto Rico
Planning to travel to Puerto Rico for vacation? The facts and tips below will help you better prepare for your trip.
The passport requirement established under the Western Hemisphere Travel Initiative does NOT apply to United States citizens traveling to or returning directly from a U.S. territory. American citizens can enter and exit Puerto Rico without going through immigration or customs. You are encouraged, however, to carry a valid photo ID such as a current driver's license.
Puerto Rico is an island located between the Caribbean Sea and the North Atlantic Ocean, east of the Dominican Republic. The size of the island is slightly less than three times the size of Rhode Island. It is mostly mountains with coastal plain belt in its northern region, mountains precipitous to sea on the west coast and beautiful sandy beaches along most coastal areas.
Puerto Rico has a population of approximately 3.5 million with 93% of these living in urban areas. San Juan, the capital, had a population of 2.4 million according to the 2015 census.
The climate of the island is tropical marine, mild. There is little seasonal temperature variation. San Juan enjoys an average temperature of 82 °F (28 °C) during the year. During the summer, is can often reach 90 °F (32 °C) or higher. The average low during the winter is 71 °F (22 °C) although it can drop to the 60s. There is little variation in the amount of rainfall throughout the year. January, February and March see the least amount of rain.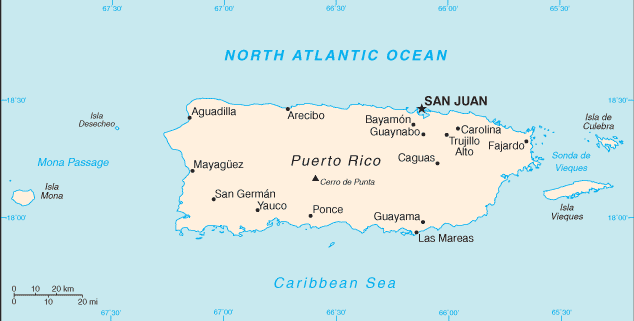 Puerto Rico Travel Resources
Covnersational Spanish Made Easy
Top Tourist Attractions in Puerto Rico
Fodor's Puerto Rico - #1 Bestseller