Unspoiled Caribbean Destinations

Travel is a wondrous thing; visiting new places, meeting new people, and having new experiences are euphoric. You can take a cruise, backpack the Gringo Trail, or jet off to five-star resorts. The type of travel you choose to experience each time is limited only by your own imagination. Today's world is at your fingertips. The downside to convenient travel is that as it has become more accessible, many former favorite destinations have begun to lose their charms to the demands of tourism. If off-the-beaten-path destinations hold an allure for you, the Caribbean still has some unspoiled jewels that harken back to simpler times. Check out these islands that have resisted modernization, seemingly caught in a time warp of enchantment.
Saba, Unspoiled Queen of the Caribbean
Saba is the very definition of off-the-beaten-path, the simplistic nature of this island is what earned it the moniker
Unspoiled Queen of the Caribbean
. In fact, the only major road on the entire island is known simply as The Road. Your adventure begins with an exhilarating 12-minute flight from St. Maarten that lands on the world's shortest commercial runway at Juancho E. Yrausquin Airport. If that's too much for you, there is also a daily ferry from the Dutch side of St. Maarten. Keep a sharp eye out for whale sightings if you take this option. One of the most undeveloped places in the Caribbean, Saba remains true to her traditional island friendliness where there are no tourists, only visitors. The dedicated Saba Conservation Foundation ensures the protection of the natural and cultural heritage of the Island, making it an ecotourism paradise. Saba is crisscrossed with
excellent hiking trails
and climbing opportunities. The Mountain offers a surreal climbing experience through an enchanted forest filled with orchids, hibiscus, and tall moss-covered trees. Saba is also a
superb diving destination
. Scuba divers will delight in outstanding pinnacle dives featuring volcanic rock at about 300 meters deep. The spires create a mystical tower-esque backdrop to over 150 different species of fish on the island's leeward side. Diving the island's windward sites offer additional varieties of marine life. Saba is a nature lover's dream world; an island destination where the present moment is always all there is.
Check out the St Maarten Shore Excursion: Snorkeling and Speed Boat Tour
Dominica, 365 Rivers Run Through It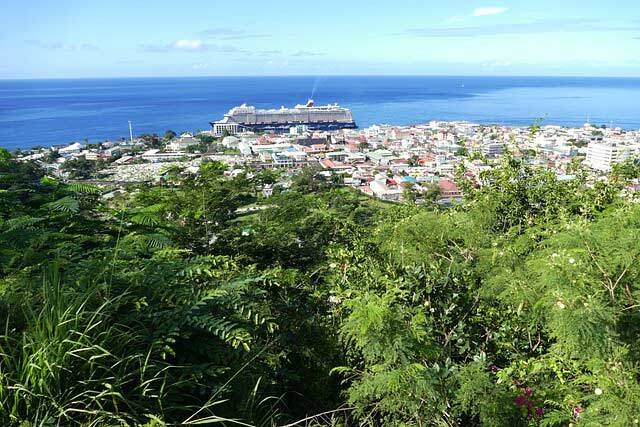 Dominica is perhaps one of the least visited countries simply by virtue of having a small airport that is not conducive to large jets. If you want to visit this magical oasis, you will need to take a transfer from one of its nearby islands, such as St Lucia. It is a shame that this country isn't visited more often, but also the reason it is one of the top eco-destinations in the world. Dominica is perfect for an off-the-beaten-path naturalist or vigorous eco-tourist adventurer who is enchanted by nature's bountiful beauty and wonders. One natural phenomenon that makes this country so special is the number of rivers that flow freely, one for each day of the year. That's right, the tiny island of
Dominica boasts 365 rivers
although no official source has been found to verify this claim. Even so, the number of rivers is striking. The
world's second biggest boiling lake
is at the end of a grueling six hour hike to Morne Trois Pitons National Park where hot bubbling water and steam flood from a crack in the Earth's crust. On the western side of the park is Trafalgar Falls,
dramatic twin waterfall
, one that drops into hot sulfur springs and the other that flows into a natural swimming pool. Both viewing the falls and swimming in the pool are easily accessible. This volcanic island offers ample opportunities for lounging in the hot springs, particularly at Wotten Waven and Soufriere. There are rain forests and lush mountains where
exotic and rare plants, birds, and other animals
reside. Dominica is a haven for naturalists who can enjoy the world in its rawest form and appreciate being immersed in a rich culture.
Half Day Jeep Tour starting in Roseau, the capital of Dominica
Bequia, Where Visitors May Become Islanders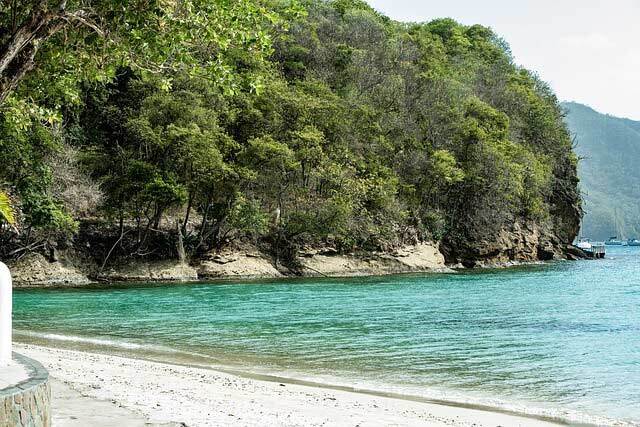 Bequia (beckway) is a small seven-square-mile island, an outpost of the Grenadines, with few inhabitants. The community of roughly 5,000 is made up of fishermen, whalers, sailors, master boat-builders, and a 7% expat population. Gorgeous green hillsides, breathtaking white sandy beaches, and quaint little villages make up its surroundings. The island's natural beauty and solitude provide timeless inspiration for artists and writers. The locals of this everyone knows everyone community greet all travelers with genuine pleasure, ready to share anything you want to know about their beautiful island with open and friendly conversation. This is a place where you can find equal parts solitude and active adventure. Seafaring is the most prominent part of island culture on Bequia where most locals have some connection to the sea. You can
set off on an exhilarating sail or yacht cruise
through their blue waters. You may even catch islanders whaling if you time your visit right. One of the few places where whaling is still legal, whalers are allowed to catch up to four Humpbacks per a year using traditional techniques of hand thrown harpoons from open sailboats. For an excellent scuba experience, dive one of their
28 dive sites
that showcase various caves, wrecks, and a multitude of sea life. Learn how to build a model boat, an island specialty, lounge around on white sand beaches, or stop in a Bequia bar for a friendly game of backgammon.
Tobago, Adventure Like a Castaway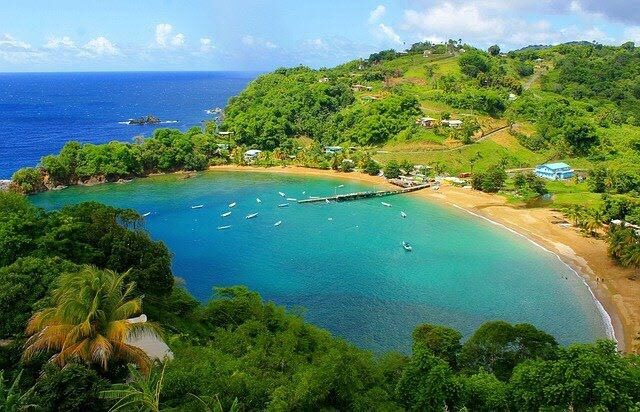 Tobago is the smaller and less popular sister to homecoming queen Trinidad, which together make up the Republic of Trinidad and Tobago in the southern Caribbean. Don't sell this island short; it is a beach lover's dream, especially at Pigeon Point, Castara, Englishman's Bay, and Bloody Bay. It was rumored to have inspired Robinson Crusoe, and was the filming location for The Swiss Family Robinson. Tobago is an out-of-the-way island where travelers can retreat from the hustle and bustle of everyday life to find tranquility and become one with nature. It has lush tropical forests that include
more than five hundred species of butterflies
, pristine beaches, and coral communities that offer excellent diving. On a trip in Tobago you can stand under a thundering waterfall, dive through the wreckage of three forgotten ships, observe more than two hundred species of birds, or view exceptional art at Belle Garden. These are just the highlights of what this island has to offer. There is so much to discover, an island meant for a true adventurer's spirit.
San Blas Islands, a World Away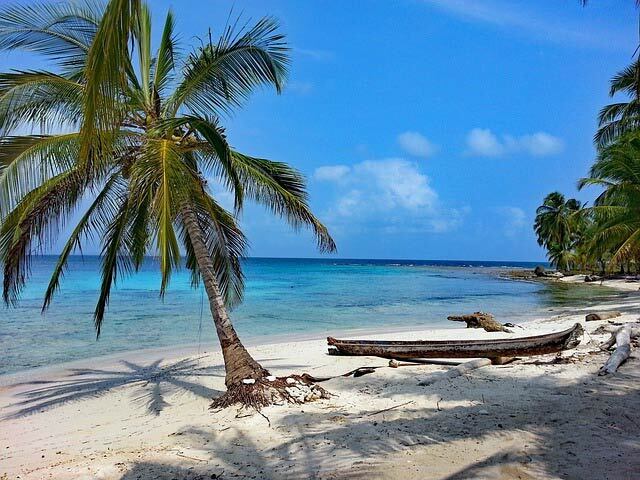 The San Blas Islands of the Kuna Yala are the perfect place to go if you are looking of an off-the-beaten-path getaway with a unique cultural experience. Located off the coast of
Panama
you will find these islands inhabited by Kuna Indians who welcome visitors to share their fascinating way of life and traditional culture. Lonely Planet calls the San Blas archipelago the #3 tropical paradise in the world, which is accounted for as much by the islands' culture as their pristine beaches. The islands are part of a semi-autonomous territory of the Kuna who have maintained their own economic system, distinct culture, and way of life. Besides the usual island fare of pristine white sand beaches, which are abundant across many inhabited and uninhabited islands in the archipelago, snorkeling, diving, sailing, and sea kayaking, the biggest reason to come to San Blas is to
experience the Kuna Yala villages
. Take a village tour, visit a tribal meeting house or herbal medicine garden, buy colorful molas from Kuna artisans, or take photos for a fee. Witness for yourself, a different way of living in the world. Each of these islands has something that makes it special. They have managed to remain delightfully detached from the overdeveloped world of tourism. They are the most beguiling places to visit, because they have been left alone, so each new visitor can be as captivated as the last. These off-the-beaten-path locations are where simple means extraordinary.
Expedite Your Passport Now!