What's the difference between a passport book and a passport card?
Question: What's the difference between a passport book and a passport card? Do I need both? My passport was issued to me when I was 17 years old and now 10 years later I believe I am eligible to renew it. Do I need to pay for a passport book and card? I don't know even know what each one means.


Answer:
A passport book and a
passport card
serve the same purpose of attesting to your U.S. citizenship and identity. All American citizens are required to present a valid passport to exit and re-enter the United States.
Here is a table showing the principal differences between a passport book and a passport card.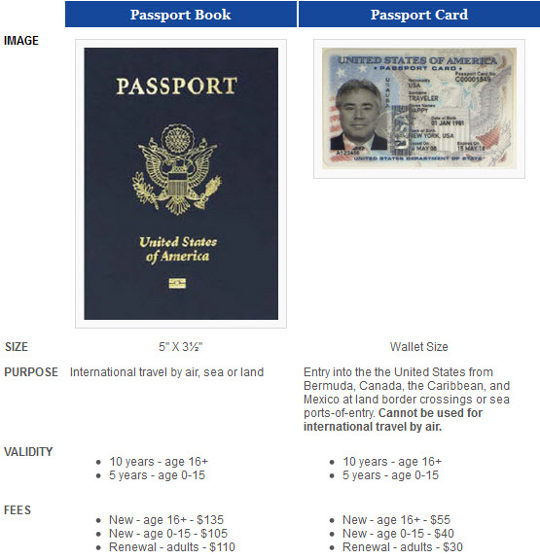 While the passport card is more convenient due to its size, it is far more restricted in use than the passport book. A passport book is valid for all types of travel (land, sea or air) to any destination. You can apply for both the book and card with the same application but it is not requried that you obtain both.
The passport book comes in both a standard, 24-page version and a bigger, 52-page version for those who travel frequently.
As long as your passport is not
significantly damaged
, you should be able to
apply for a renewal by mail
.
Applications are processed in 4-6 weeks. You can request expedited service to get it done in 2-3 weeks. To get a passport more quickly, you need to make an appointment at a regional agency. All agencies issue passport books but not all of them issue passport cards.
Click for fast expedited courier service
Top 5 Questions About Expedited Passport Couriers
Latest Passport & Travel Updates
Getting a Passport Expedited at a Post Office
Requesting express service at post offices and other facilities that accept application forms from U.S. citizens.
Applying at a Regional Passport Agency
Where processing centers are located. How to schedule an appointment. What documents to take with you.
Using a Registered Courier Service
How to pick a legitimate courier service company to assist in getting your passport quickly.
Routine vs. Expedited Passport Service: How to Choose
Guide to help you decide if standard or fast track processing is the best option for your situation.
10 Benefits of Expediters
What are the advantages of employing the services a qualified expediter?
How to Renew a U.S. Passport Fast
Learn to expedite passport renewals as quickly as the same day. Where and how to renew passport in a hurry.
Passport Renewal Videos
Watch step-by-step instructional passport videos of how to renew a passport in 3 steps.
Make Your Own Passport Photos
Use the online Passport Photo Wizard tool to make your own passport photos in minutes. Save money and time.
Travel Warnings
The latest alerts to help you prepare for a safe and secure trip abroad.
Travel Documents
List of the most important travel documents and information about how and where to get them.
Travel Safety
Discover practical advice on how to keep safe during international trips.
23 International Travel Tips to Save Money on Transportation, Lodging & More
Cool ways to make your money stretch farther on travel expenses so that you can go more often and stay longer.
Expedite Your Passport Now!