International Travel Documents - Passport, Visa, International Driving Permit & Others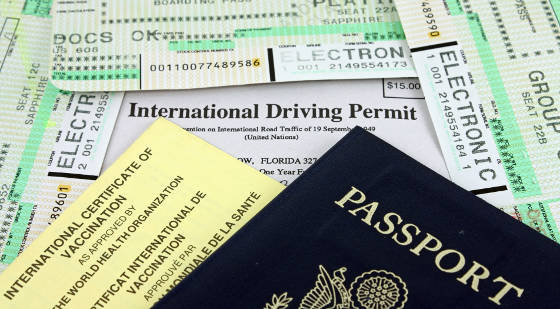 There are several different international travel documents that are important for American citizens to carry with them when traveling abroad. Each document will be briefly described below. Links will be provided to more detailed information concerning the requirements for obtaining each type of travel document.
Passport
A current, valid
passport
is the most important travel document a United States citizen can possess. It is required to travel by air, land or sea to any foreign country. The wallet-size
passport card
is a travel document that can be used to re-enter the United States from Canada, Mexico, the Caribbean, and Bermuda at land border crossings or sea ports-of-entry. The card cannot be used for international air travel.
Visa
An
entry visa
permits a traveler to arrive at a port-of-entry of a foreign country and request permission to enter. Obtaining a visa does not guarantee entrance into the country you wish to visit. Permission is granted or denied by agents at the port-of-entry. Several types of visas exist such as
tourist
,
business
,
work
,
study
,
transit
and the permanent resident visas. Visas are issued for a predetermined amount of time. There are some countries where
no visa is required
in order to visit.
Trusted Travelers Program Cards
A
Trusted Traveler Program
allows approved members to easily cross borders between either US & Canada or US & Mexico. This is a U.S. Custom and Border Protection (CBP) approved program. It means that holders of pre-approved ID card under the three trusted traveler programs -
NEXUS
,
SENTRI
, and
FAST
- have the privilege of expedited passage between the US & Canada Boarder under NEXUS, US & Mexico Border funder SENTRI, and both in and out of US & Canada and US & Mexico for drivers in the FAST program.
International Driving Permit (IDP)
An
International Driving Permit
translates information contained on your driver's license into 10 languages so that officials in foreign countries are able to interpret your license. An IDP supplements a valid government-issued license--it does not serve as a replacement for a license. If you are stopped by law enforcement, you will most likely be asked to produce both your IDP and your official driver's license. IDPs are honored in more than 150 countries outside the United States. Only the the American Automobile Association (AAA) and the American Automobile Touring Alliance (AATA), are permitted to sell IDPs only to people who are at least 18 years old and only to those who have a valid driver's license issued by a U.S. state or territory.
Travel Document Authentication
The
Department of State, Authentications Office
is responsible for signing and issuing certificates under the Seal of the U.S. Department of State (22 CFR, Part 131) providing authentication services to U.S. citizens and foreign nationals on documents that will be used overseas. The authentication fee is $8.00 per document.
Expedite Your Passport Now!