Business Visa Information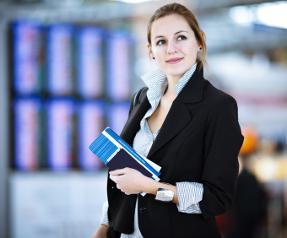 A business visa allows you to engage in commercial activity in another country. Ninety-eight countries in the world require a business visa.
These short-term visas are some of the most commonly issued visas worldwide. As such, the process to apply for and receive a business visa is fairly straightforward as long as you have your supporting materials in order.
The most common business visa requirements are:
a passport with at least 6 months validity remaining
a recent passport photo
a copy of your round trip ticket or signed letter from a travel agency with confirmed round trip booking;
a completed business visa application form for the destination country
a business visa fee payment (varies by country)
In addition to the requirements above, many countries also require a letter from your employer stating your intended purpose for the trip and a matching letter of invitation from someone in the country you are visiting in a business capacity.
Applying for a Business Visa
Even though your business visa may be for work done for a company or on someone else's behalf, you still apply for your business visa yourself.

It is essential that you follow the directions on the business visa application closely, as errors or incomplete information can result in the denial of your visa and a delay in your business plans. These applications are unique to each country that issues them, so be sure that you follow the correct procedures for applying for a visa for your destination country (see the list of requirements by country below).

Be warned, the visa application process can sometimes be a headache. Depending on the individual requirements and location of the country's embassy, you could face lengthy travel, parking problems, large crowds, and long lines. To make matters worse, most embassies request that you not call them about your application; this means you won't be able to easilly track the progress of your application.
The best way to avoid the extra travel, the crowds, and the lines is to contract a
visa expediting service
to process your busines visa. These services hand-deliver your application and supporting materials to the appropriate officials on your behalf. In additioon to this personalized service, many visa expediters offer online tracking of your application's status.
We have reviewed twenty-one services and found one that stands out from the rest. They offer excellent service, great guarantees, and fees that are below the competition's.
Business Visas vs. Work Visas
Before you begin filling out your application, it is important to know that a business visa differs from a work visa. Business visas only cover certain activities abroad; if you are found to be going above and beyond what your visa is authorized for, you will likely face serious penalties.

The differentiating facttors between what constitutes "business" and "work" vary by country, but the most common distinctions include:
Length of stay - Business visas are only valid for a short amount of time. For example, a business visa for one of the Schengen Area countries in Europe is valid for 90 days. By contrast, a work visa allows the holder to remain in the destination country longer to complete certain types of contracted work - often for up to a year or longer.

While both types of visas can often be renewed, there are limits to the number of times and for how long. In most cases, a renewal is for the same amount of time as the original visa.

Type of employment - A business trip typically involves work that is paid for by a company or entity in the business traveler's home country - think meetings, trainings, corporate events, and fact-finding type activities.

On the other hand, work visas tend to involve work that is paid for by a company or entity in the destination country. In these cases, the traveler is essentially becoming an employee of the foreign company - like relocating to an international branch, taking a new job overseas, or otherwise working under an international contract.
The application process - Unsurprisingly, in most countries it is much simpler and faster to get a business visa than a work visa. Once there is income that is actually being earned overseas (as is the case with most work visa situations), there are exra layers including taxes, residency, and other legal issues that must be addressed. This can add weeks and even months to the turnaround time between applying for a work visa and receiving one.

Business visas, however, can be obtained much more quickly. Again, it varies by country, but most consulates will issue a business visa within days to a few weeks of receiving a completed application. Hiring a visa expediting service can reduce this delay to as quickly as 1-2 business days.

In a hurry? Get your business visa fast.

Business Visa Requirements by Country
Popular Destinations That Require a Business Visa
More Countries Require a Business Visa
In a hurry? Get your travel visa quickly
.