Work Visa Information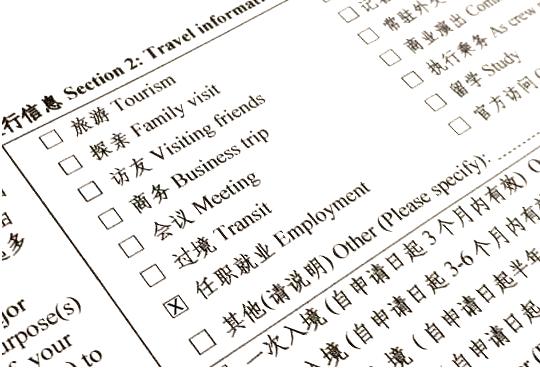 An
employment or work visa
is issued by a country to foreigners who wish to enter for the purpose of contracted labor for an extended period of time. Work visas usually extend to scientists, researchers, technicians and other trade professionals as well as medical residencies and crew members.
Due to the more permanent nature of the traveler's objective in comparison to a tourist or business travelers, there are usually much stricter requirements for obtaining a work visa. At the very least, the time needed to review your application and approve or deny it takes longer. Besides a completed application, some or all of the following documents may be required.
A valid United States passport.
Many countries require your passport have at least 6 months validity beyond your date of arrival and at least 2 visa pages in order to apply.
Two passport photos.
The photos must be identical and taken within the last 6 months. Some countries only accept color photos while others accept either color or black and white.
Criminal Record Certificate.
A lot of countries restrict the entrance of individuals who have been convicted of certain crimes. Therefore, an official document provided by the police department in the city where you reside must be obtained and submitted.
Proof of residency.
This is usually required to prove that you live within the jurisdiction of the consulate where you are submitting the visa application.
Visa fee.
Even if the country where you plan to work does not charge a fee for tourist and/or business visas, it is common for fees to be charged for work visas. Cost vary a lot and change often so check with the embassy or consulate before submitting your application.
Other requirements.
Other documents may be required depending on the purpose of your trip. For example, volunteer and religion workers often have to provide documents or a work contract or prove an employment relationship. This could be a formal contract and/or letter of invitation. Since you will be residing in the country for an extended period of time, there are concerns about you becoming a burden to the state. Therefore, many countries require proof of adequante health insurance and financial support during the period you intend to stay in the country. The list of requirements above is not exhaustive. It is not uncommon for an applicant to submit all the documents listed only to discover later that more documents are required. The consulate that is processing your application has the last say as to which documents you must submit. Work visas can take from a few business days to several months to process. Work visas are usually issued for a specific period of time such as 1 or 2 years and are often renewable. They are also valid for multiple entries.
Click here for information about travel visa expediting services
.
In a hurry? Get your travel visa quickly
.
Expedite Your Passport Now!
Click to Call for Expedited Service!