Work Visa Information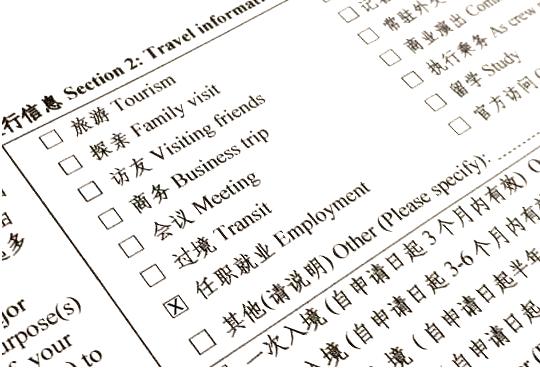 An employment or work visa is issued by a country to foreigners who wish to enter for the purpose of contracted labor for an extended period of time. Work visas usually extend to scientists, researchers, technicians, and other trade specialists such as medical residents and crew members.
Once issued, work visas usually cover a specific period of time (1 or 2 years is common) and are often renewable. They are also valid for multiple entries. This means, once you have your work visa, it is often easier to keep it in good standing through the renewal proess than it was to get it in the first place.
Common Work Visa Requirements
Due to the more permanent nature of a work visa traveler compared to a
tourist
or
business
traveler, there are usually more (and stricter) requirements for obtaining a work visa. As such, processing and approving a work visa application almost always takes longer than other non-residency visas. This is due to the number and complexity of documents and supporting materials that must be considered as a part of your request.
Besides a completed application, some or all of the following documents may be required:
A valid United States passport. Many countries require you have a passport with at least 6 months validity beyond your date of arrival and at least 2 empty visa pages in order to apply.
Two passport photos. The photos must be identical and taken within the last 6 months. Some countries only accept color photos while others accept either color or black and white.
Criminal record certificate. Many countries restrict the entrance of individuals who have been convicted of certain crimes. Therefore, an official document provided by the police department in the city where you reside must be obtained and submitted.
Proof of residency. This is usually required to prove that you live within the jurisdiction of the consulate where you are submitting the visa application.
Visa fee. Even if the country where you plan to work does not charge a fee for tourist and/or business visas, it is common to be charged for work visas. Costs vary by country and change often so check with the embassy or consulate of your destination country before submitting your application.
Other requirements. Other documents may be required depending on the purpose of your trip. These could include formal work contracts and/or letters of invitation. Similarly, volunteer and religious workers often have to provide specific documents or contracts to prove their employment relationship.

Also, since you will be residing in the country for an extended period of time while you work, you must be able to assuage concerns that you may become a burden to the state. Therefore, many countries require proof of adequante health insurance and financial support during the period you intend to stay in the country.
The requirements above are not exhaustive. Ultimately, the consulate that is processing your application dictates which documents you must submit. For this reason, it is in your best interest to do contact the appropriate authorities in your destination country before beginning the application process.
How Long Does It Take?
As far as timing is concerned, work visas can take anywhere from a few business days to several months to process. Again, this can vary due to a number of factors including (but not limited to):
The destination country
The complexity of your application
The type of work you will be performing
The anticipated length of your stay
The number of other pending applications
The time of year
There are visa expediting services that can help you reduce this turnaround time considerably. These professionals do the legwork to deliver your application materials to the appropriate authorities and retreive your issued visa on your behalf.

The best visa expediting services (including our favorite) also work with you to ensure your application package is complete and likely to be approved before it is officially submitted. As such, visa expediters can be helpful in removing potential delays and headaches at nearly every step of the work visa application process.
Click here for information about travel visa expediting services.
In a hurry? Get your travel visa quickly
.
Expedite Your Visa Now!