Tourist Visa Information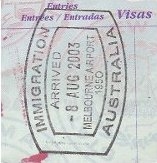 The tourist visa is issued to travelers who plan to enter a foreign country for the exclusive purpose of tourism.
According to the US Department of State, activities that qualify as tourism include:
Vacations
Sight-seeing
Visiting family or friends
Travel for medical treatments
Attending a social event hosted by non-business and non-governmental organizations
Amateur (unpaid) participation in athletics or the arts
Auditing a course or another form of non-credit study
Those who need to obtain a tourist visa should apply through the consular services of the country or countries they wish to visit. Any individual who is unable to visit the appropriate consulate or who needs to expedite their visa application process can submit the visa application forms through a visa expediting service.
Tourist Visa Requirements
A tourist visa is usually much easier to get than other types of visas. It requires less documentation than business, student, work or resident visas.
In most cases, applying for a tourist visa means you will need to complete a short visa application form. Some countries have a special form for tourism while other countries have one form for all types of visas.
Along with the completed application, you will need to submit your valid passport.
Some countries require your passport to have 6 months validity
beyond your planned period of stay in the country and at least one blank visa page.
A passport-style photo
is another common requirement. Each individual seeking a tourism visa must meet these requirements - regardless of his or her age.
Tourist Visa Fees
Tourist visa fees vary greatly from country to country. Some countries chasrge visa application fees as low as $30 while others charge hundreds of dollars. Some countries offer several different fee options depending on how quickly you want your visa application processed, the number of entries, and the length of validity.
On average, the tourist visa application processing fee for most countries is approximately $130.
Applying for a Tourist Visa
The first step is to complete the application form. Usually, you can download the form to your computer and then print it out. That said, some countries (such as
Brazil
) have moved to an electronic application process that you complete online. Likewise, some countries will no longer even accept printed applications. Most visa applications are quite short and take only a few minutes to complete. However, It is vitally important that you enter all your data correctly. Mistakes on the application can cause delays or even an outright rejection of your visa request. If you are required to send a photo, verify the dimensions and specific qualifications that are required. For example, some countries accept black and white photos while others will only accept color photographs. You will also need to verify the delivery method accepted by the consular section of the country you plan to visit. Some nations accept visa applications by mail while others require them to be hand-delivered. In cases where an applicant cannot personally appear, someone else can do it for them. This can be a friend, family member, travel agent or
visa expediter
.
What to Do Once Your Visa is Issued
Once your tourist visa has been issued, you need to verify the information on it. Check for errors so that they can be corrected promptly and well before your departure date.
Many countries are now using a visa stamp that is printed on special paper and adhered to a visa page in your passport. The stamp usually includes information such as the applicant's full name, type of visa, validity, date of expiration, and other data.
Running out of time to get a tourist visa for your upcoming travels? Click the link to get rush tourist visa processing.