Passport Services of the U.S. Department of State - Should You Apply Directly for Your Passport?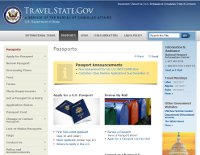 The Passport Services of the U.S. Department of State Bureau of Consular Affairs is the only authorized passport issuing agency for citizens of the United States who intend to
travel internationally
. The State Department's Passport Services also seeks to protect the integrity of the U.S. passport as
proof of citizenship
at home and around the world. It is important to note that a passport is actually the property of the United States government and must be surrendered if ever the government should demand it.
What is the Passport Service System?
The U.S. Department of State Passport Services consists of:
How many passports have been issued?
The
number of passports issued
more than doubled from 8,825,410 in 2004 to 18,382,798 in 2007. In 2008, the number of passport applications processed reached 16,132,536. This included 189,560
passport cards
during the first year they were issued. Much of the increase was due to new passport requirements based on the
Western Hemisphere Travel Initiative
.
The number of passport applications processed in the succeeding years dwindled, with only 14,087,341 passport issued in 2014. This included the 1,463,191 passport cards issued on the same year.
How has Passport Services handled the increased demand?
Due to this increase in demand, it was difficult for Passport Services to process passports within the stipulated time. For quite a while, processing of applications took as long as 12 weeks. Over the past few years, Passport Services has worked to lower the processing time to 4 to 6 weeks by increasing the number of regional agencies and individual agents. Errors on
application forms
or problems with documents and photos submitted can cause delays in
processing time
by days, weeks or, even, months. If you are not in a rush to get your
travel document
, you can review the
passport requirements
to verify which service you need and then apply for routine processing.
Expedited Processing
The State Department's Bureau of Consular Affairs generally processes applications sent by mail for expedited service within two to three weeks. This can also require more time if there are problems with the application or supporting documents. For
emergency passport service
in less than two weeks, applicants can make an appointment and personally visit the nearest
regional passport agency
. Bob Tedeschi did and this was his conclusion:
"I spent an entire day sitting in lines in a hot, cramped passport office in Stamford, Conn. The office, an hour's drive from my home, was one of the few in the Northeast that provided last-minute service for those who call at least a few days ahead for an appointment. The lines moved at a pace that made those at the Department of Motor Vehicles look fast. In retrospect, given the amount of work I missed and the aggravation, I would've paid $150 for an online service."

Bob Tedeschi, New York Times Travel Section
You can quickly compare expediters by accessing our
directory of Passport Expediting Services
. We recommend
Fastport Passport
which has over a decade of experience and an A+ rating with the BBB.
Click for expedited passport courier service in 24 to 48 hours!
.
Expedite Your Passport Now!