How to Get a Second Passport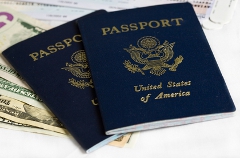 A
second passport
is the exception to the rule. The general policy is that "no person shall bear or be in possession of more than one valid or potentially valid passport of the same type at any one time." There are a couple of circumstances in which a second passport is authorized by the United States Bureau of Consular Affairs.
1. You need a second passport if you plan to visit a country that will deny a visa due to the fact that your passport contains markings or visas showing you traveled to certain other countries. 2. You need a passport for immediate travel because of delays in getting a travel visa or some other foreign governmental process that required you to submit your passport. a. There are rare situations in which travelers are granted more than one "second" passport. b. A second passport is only issued if you are unable to complete your travel through a change of itinerary or you cannot cancel your current passport in order to obtain a new one. There are a couple of circumstances in which the issuance of another passport is not considered a valid second passport. 1. A passport that is issued to replace one that is temporarily unavailable. It could be that your passport is locked in a safety deposit box or packed for moving. In this case, you have to submit the form for a
lost passport
and
apply for a new one
. 2. A passport that is issued to replace one that was lost by a foreign embassy or consulate in the process of obtaining a visa. Again, you have to submit the form for a lost or stolen passport and apply for a new one. The validity of a second passport is limited to two years and cannot be extended.
How to Apply for a Second Passport
You need to submit the following items in order to apply for a second valid passport by mail. 1. Completed Application Form DS-82 Submit
Form DS-82: Application for a Passport by Mail
if you already have a valid, undamaged passport. If you do not currently possess a valid passport or your passport is significantly damaged then you first need to submit
Form DS-11: Application for a U.S. Passport
in person. Once the new passport arrives, you can apply for the second passport using Form DS-82. 2. Provide Social Security Number If you not currently have an SSN then youo should fill in the passport application SSN box #5 with zeros. You MUST also fill out and sign the
SSN Declaration
and submit it with the passport application. Absence of the form will result in a delay of passport adjudication. 3. Submit Second Passport Request Letter
Second passport request letter
. You must also include a statement to the fact that you will immediately report the loss of either passport to Passport Services or the
nearest U.S. embassy, consulate or consular agency
. 4. Provide a Written Statement from Your Employer, If Applicable Provide a formal written statement from your employer,on company letterhead, justifying the need for a second passport and stating the bearer's understanding that any loss or theft of either passport will be reported immediately to the nearest Consulate, Embassy, or passport agency. 5. Submit Evidence of U.S. Citizenship and Identity. Your previously-issued, valid and undamaged passport can be submitted for this purpose. If you will need your passport during the application process, you can submit the original or a certified copy of your birth certificate. 6. One recent
passport photo
. 7. Payment for
passport fees
. Note, there is no guarantee that a second passport will be issued. Each request is evaluated on a case-by-case basis. Not all applications are approved.
Click for expedited passport courier service in 24 to 48 hours!
.
Expedite Your Passport Now!