Passport Office FAQ - Find an Application Acceptance Facility Near You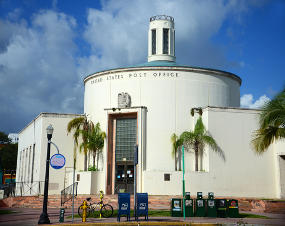 The answers to passport office questions below will help you understand how these application acceptance facilities operate. You can also access our directy in order to find a passport office near you.
What is a United States Passport Office?
A passport office serves as an passport application acceptance facility for United States citizens who need to
obtain a new passport
. It is the place that you submit your application if your departure date is more than two weeks away. Passport offices, or application acceptance facilities, are usually located in a post office, court house, public library or some other such place. It is not to be confused with a
regional passport agency
or processing center. There are currently more than 7,200 application acceptance facilities in the United States compared to only 25 regional agencies.
What is a passport application acceptance agent?
Passport application acceptance agents work at passport offices and are authorized by the United States government to witness the signing of
Form DS-11: Application for a New Passport
. The agent also verifies your Social Security number and supporting documents, placing them in a sealed envelope with your application to be sent to the U.S. Department of State Passport Services.
Why do I need to appear in person?
You must appear before the acceptance agent to pledge an oath that you have faithfully and truthfully completed the application for a new passport. You'll be asked to sign the application form after making the oath. Your signature will attest to your having made the oath. The official at the US passport office will check your state issued ID to verify your signature and physical description.
Why do I need to pay the Application Acceptance Agent?
There are two or three
passport fees
that you will pay when applying for a new passport. The application fee will be sent to the State Department along with your application and supporting documents. An
additional expediting fee
is sent with your application if you need to get your passport in a hurry. Expedited service takes approximately 2-3 weeks door-to-door if delivered and returned by overnight delivery. Finally, an execution fee of $35 is paid to the passport application acceptance facility for the service rendered.
Why are the documents placed in an envelope and sealed?
This procedure ensures the Department of State that no one has tampered with your application prior to submission. You should not open the envelope! If you break the seal, the process will be invalidated and the application will be canceled regardless of your travel circumstance.
NOTE:
You must include an
authorization letter inside the sealed envelope
IF you plan to use the services of a registered expediter. Inform the passport agent that you will be using an
expediting service
and will not be mailing the envelope directly to the processing center.
Find a Passport Office Near You
Although there are thousands of application acceptance facilities, it is not always possible to locate one nearby especially if you live in an isolated, rural area. If you have difficulty locating one, search in a nearby town or county not too distant from where you live. To help you find a passport office near you, we have organized them into three lists. The first list includes the acceptance facilities in nearly 40 of the most populated cities in the United States. If you live in one of the most populated urban centers in America, then your city is probably on this list. Note, these lists contain only passport offices in the city proper but does not include facilities in surrounding suburbs. A second set of lists is organized according to the largest counties in the United States so there are lot more acceptance facilities on these lists than the major cities lists. Finally, you can access a list of passport offices by state. These are the most comprehensive lists we have. Although we try to maintain an up-to-date list, sometimes passport offices cease to operate without notifying us. It is recommended that you contact the application acceptance facility before making a visit. While there are quite a few facilites that accept
walk-ins
, most require you
book an appointment
and/or have limited operating hours.
Find a Passport Office Near You
Click for fast expedited courier service
Top 5 Questions About Expedited Passport Couriers
Expedite Your Passport Now!