How to Get a U.S. Passport after Naturalization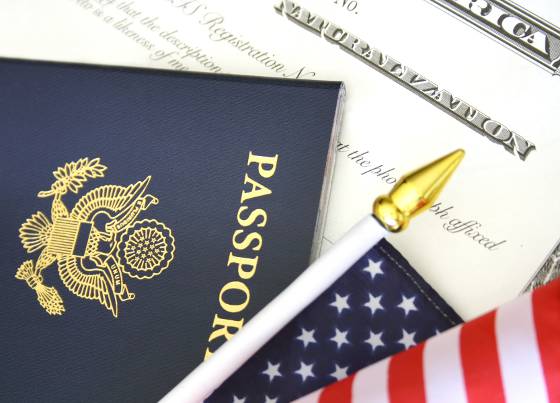 You did it! After all that long, hard work to become a naturalized citizen of the United States, you finally realized your dream. Now, not only can you vote, but you can be the next Arnold Schwarzenegger and run for public office. You cannot be deported, you can apply for education scholarships and small business grants, you can sponsor family members for their green cards, and much more. There are so many new opportunities available to you, not the least of which is to be able to travel abroad long term.
Enjoy the Benefits of a U.S. Passport
As a green card holder, if you traveled outside the U.S. for more than six months in a year, you ran the risk of not being allowed back in the States because your green card status could be considered abandoned. As a U.S. citizen, however, you can now travel virtually anywhere in the world for as long as you want, exercising a level of travel freedom available to citizens from very few countries. You'll get visa-free travel to 174 countries and have the full protection and support of U.S. Embassies and Consulates around the world during your travels.
Other perks of having a coveted U.S. passport are that they serve as an irrefutable form of identification, and as additional documented proof of citizenship beyond your Certificate of Naturalization. Whether you want to book an around-the-world ticket or live abroad for a couple of years, when you're ready, you can always come home the United States with your U.S. passport. It's your ticket to freedom. Now that you know how important it is to get your passport right away, how do you get started?
Take Steps to Get a U.S. Passport
Getting your first U.S. passport can seem like a daunting task, but you've already navigated your way to citizenship, so it isn't anything you can't handle. Break the process down into steps, and it will be manageable. The first step you should take is to identify a passport acceptance facility near you and make an appointment. Appointments can take several weeks to get, depending on where you live and the time you are applying.
Prepare for Your Passport Appointment
Download, fill out, and print the passport application Form DS-11 from the Internet, or pick one up from your passport acceptance facility prior to your appointment and fill it out by hand. Do not sign the form, because it has to be signed in front of the passport acceptance agent. Next, go to a business that specializes in passport photos and get your photo taken; stores like Walgreens or CVS are good choices.
Either scan and print a copy of your U.S. driver's license or government-issued ID at home, or have a copy made when you get your photo taken. The copy should show both the front and back of your ID on a single 8 x 11 piece of white paper. You will also want to make a copy of your Certificate of Naturalization for your own use.
Go to Your Passport Appointment
Bring your filled out and unsigned DS-11 form, color passport photo, color copy of your identification, original Certificate of Naturalization, and your ID with you to your passport appointment. The agent will ask to see your ID, then have you sign the DS-11 form, and collect your photo, supporting documents, $110 passport fee, and $35 execution fee from you. You will receive your passport in about 7 to 10 weeks; the documents you submitted with your application will be returned to you within two weeks of receiving your passport. If you don't get your Certificate of Naturalization back, immediately contact the National Passport Information Center to report it.
Protect Yourself during the Application Process
It is crucial to note that you will be submitting your original Certificate of Naturalization as proof of citizenship with your application. While your passport application is being processed, you will not have access to your naturalization certificate, and therefore will have no proof of citizenship during that time. To protect yourself, it is imperative that before you submit the original document, you make and keep a copy of it. You will also want to send the application and supporting documents in a protective envelope using a traceable delivery method.
What If You Are In a Hurry?
If you planned an international trip within a month of receiving your U.S. citizenship, you probably need to expedite your application. Waiting to receive it by routine service would be a big risk. Expedited service through a local application acceptance facility currently takes 3 to 5 weeks. The fastest way to get a passport is to apply at a regional agency. You can do this yourself or get a third party to submit the application with your authorization.
Protect Your New Passport
Once you receive your new passport, you will want to take several steps to protect it. To keep your travel document safe, sign it right away in ink, fill out the emergency contact information in pencil and put it in a secure location. Never throw away your old or expired passport, because you will need it to get a renewal and use it as evidence for the longevity of your citizenship.
If you're a new citizen who has gotten a U.S. passport, what was your experience? Did the process go smoothly? Did you have any problems getting your Certificate of Naturalization back? Tell us about it in the comment section below.
Click for expedited passport courier service in 24 to 48 hours!.
Top 5 Questions About Expedited Passport Couriers