Food in Cyprus – The Answer to All of Life's Problems?
by Natasha Dervish
(London)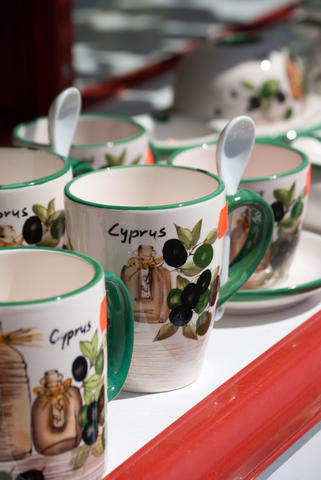 Cypriots have their differences, that's for sure. The north and south of the island continue to be divided by a border, and even within each community bickering is a way of life. The simple fact is Cypriot people just love to argue. Believe me I should know - my family are from Cyprus.


The one thing that all Cypriots seem to be able to agree on is that food is the most important thing on the entire planet. My grandmother once told me that every problem can be solved with a good meal and a glass of wine. You have no idea how seriously she took this philosophy. When my parents announced their divorce, she responded by cooking a roast dinner and seemed genuinely confused that this act didn't save their marriage.
This kind of thinking makes me wonder why the political problems of Cyprus haven't been solved yet. I mean, has no one thought to just sit the diplomats down together and offer them all some lamb on a skewer?
Of course food debates themselves do cause some further needless arguments. Unlike many Cypriots I have a mixed Greek/Turkish Cypriot family. You will be surprised how often I have been forced to listen to intellectual discussions such as the following:
Turkish Cypriot: "We invented the kebab!"
Greek Cypriot: "No! We invented the kebab!"
You get the picture.
Growing up in London with a family like mine wasn't always easy. Everything revolved around eating. But as I've got older I have learnt to appreciate Cypriot food and have started to wonder if it can really be the bridge between the two communities.
On my last trip to Cyprus during winter, I saw something
that really made me hopeful for the future of the country. I was sitting at an outdoor café in the village of Bogaz in
Famagusta, North Cyprus
when a group of Greek Cypriots from the south came over to the Turkish Cypriot diners and offered them snails (a less well-known Cypriot delicacy) to buy which had been caught that day. Quite a lot of snails were bought and much laughter and conversation followed between the two groups.
Maybe Cyprus will be reunited one day and maybe it won't. But maybe food can help to show the people that they are not so different from each other after all.
Top Five Tips When Eating in Cyprus Off the Beaten Track
• If entering the house of a Cypriot, always accept food and/or drink. It is considered offensive to turn it down, even if you are not in the slightest bit hungry.
• Most Cypriots love meat, but the many vegetarian side dishes can often be a meal in themselves.
• You cannot go to Cyprus without trying the locally produced specialties such as
halloumi cheese
and commandaria wine (believed to be the world's oldest wine).
• Don't miss out on the little customs that come with food. For example, try some Cypriot coffee, and then have a local read your fortune from the cup!
• Don't let the words conflict and Cyprus problem put you off visiting the island. It is extremely safe for travelers and well-developed for tourism. But venturing away from the tourist resorts and into the villages is safe and the best way to sample authentic Cypriot food.
Natasha Dervish is a travel writer who lives in London with her husband and kitten.
---
Requesting express service at post offices and other facilities that accept application forms from U.S. citizens.
Where processing centers are located. How to schedule an appointment. What documents to take with you.
How to pick a legitimate courier service company to assist in getting your passport quickly.
Guide to help you decide if standard or fast track processing is the best option for your situation.
Learn to expedite passport renewals as quickly as the same day. Where and how to renew passport in a hurry.