Honolulu Passport - Where to Apply for a Passport in Honolulu, Hawaii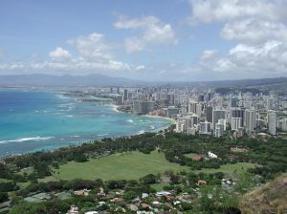 There are only four passport offices in Honolulu, Hawaii so we have listed a few other for more options. The majority of application acceptance facilities are located at post offices. The majority of passport offices require an appointment. Please call or schedule an appointment online before visiting.
Applications for a new passport (
Form DS-11
) should be taken to a nearby passport application acceptance facility so that an agent can witness your signature. Applications for other passport services - renewals, name change, and corrections, etc. - can be made by mail. For a list of acceptance facilities in cities other than Honolulu, visit the
Hawaii passport office
page.
The estimated time it takes to get a passport application processed is 8 to 11 weeks. Applicants can request expedited service for processing in 5 to 7 weeks. If you require a passport more quickly, schedule an appointment at the Honolulu Passport Agency or employ the assistance of a registered passport expediting courier service such as Rush My Passport.
Click here to apply for expedited passport courier service.

COVID-19 UPDATE:
Mailing delays are impacting passport processing. The Department of State's processing times begin when applications are received at a passport agency or center and not when you mail them or apply at a local acceptance facility.
Standard service may take between 7 and 10 weeks
. This timeframe does not include delivery time. Mailing times vary across the country.
Expedited service takes from 4 to 6 weeks exluding mailing times on the front and back end. Mailing delays may be significant so requesting 1-2-day mailing may greatly help.
Regional passport agencies are offering two types of appointments: Life-of-Death Emergency Service and Urgent Travel Service.
Life-or-death emergencies are serious illnesses, injuries, or deaths in your immediate family (parent, legal guardian, child, spouse, sibling, and grandparent) that require you to travel outside the United States within 3 business days.
If you need to travel due to a qualified life-or-death emergency, please call the National Passport Information Center for an appointment:
Mondays through Fridays 8 A.M. to 8 P.M. ET, call 1-877-487-2778 (TDD/TTY:1-888-874-7793) Outside of these hours, call 202-647-4000.
For Urgent Travel Service, you need to call 14 days before your scheduled international travel or 28 days if you also need to secure a foreign visa.
If you need to travel urgently for reasons other than a life-or-death emergency, please call the NPIC at 1-877-487-2778 Mondays through Fridays 8 A.M. to 10 P.M. ET.
Rush My Passport has been obtaining expedited passport in 4.5 weeks. Apply online for expedited passport service.
| Facility | Address | City | State | ZIP | Phone |
| --- | --- | --- | --- | --- | --- |
| ALA MOANA SATELLITE CITY HALL | 1450 ALA MOANA BLVD | HONOLULU | HI | 96814 | 8087684300 |
| HAWAII STATE LIBRARY | 478 S. KING ST., | HONOLULU | HI | 96813 | 8085863477 |
| UNIVERSITY OF HAWAII AT MANOA | 2465 CAMPUS ROAD | HONOLULU | HI | 96822 | 8089567236 |
| KAPIOLANI COMMUNITY COLLEGE - HOSPITALITY DEPT | 4303 DIAMOND HEAD ROAD | HONOLULU | HI | 96816 | 8087349258 |
| AIEA POST OFFICE | 99-040 KAUHALE ST | AIEA | HI | 96701 | 8084830010 |
| AIEA PUBLIC LIBRARY | 99-374 POHAI PLACE | AIEA | HI | 96701 | 8084837333 |
| WAIMANALO POST OFFICE | 41-859 KALANIANAOLE HWY | WAIMANALO | HI | 96795 | 8082590234 |
| EWA STATION | 91-1202 RENTON RD | EWA BEACH | HI | 96706 | 8086894250 |
| HAUULA POST OFFICE | 54-316 KAMEHAMEHA HWY | HAUULA | HI | 96717 | 8082935057 |
| LAIE POST OFFICE | 55-510 KAMEHAMEHA HWY. | LAIE | HI | 96762 | 8082930337 |
Need to get a passport fast? Click here to expedite your passport in 24-48 hours.
Honolulu Passport Agency
The Honolulu Passport Agency only serves customers who are traveling, or submitting their passports for foreign visas, within 14 days or 28 days, respectively. To apply at the agency, you must schedule an appointment.
Recently, the New York Times published an article about passport processing. Charles Milton's well-planned vacation to England almost didn't happen because he only discovered his passport was missing 3 days before his departure date.
The article stated, "The next morning, three days before the trip, he called the State Department's Bureau of Consular Affairs, which issues passports. Mr. Milton soon found himself in a two-hour phone marathon, shuttled to six or seven extensions and, finally, being told that the soonest he could get a passport was 10 business days."
When Mr. Milton told the agent that he didn't have 10 business days to wait, he was informed of an alternative solution: a private passport expediter. If you are in an emergency situation, read on.
Honolulu Passport Expediting Services
U.S. Passport expediting services have a special relationship with the State Department so they can process your passport within 10 days to as little as 24 hours. If you have an emergency and need to obtain your passport within 2 weeks or less, use expedited passport service in Honolulu. Besides the convenience, it's guaranteed.
Honolulu Passport Photo Services
Click for expedited passport courier service quickly!.