Travel to Thailand: Requirements, When to Go, and What to Do
Located in Southeast Asia, Thailand is a lush and tropical country full of culture, beauty, and history.
Thailand is a kingdom, and has the most recorded reigns of any other country in the world.
In terms of size, it is the 51st largest country in the world, with a population of 64 million people.
Thailand is an incredible place to visit, but proper planning is a must!
This guide will help you be sure you have the proper documentation while also offering some practical travel tips to help you get the most out of your trip.
Thailand Travel Requirements
Traveling to Thailand requires both a valid U.S. passport and an appropriate Thai visa. Securing these documents as far in advance of your travel plans as possible is the best practice; however, there are options for expediting passports and rushed visas available.
You can either apply for a visa to Thailand yourself or you can authorize a Thailand visa expediter to submit the application for you.
Regardless of the type of visa you request or whether you apply yourself or with the help of an expert, the Thailand Embassy and Consulates require the following:
a valid passport for at least 6 months, and a blank page to stamp the visa;
2 photos (2" x 2") no more than 6 months old;
a completed Thailand visa application form;
a copy of your itinerary;
a copy of your hotel reservation;
a copy of a recent bank statement or evidence of adequate finances ($700 per person and $1500 per family);
visa fee (money order or cashier's check made payable to The Royal Thai Embassy - no cash accepted); and
a self-addressed prepaid return envelope with postage (FedEx, US Express Mail or US Certified Mail).
Visas to Thailand are affixed in your passport on the pages specifically marked for them. Countries require that visa stamps be placed on those pages that do not contain any other stamps.
Travel to Thailand - Back to Top
Thailand Embassy and Consulate Locations
Royal Thai Embassy
1024 Wisconsin Avenue NW
Washington, D.C. 20007
Tel: (202) 944-3600
Fax: (202) 944-3611
Hours of Operation: Mon.-Fri., 9am to 12:30pm & 2pm to 5pm
Consular Section
2300 Kalorama Road, NW
Washington, D.C. 20008
Telephone: (202) 684-8493
Fax: (202) 459-9536
Hours of Operation: Mon.-Fri., walk-in service 9am to 12pm
NOTE: A Thailand visa is not necessary for tourism or transient stop-over if you plan to stay 30 days or less. If you will remain in the country for more than 30 days or your purpose for travel is other than tourism, you will be required to get a visa.
For more information about the requirements for US travelers visiting Thailand, consult our complete Thailand Visa Guide.
Travel to Thailand - Back to Top
The Best Time to Visit Thailand - Considering the Climate, Hot, Wet & Cold Seasons
Thailand is a tropical country, and so it's climate reflects that. You'll find lush locations with exotic plant life, but it can also be very humid, so be prepared and dress accordingly.
It is important for travelers to beware that Thailand can experience monsoons. These are "wet seasons," in which there can be huge amounts of rain on a regular basis. The monsoons come at different times, depending on which part of Thailand you're visiting. Typically, the west coast monsoon will take place between April and October, while the east coast monsoon will take place between September and December.
Thailand's monsoons can interfere with or even prevent travel. If nothing else, it can spoil a day of sightseeing. So, be aware and plan ahead!
There are basically 3 seasons in Thailand: the hot, the wet, and the cold. So, what does each season offer? Let's give you an idea of what you can expect, as well as the pros and cons of traveling to Thailand during each of its 3 seasons.
Thailand's Hot Season
March to June:
During Thailand's hot season, it's important for travelers to know what to expect. Be aware that April is notoriously Thailand's hottest month, when even the geckos stay inside. However, the hot season has its perks for those who enjoy guaranteed sunshine all day, everyday.
The hot season is the beach season in Thailand, so if you're looking to spend your days basking in the hot sun on beautiful beaches with gorgeous blue-green water, like at Phra Nang Beach in Krabi, then the hot season is most likely the best time for you!
For Trekkers, you might find the hot season to be a tad too hot to go trudging up hills, unless mounted on an elephant.
Beware: sun stroke and dehydration are high up on the list of things to be cautious of during this season.
For those looking to travel to Bangkok during the hot season, it's important to know that Bangkok essentially turns into a molten vat of pollution. The winds die down and the smog just hangs around, choking up the oxygen, making it an uncomfortable and not exactly an enjoyable time of year to visit.
It's also important to note that during Thailand's hot season, hotels are at their most expensive. The hot season and weekends will see many of the mid-range hotels fully booked, so plan accordingly.
Thailand's Wet Season
July to November: The changeover from hot to wet is the worst time to be in Thailand. It's hot, it's wet, and the humidity is ruthless. You'll be desperate to take three showers a day at a minimum... living in a shower for a month might not be a bad plan. If you can imagine living in a sauna for a month, then you get the picture of what it feels like to be in Thailand at the start of the wet season.
Then, thankfully the skies finally open up, the wind blows again, and things freshen up. During the wet season, you can imagine that rain is pretty much a guaranteed feature on a daily basis. Rain usually kicks off in the afternoon and sometimes lasts all night. Travelers be aware that floods are very common, along with power cuts.
So why come to Thailand now? The cost. The wet season is when hotels are empty and you can get the best prices. During the wet season, most tourists have gone and even the Thai people stay home on the weekends. For many travelers, this is the best time to see Thailand.
Thailand's Cold Season
December to February: Thailand freezes over, snow falls from the sky, and ice-skating is the nation's most popular sport. In Bangkok, the temperature can drop to a bone-chilling 15 degrees Celsius at night. Up north it has actually dropped down to 2 degrees! The south gets off much lighter, and you can escape with a down vest and a winter hat.
During the cold season, Thailand is, again, swarming with tourists who have come to take advantage of the cool weather. They are now able to see Thailand without burning up. This is, for most tourists, the best time of the year to actually "see" Thailand. You'll enjoy seeing the sights, touring the cities, and trekking will be at its best.
It is important to note, that with tourism booming again, prices rise and hotels are fairly full, so plan accordingly.
In a nutshell, the best time to visit is the time that suits what you intend to do, see, and experience while in Thailand. Whether you're a Trekker or a Tanner, or if you're looking for a bargain trip to Thailand, every traveler will have different needs. Just remember that there are occasional downpours even in the hottest parts of the year and even the wet season can be dry for a week or more.
Travel to Thailand - Back to Top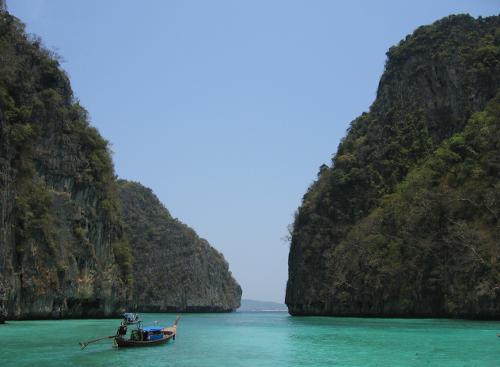 Thailand's Many Amazing Attractions
Thailand is booming as a destination because it has many interesting and memorable tourist attractions. When it comes to tourism, the country is often referred to as "Amazing Thailand". It has become the country's international slogan.
Thailand has many historical sites to see such as temples and ancient ruins. There is also a wide variety of beaches and tropical hot spots to explore. Whatever you're interested in, Thailand has something for everybody.
The country is bursting at the seams with attractions. The capital city, Bangkok, has more than enough to keep you busy during your trip. You can visit The Grand Palace, an amazing building and an important part of Thailand's history, it served as the home to royalty. Bangkok is also where you will find much of Thailand's wild and thriving nightlife. In this city you can find everything from a floating market to a huge underwater tunnel.
As you explore more of Thailand, there is even more for you to see. Anyone who visits must see Ayutthaya during their trip. This was the capital of Thailand until it was destroyed by invaders in 1767. Today, the ruins still stand and are a unique window into Thailand's rich history.
Thailand also has many natural beauties. If adventure is your passion, you can take part in rock climbing or scuba diving to experience some of Thailand's most awe-inspiring locations.
Travel to Thailand - Back to Top
Health & Safety
When visiting a foreign country, you want to learn about any potential dangers or health issues. Luckily, Thailand is one of the safest foreign countries to visit. There is nothing outstanding to note as far as health issues. Still, you should follow all the basic precautions when it comes to traveling, in general. Better safe than sorry.
When traveling anywhere:
Never carry too much money on your person. Any money you do have should be kept in an area that cannot be accessed easily by pickpockets.
Avoid wearing fancy jewelry or wrist watches.
Be careful when selecting food and drink. It's better to focus on restaurants that are used to catering to tourists.
Never drink tap water unless you boil it first. Try to stick to bottled water whenever you can.
It is important for travelers to know that Thailand is home to many small monkeys- these can be an entirely different breed of pick-pockets (and I mean different breed, literally). They're small and cute, but they have a tendency to steal food and personal items. For example, don't let them reach out and grab your glasses. You may think it's cute at first, but it won't be so cute when the monkey scrambles up a tree and shows no intention of giving them back!
Thailand is a truly amazing country. The many diverse tourist attractions have well-earned it the nickname "Amazing Thailand". But you won't know just how amazing it is until you actually experience it for yourself. Whether you just want to enjoy some peace in nature, explore a country rich in history, rock climb in the tropics, or party like there's no tomorrow, Thailand is the place for you.
Travel to Thailand - Back to Top
Holidays and Festivals
When traveling to Thailand, make sure that you are aware of holidays and special events before you visit. Major holidays can interfere with your trip, so you will need to plan accordingly.
Many of Thailand's festivals can be enjoyed by tourists. In fact, Thailand's celebrations have played a large part in making it a major tourist country. Many of these festivals are unique and fun for both spectators and participants, alike.
In March, there is a kite-flying festival. Kite flying is an old tradition in Thailand, and you're certain to see many exotic and beautiful designs fill the skies.
Speaking of beauty in the skies, Thailand also has a huge rocket festival that takes place during the second weekend in May.
Chinese New Year is a huge celebration in Thailand, even though it is not recognized as an official holiday.
Perhaps the most interesting of them all is The Monkey Banquet. Thailand is famous for their small monkeys and to honor these little monkeys for their contribution in bringing in tourists, the locals throw a huge banquet for them. People fill tables with food and then let the monkeys enjoy a feast. This isn't something you can see every day or probably anywhere else in the world!
Travel to Thailand - Back to Top
Bangkok's Tourist Attractions: Things to Do and See in Thailand's Capital
Bangkok is a fascinating city with many popular tourist attractions. It is difficult to choose the best things to see and do when each attraction has its own appeal. You will find information about a couple of sights that you must see, especially if you are planning your first vacation to Thailand. There is a link to many more tours at the end of the article.
Grand Palace of Bangkok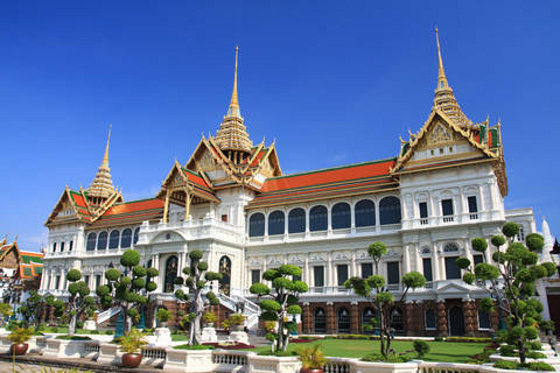 If you are interested in a more modern version of Ayutthaya, you should see the Grand Palace in Bangkok. While Ayutthaya's historical ruins give it an artistic appeal, the Grand Palace is still standing in all of its splendor.
King Rama the First started building the palace in 1782, not long after the temples of Ayutthaya were destroyed. In fact, the new palace was built to mirror many of the same features of the former palace in Ayutthaya. Visiting these two locations back-to-back can almost feel like time travel, as if seeing the temple both before and after it was destroyed.
King Rama chose to move the capital to this location, and this is where it has remained ever since. At some point during your trip you are likely to visit the capital city of Bangkok, and you should be sure to see the Grand Temple while you are there.
Today, the Grand Temple is an entire complex of magnificent buildings. Since its construction, the Kings who have reigned here have made many additions to the palace complex. It is still used by royalty for important events, such as weddings and funerals.
Floating Market of Bangkok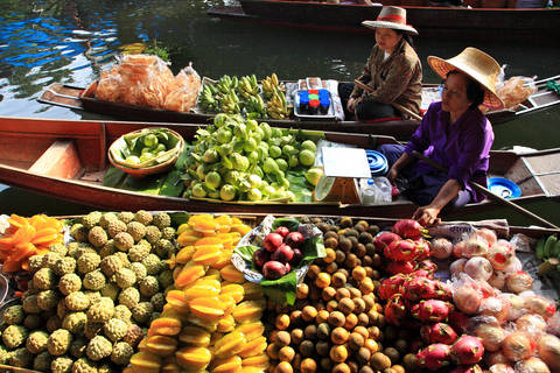 People like to bring some souvenir cash with them when they go on vacation. Shopping can be exciting and fun in a foreign country, if you know where to look. Even the shopping itself can be as enjoyable as the possessions that you buy. A great example of this is the floating market of Bangkok. This is a great way to spend the extra change from your vacation fund!
The floating market of Bangkok is exactly what it sounds like: platforms stand on each side of a canal, boats carrying goods float down the canal,and merchants sell their wares right from the belly of their boats.
This is not only a fun shopping experience, but also a thrill for all of your senses. Vibrant colors can be seen everywhere, as merchants sell piles of bright colored fruit from their boats with exotic umbrellas offering them shade. Some of the boats are so elaborate that they have a miniature kitchen onboard, and can sell you an entire meal. If you want to try some genuine food from Thailand, this can be an amazing way to do it. Not only can you buy food, but you can also find clothes and all sorts of exotic and hand-crafted goods. This spot has become a famous tourist attraction and many of the merchants understand English.
This is a great way to spend an afternoon. Plus, you'll then have a present for everyone who said, "Bring me back something from Thailand!"
While there is much more to do in Bangkok, these are certainly two of the most popular tourist attractions and a couple that you must see if you have never visited them before.
For many more attractions, visit the Bangkok Tours page.
Travel to Thailand - Back to Top
The 7-Day Around Thailand Travel Tour
The Around Thailand Tour is one of Thailand's most popular trips. Get to know Thailand in its spirit, culture, and beauty as you visit its monuments, rivers, locals, temples, and nature sites. Travel the beautiful landscape by land and water. The trip takes you to the north of Bangkok to Ayutthaya, Lampang, Lamphun, Lopburi, Phitsanulok, Sukhothai, Chiang Mai, and Chiang Rai, in a matter of just 7 days. Handicraft making, cultural shows, Thai food, boat rides over the Mekong are some of the attractions that you will see when you tour the major landmarks and local lifestyle. This is one tour that you cannot afford to miss!
NOTE: You will, of course, need a Thailand visa and a valid passport to participate in the tour.
Day 1: BANGKOK - AYUTTHAYA - LOPBURI - PHITSANULOK
Day 1 Itinerary:
At the start of the 7-day trip, all passengers will be picked up from their Bangkok hotels.
Depart from Bangkok to Ayutthaya, the former capital of Thailand.
Begin your tour with exceptional sights such as the gigantic bronze statues of Wat Mongkol Borpith, the three ancient pagodas at Wat Phra Srisanpetch and Wat Phra Nang Cherng.
Continue on your tour via Saraburi to Phra Buddha Badh with its shrine of the holy footprint of Lord Buddha.
Proceed to Lopburi for lunch.
Visit the museum at Narai Raja Nives Palace, the Prang Sam Yod (Sacred Three-Spired Pagoda), the ruins of Wat Phra Sri Rattana Maha Dhat, as well as the Monkey Temple.
Proceed by bus to Phitsanulok and check in at Amarin Lagoon Hotel (or a similar hotel) for dinner and accommodations.
Stay overnight at Amarin Lagoon Hotel (or similar).
Day 2: PHITSANULOK - SUKHOTHAI - SI SATCHANALAI LAMPANG
Day 2 Itinerary:
Breakfast.
Visit Wat Mahathat with its revered Buddha statue, Phra Buddha Jinaraj.
Depart for Sukhothai, visit famous ruins of Thailandâs first capital (1257-1379).
See Wat Maha Dhat, the Ramkhamhaeng Museum, Wat Sra Sri, and Wat Sri Chum.
Lunch at a local restaurant.
Continue to Sri Satchanalai, northern outpost town of the Kingdom of Sukhothai, built by King Ramkamhaeng.
Visit Wat Chang Lom, Wat Chedi Jet Thaew, Wat Nang Phaya, and Wat Phra Sri Ratana Maha Dhat on the site of the Khmer fort "Chalieng.â.
Proceed to Lampang and check in at Lampang River Lodge, Lampang Wiengthong (or similar hotel) for dinner and accommodations.
Stay overnight at Lampang River Lodge (or similar).
Day 3: LAMPANG - LAMPHUN - CHIANG MAI
Day 3 Itinerary:
Breakfast.
Depart for Ko Kah to see Wat Phra That Lampang Luang, housing the only Emerald Buddha other than the one at Wat Phra Kaew in Bangkok.
Continue to visit Wat Phra Keo Don Tao, a very interesting Burmese-style temple, plus Wat Chedi Sao, with its many small pagodas.
Proceed to Lampoon.
Visit the famous Wat Hariphunchai in Lampoon, built in 1157 one of the most sacred monuments in the north.
Continue to Chiang Mai.
Lunch at a local restaurant.
Afternoon visit to Handicraft Villages, to observe manufacturing of lacquerware, spinning, and weaving of Thai Silk and paper umbrella making. Also visit a famous Thai wood-carving factory with the possibility of purchasing Burmese antiques.
Check in at Amari Rincome (or similar hotel).
Khao Soy Dinner, a signature dish of northern Thai cuisine at Just Khao Soy Restaurantâ.
Optional: Opportunity for bargain-hunters to visit the city's night market.
Stay overnight at Amari Rincome Hotel (or similar).
Day 4 Itinerary:
Breakfast City Tour.
Visit the most interesting temples in Chiang Mai, like Wat Phra Singh with its famous Buddha image; Wat Chiang Man, the oldest temple in Chiang Mai (built by King Mangrai); and Wat Suan Dok, housing remains of many generations of the old Chiang Mai royal families. Also visit Wat Doi Suthep, tucked away in the mountains at 1,056 meters above sea level.
Lunch at a local restaurant.
Afternoon free.
Khantoke Dinner. Enjoy a typical Thai dinner with a presentation of ancient dances from northern Thailand, followed by a performance of dances and songs of various hill tribes.
Accommodations at Amari Rincome (or similar hotel).
Optional: Opportunity for bargain-hunters to visit the city's night market.
Stay overnight at Amari Rincome Hotel (or similar).
Day 5: CHIANG MAI HMONG HILLTRIBE LODGE
Day 5 Itinerary:
Breakfast.
Depart Chiang Mai to visit an elephant camp and watch elephants taking timber in the forest. Their strength and strategic teamwork will amaze you!
Recommended Option: Take a 1-hour elephant safari into the surrounding countryside. Extra: Baht 750.- per person (two people per elephant).
Continue to visit Orchid Farm and lunch at Mae Sa Valley Resort.
Proceed by Land Rover to visit Meo hilltribe village at Nong Hoi Mai and continue to Ban Meo Mae Ki.
Afternoon free to discover many activities in the hill tribe village.
BBQ dinner at Hmong Hilltribe Lodge (or similar hotel), followed by a presentation of Meo dances and overnight stay.
Stay overnight at Hmong Hilltribe Lodge (or similar).
Day 6: HMONG HILLTRIBE LODGE - THATON - CHIANG RAI
Day 6 Itinerary:
Breakfast.
Depart for Fang and Thatorn via Chiang Dao.
Short stop at the village of Chiang Dao for drinks and a stroll around the local market.
En route, visit Huay Luek, a Meo hill tribe village.
After arrival in Thatorn, a small village just a few kilometers from the Burmese border, lunch is served at Mae Kok River Village Resort.
Continue to visit Ban Lorcha, a Phami Akha hill tribe community center. This community-based tourism development project promotes sustainable, self-reliant development to improve the quality of life of villagers of this Akha Community, and is a model for tourism in Hill tribe villages.
Drive to Ban Pha Tai and board on motor-powered traditional boats for a 3-hour journey down Kok River, passing tiny hill tribe villages, bamboo huts, and beautiful jungle.
Arrive early in the evening at Chiang Rai and check in at Rimkok Resort Hotel (or similar hotel) for dinner and accommodations.
Stay overnight at Rimkok Resort Hotel (or similar).
Day 7: CHIANG RAI - BANGKOK
Day 7 Itinerary:
Breakfast.
Depart Chiang Rai by minibus to visit the Golden Triangle, where the borders of Thailand, Myanmar, and Laos meet.
Take a short boat ride on the Mekong River.
Picnic box lunch provided.
Transfer to Chiang Rai Airport.
Depart Chiang Rai by TG-133.
Arrive in Bangkok with transfers to your Bangkok hotel.
Travel to Thailand - Back to Top
Thailand Tourism Sites
Formerly known as Siam, Thailand is quickly gaining popularity among foreigners. Visitors are captivated by its rich customs, beautiful beaches, marine life, and colorful bazaars - just to name a few of Thailand's many attractions. Be enticed by this magnificent country, and visit the travel sites below to learn more about Thailand.
Discovery Thailand
DiscoveryThailand.com is a travel guide that aims to provide tourists with information about the many activities and beautiful destinations you will want to enjoy while visiting Thailand. Discovery Thailand's recommendations and information will help ensure that you have a remarkable vacation, whether it is your first time in Thailand or not.
Tourism Thailand
Learn how amazing Thailand is by visiting this travel site. Tourism Thailand provides tourists with concentrated and organized information, including facts that you need to know as a visitor in Thailand.
Columbus World Travel Guide - Thailand
Columbus Publishing of London, England, presents general travel information about Thailand, located in Asia, as part of its World Travel Guide.net resource. The information describes the area, population, capital, geography, language, government, religion, communications, and population density of Thailand.
Jewels of the Mekong - Thailand
Travel information for Thailand.
Lonely Planet World Guide - Thailand
This Lonely Planet guide includes a variety of facts for the travelers to Thailand including information on events, Thai currency and general costs, attractions, activities, Thai history, culture, travel and transportation, and further reading. It also includes relative web links.
Travel to Thailand - Back to Top
Bangkok City
Bangkok, known as the "city of angels," is the capital of and the largest city in Thailand. Bangkok City is a travel site that specializes in supplying comprehensive knowledge on the numerous activities, restaurants, and tourist attractions to tourists visiting the great metropolis of Bangkok.
Phuket Guide
Phuket, the biggest island in Thailand, is also known as the "Pearl of the South." Phuket-guide.net welcomes visitors to the gorgeous island of Phuket, where they can discover and experience the stunning tropical beaches. Be sure to visit Phuket Guide for more information about the enchanting island of Phuket.
Koh Phangan
Koh Phangan has been considered a famous backpackers' destination. Tourists from around the world are drawn here to experience the relaxing, beautiful island of Koh Phangan. This travel guide will help visitors looking to relax and experience the island plan their getaway from city life.
Krabi Tourism
Krabi Tourism will help you discover the province of Krabi- home to some of the most breathtaking wonders of the world! From dazzling coral reefs and pearl white beaches to mangroves and an abundant tropical rainforest, Krabi-tourism.com ensures vacationers will have an unforgettable trip to beautiful Thailand.
Pattaya
Pattaya, located on the east coast of the Gulf of Thailand, is a popular city with tourists. Once known as a fishing town, Pattaya now offers many different sites to see and attractions to experience. This travel guide provides visitors to Pattaya with the information they need to make the most of their trip. Visit this travel site for more insight and photos about traveling to Pattaya.
Koh Tao
Koh Tao, also known as "Turtle Island," is one of Thailand's best-kept secrets. This island is a haven for scuba divers who can take advantage of Koh Tao's secluded bays. If you are looking for a place where you can enjoy Thailand at its best, visit this travel site for more information about the peaceful island of Koh Tao.
Ko Lanta
Located on the east side of Phang Nga Bay and the southwestern side of Krabi, Ko Lanta is known for its heavenly charm. With white sandy beaches that reach a 16-mile shoreline, beach lovers are sure to be enchanted by Ko Lanta. Be sure to visit this travel guide for more information and mesmerizing pictures of the beautiful island of Ko Lanta.
Tourism Hua Hin
Hua Hin is located on the west side of the Thailand Bay. This beach resort town is considered to be the oldest beach town in Thailand. Tourismhuahin.com provides tips and helpful facts on how visitors can enjoy Hua Hin at its best.
Ko Chang Island
The island of Ko Chang, also known as "Elephant Island" (for the shape of its headland), is the second biggest island in Thailand, next to Phuket. Ko Chang Island is considered a tropical marine life parkland and is part of the Mu Ko Chang National Park. This travel site offers vital information for travelers on everything from climate and local festivities to how to get around the island and advice for first-time travelers. Visit this site to learn more on how to make the most of your visit to Ko Chang Island.
Travel to Thailand - Back to Top
Thailand Photos and Videos
In many cases, the true beauty and splendor of Thailand needs to be seen to be believed. Below are a collection of images and videos that capture some of what makes Thailand so special.
Tall buildings in Bangkok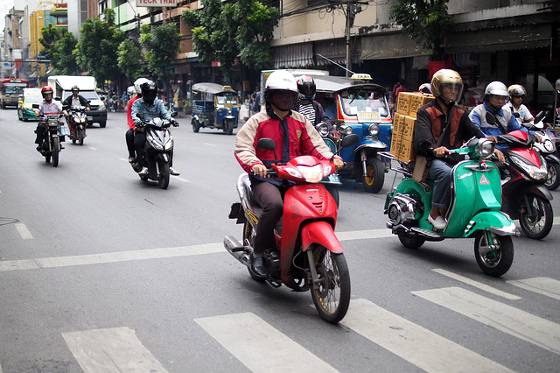 Bangkok Street Traffic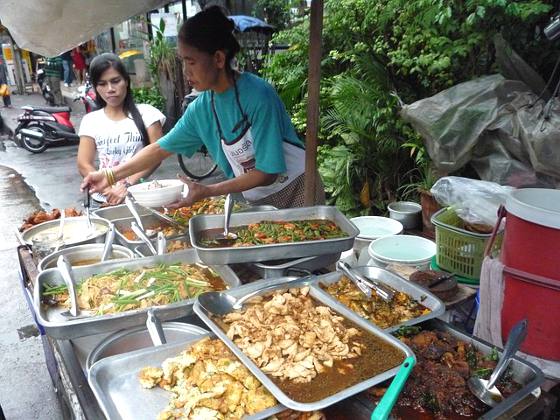 Bangkok Street Food Vendor
Temple in Bangkok
Gold alter inside a Buddhist Temple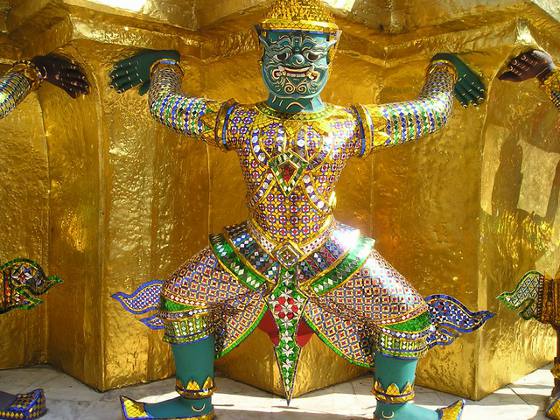 Close up of statue at the Royal Palace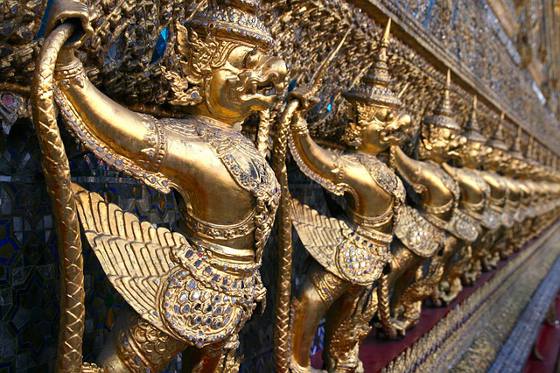 Row of gold sculptures at Royal Palace
Beautiful Thailand
Travel to Thailand - Back to Top
The U.S. Passport Service Guide has done extensive research to bring you the best Thailand travel resources. Get information on travel documents, culture, tourism, travel safety, popular destinations, airfare, lodging, holidays, and much more.
If you are looking for even more help, the sites below are full of additional information you can trust.
TourismThailand.org
The Tourism Authority of Thailand (TAT) was established on March 18, 1960, the first organization in Thailand to be responsible specifically for the promotion of tourism.
CDC Health Information for Travelers to Southeast Asia
Official U.S. government health recommendations for traveling to Southeast Asia. Provided by the U.S. Centers for Disease Control and Prevention (CDC).
Royal Thai Embassy (Click "Enter Main Site" at the lower left-hand side of the page to view in English)
The Royal Thai Embassy is located in Washington, D.C. The embassy offers information about its consular services, as well as details about Thailand, the monarchy, politics, economics, and social issues. Statements, news, and press releases are also provided here.
Thailand Consulates in the U.S.
List of locations where American citizens can obtain visa services and other travel information.
Thailand Country Profile
This country profile of Thailand highlights the history, climate, people, and geography of the country, as well as descriptions of places of interest for tourists to visit. InterKnowledge Corporation provides the information as part of its Geographia Travel Services resource.
Thailand - CIA World Factbook
Online information about Thailand: charts, diagrams, maps, facts, and statistics- updated annually.
Thailand Travel Tips
Thailand travel information.
Thailand Visa Information
Detailed list of requirements and forms for getting a student, business, or tourist visa to Thailand.
Thailand Visa Application
A source for information about the documents required for traveling to Thailand. This site offers the necessary forms in .pdf format, as well as provides basic travel information.
Library of Congress Geography and Map Reading Room
Online maps, reference guides, links to map societies, and other resources relating to geographic information. Search "Thailand" to see maps of Thailand.
Travel to Thailand - Back to Top
Additional Thailand Travel Resources
Expedite Your Passport Now!