7-Day Around Thailand Travel Tour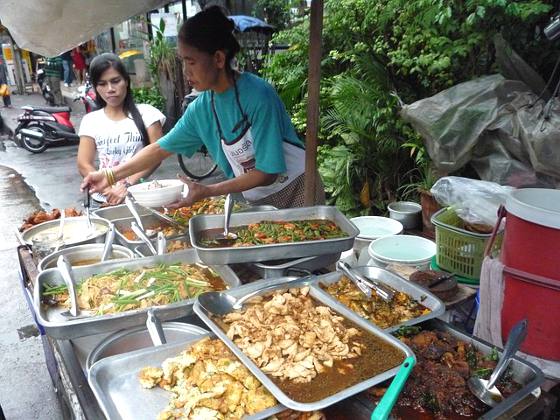 Bangkok Street Food Vendor
The Around Thailand Tour is one of their most popular trips. You'll get to know Thailand in its look and spirit as you visit its monuments, rivers, locals, temples and nature sites. Travel the beautiful landscape by land and water. The trip takes you to the north of Bangkok to Ayutthaya, Lampang, Lamphun, Lopburi, Phitsanulok, Sukhothai, Chiang Mai and Chiang Rai, in a matter of just 7 days. Handicraft making, cultural shows, Thai food, boat rides over the Mekong etc. are other attractions as we see the major landmarks and local lifestyle. This is one tour you cannot afford to miss to get to know Thailand in its spirit, culture and beauty. You will, of course, need a
Thailand visa
in a valid passport to participate in the tour.
Day 1 BANGKOK - AYUTHAYA - LOPBURI - PHITSANULOK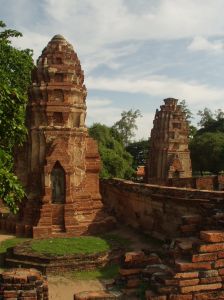 Pick up passengers from major Bangkok hotels. Depart from Bangkok to Ayuthaya, former capital of Thailand. Principal sights are the gigantic bronze statues of Wat Mongkol Borpith, the three ancient pagodas at Wat Phra Srisanpetch and Wat Pranangcherng. Continue via Saraburi to Phra Buddha Badh with its shrine of the holy footprint of Lord Buddha. Proceed to Lopburi for lunch. Visit museum at Narai Raja Nives Palace, the Prang Sam Yod (Sacred Three-Spired Pagoda), ruins of Wat Phra Sri Ratana Maha Dhat, as well as the Monkey Temple. Proceed by bus to Pitsanuloke and check in at AMARIN LAGOON or similar hotel. Dinner and accommodations. Overnight : at Amarin Lagoon Hotel or similar
Day 2 PHITSANULOK - SUKHOTHAI - SI SATCHANALAI LAMPANG
Breakfast Visit Wat Maha Dhat with its revered Buddha statue, Phra Buddha Jinaraj. Depart for Sukhothai, visit famous ruins of Thailand's first capital (1257-1379). See Wat Maha Dhat, the Ramkamhaeng Museum, Wat Sra Sri and Wat Sri Chum. Lunch at local restaurant. Continue to Sri Satchanalai, northern outpost town of the Kingdom of Sukhothai, built by King Ramkamhaeng. Visit Wat Chang Lom, Wat Chedi Jet Thaew, Wat Nang Phya and Wat Phra Sri Ratana Maha Dhat on the site of the Khmer fort "Chalieng." Proceed to Lampang and check in at LAMPANG RIVER LODGE, LAMPANG WIENGTHONG or similar hotel. Dinner and accommodations Overnight : at Lampang River Lodge or similar
Day 3 LAMPANG - LAMPHUN - CHIANG MAI
Breakfast. Depart for Ko Kah to see Wat Phra Dhat Lampang Luang, housing the only Emerald Buddha other than the one at Wat Phra Keo in Bangkok. Continue to visit Wat Phra Keo Don Tao, a very interesting Burmese-style temple, plus Wat Chedi Sao, with its many small pagodas. Proceed to Lampoon. Visit famous Wat Haripoonchai in Lampoon, built in 1157—one of the most sacred monuments in the north. Continue to Chiang Mai. Lunch at local restaurant. Afternoon visit to Handicraft Villages, to observe manufacturing of lacquerware, spinning and weaving of Thai Silk and paper umbrella making. Also visit famous Thai wood-carving factory, with possibility of purchasing Burmese antiques. Check in at AMARI RINCOME or similar hotel. Khao Soy Dinner, a signature dish of northern Thai cuisine at "Just Khao Soy Restaurant". Optional: Opportunity for bargain-hunters to visit city's night market. Accommodation. Overnight : at Amari Rincome Hotel or similar
Learn to Speak Thai

Learn Thai by recreating the natural way you learned your first language and reveal skills that you already have using Dynamic Immersion. This award-winning method has been adopted by countless organizations, schools and millions of users around the world. Get Rosetta Stone V2: Thai Level 1
Day 4 CHIANG MAI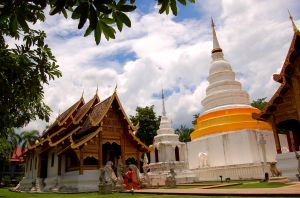 Breakfast City Tour. Visit the most interesting temples in Chiang Mai, like Wat Phra Singh with its famous Buddha image, Wat Chiang Man, the oldest temple in Chiang Mai (built by King Mangrai), and Wat Suan Dok, housing remains of many generations of the old Chiang Mai royal families. Also visit Wat Doi Suthep, tucked away in the mountains at 1,056 meters above sea level. Lunch at local restaurant. Afternoon free. Kantoke Dinner. Enjoy a typical Thai dinner with presentation of ancient dances from northern Thailand, followed by a performance of dances and songs of various hilltribes. Accommodations at AMARI RINCOME or similar hotel. Optional: Opportunity for bargain-hunters to visit city's night market. Overnight : at Amari Rincome Hotel or similar
Day 5 CHIANG MAI HMONG HILLTRIBE LODGE
Breakfast Depart Chiang Mai to visit elephant camp and watch elephants taking timber in forest. Their strength and strategic teamwork will amaze you. Recommended Option: Take one-hour elephant safari into the surrounding countryside. Extra: Baht 750.- per person (two person per elephant). Continue visit of Orchid Farm and lunch at Mae Saa Valley Resort. Proceed by landrover to visit Meo hilltribe village at Nong Hoi Mai and continue to Ban Meo Mae Ki. Afternoon free to discover many activities in the hilltribe village. BBQ dinner at HMONG HILLTRIBE LODGE followed by presentation of Meo dances and overnight stay. Overnight : at Hmong Hilltribe Lodge or similar
Day 6 HMONG HILLTRIBE LODGE - THATON - CHIANG RAI
Breakfast Depart for Fang and Thatorn via Chiang Dao. Short stop at village of Chiang Dao for drinks and stroll around local market. En route, visit Huay Luek, a Meo hilltribe village. After arrival in Thatorn, a small village just a few kilometers from the Burmese border, lunch is served at Mae Kok River Village Resort. Continue to visit Ban Lorcha, a Phami Akha hilltribe community center. This community-based tourism development project promotes sustainable, self-reliant development to improve the quality of life of villagers of this Akha Community, and is a model for tourism in Hilltribe villages. Drive to Ban Pha Tai and board on motor-powered traditional boats for three-hour journey down Kok River, passing tiny hilltribe villages, bamboo huts and jungle. Arrive early evening in Chiang Rai and check in at RIMKOK RESORT or similar hotel. Dinner and accommodations. Overnight : at Rimkok Resort Hotel or similar
Day 7 CHIANG RAI - BANGKOK
Breakfast. Depart Chiang Rai by minibus to visit Golden Triangle where the borders of Thailand, Myanmar and Laos meet. Take short boat ride on Mekong River. Picnic box lunch provided. Transfer to Chiang Rai Airport. Depart Chiang Rai by TG-133. Arrive Bangkok with transfers to your Bangkok hotel.
Thailand Travel Resources
Expedite Your Passport Now!