Thailand Travel Links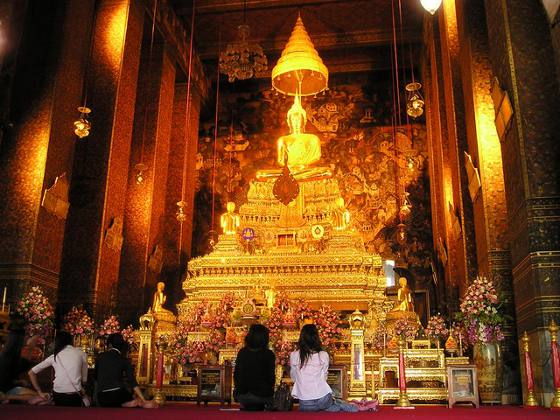 Gold altar inside a Buddhist Temple
Formerly known as Siam,
Thailand
is quickly gaining popularity among foreigners. Visitors are captivated by its rich customs, beautiful beaches, marine life and colorful bazaars. Be enticed on this magnificent country and visit the travel sites below to
learn more about Thailand
.
Travel Sites about Thailand
Discovery Thailand
DiscoveryThailand.com is a travel guide that aims to provide tourists with information about the activities and destinations you would want to enjoy while you are in the splendid country of Thailand. This site can assure you a remarkable vacation whether it is your first time or not in this country.
Tourism Thailand
Learn how beautiful Thailand country is by visiting this travel site that can give tourist like you intensive and organized information about the different facts you need to know regarding Thailand.
Just Thailand
A travel guide, known for its name as Thailand Travel, has lots to offer to their client. This site serves as a guide to vacationing travelers to Thailand by giving out helpful tips and facts about the country.
Travel Sites about Cities in Thailand
Bangkok City
Bangkok, known as the "city of angels", is the capital and largest city of Thailand. This travel site specializes in supplying comprehensive knowledge on the numerous activities, bistros and tourist attractions to every individual who wants to visit the metropolis of Bangkok.
Phuket Guide
Phuket, the biggest island in Thailand, is usually referred as the "Pearl of the South". Phuket-guide.net welcomes visitors to the marvelous island of Phuket where they can discover and experience the stunning tropical view of the beaches. So, visit this site for more mouthwatering information about the beautiful island of Phuket.
Koh Phangan
This place called Koh Phangan was famous as backpackers destination. These days, different nationalities come here to experience the relaxing island of Koh Phangan. This travel guide will help those visitors who want also to relax and experience the island plan their way away from the city life.
Krabi Tourism
Discover the province of Krabi, which is a home to some wonders of the world such as the dazzling coral reefs, pearl white beaches, mangroves, and abundant tropical rain forest. Krabi-tourism.com ensures vacationing people for a worthwhile and unforgettable trip they ever experience in Thailand.
Pattaya
This travel guide has tons to present to their visitors. They fill the visitors' imagination with excitement of wanting to visit this place through the help of information and photos they have in this travel site.
Koh Tao
If you are looking for a place where you can enjoy Thailand at its best, visit this travel site for more information about the peaceful island of Koh Tao.
Ko Lanta
Located on the east side of Phang Nga Bay and the southwestern side of Krabi, Ko Lanta enjoys its heavenly charm and white sand beaches that reaches twenty-seven kilometer shoreline. Drop by on this travel guide site to be mesmerized by the beauty of this island given by our mother nature.
Tourism Hua Hin
Hua Hin is located on the west side of the Thailand bay and is considered to be the oldest beach town in Thailand. Tourismhuahin.com provides tips and helpful facts on how visitors can enjoy Hua Hin at its best.
Ko Chang Island
The island of Ko Chang referred as the second biggest island next to Phuket and is considered as a tropical marine life parkland. This site offers a lot of information and opportunities on how to make your vacation very pleasurable.
Thailand Travel Resources
Expedite Your Passport Now!